Key Takeaways
Online technology will disrupt agile coaching and training in the next 3-5 years.
The agile/Scrum community has been slow to embrace online technology because the Manifesto emphasizes face-to-face interaction.
Online technology promises to improve learning outcomes and lower costs for an increasing number of use cases.
Early successes include an online agile user group and the use of a 360 degree camera to support team-level training and coaching.
By the end of 2020, at least one large, credible agile/Scrum certification organization will be running agile/Scrum certification courses in virtual reality.
We believe that online technology (virtual reality, augmented reality, adaptive personalized learning and videoconferencing) will disrupt the agile coaching and training spaces in the next 3-5 years. This will have a significant and palpable effect on the 1M+ agile team members, 10K+ agile coaches, and 1K+ companies which are currently involved in agile efforts. We believe that business models will change drastically, winners will become losers (and vice versa), and the skills needed to lead agile transformations will change significantly.
In this article, we focus on virtual reality and describe its history and current capabilities. Our work is informed by a case study at a 500 person, billion dollar public company in which nascent virtual reality capabilities caused C-level executives to better understand the impact that their work was having on the organization. We end with predictions about what we believe will happen in the next 3-5 years.
Where are we now?
Online technology has a significant and growing effect on the broad world of education and training. There are now residential college programs in which some of the courses are taught online, a bachelor's degree from a top university can now be obtained entirely online, and all Ivy League universities offer online courses. In addition, there are many online professional programs, particularly for people in the field of software development.
One of us (Michael) spent five months coaching at edX, an edtech nonprofit started by MIT and Harvard. edX has three goals, one of which is to learn about learning. With tens of thousands of students taking its most popular classes, edX has more information about student behavior than even the most popular university professors. This has created an environment in which edX courses have rapidly improved in a way that live courses taught by professors have not.
We believe that something similar will happen with technology mediated agile training and coaching. Because technology allows for extreme instrumentation of activities, behaviors, and results, the developers of online coaching and training will learn what works and what does not at a much faster rate than their face-to-face counterparts.
Today, there are already clear use cases (e.g., facilitating distributed teams) in which online technology plays a clear role. These use cases will serve as petri dishes in which online technologies will be generated, tested, evaluated, and selected. The best ones will then go on to challenge face-to-face agile coaching and training.
One such use case are online special interest groups. In 2017, Alexander Frumkin started the Agile Practitioners Online Special Interest Group. This group has a format very similar to an in person agile user group but it meets entirely online. It has grown from approximately ten registrations per session to 50 registrations per session in a little over six months. We expect that online agile user groups will form to support underserved geographic areas and subjects.
Adaptive personalized learning technologies which modify the content of a course based on what the learner needs, have been shown to support learning outcomes that far exceed those of a standard online course. Yigal Rosen of Harvard University and Rob Rubin of Microsoft have open sourced an adaptive learning framework and it is only a matter of time before it is applied to online agile training. Rob Rubin says "Project ALOSI points to a time in the near future where learners will be served content that is appropriate for where an individual falls on his or her personalized learning curve, as well as coaching that reinforces their growth mindset. Cognitive and content based delivery is key to incremental learning and hard-to-measure skill acquisition."
Virtual and augmented reality is the next step in the evolution of online educational technology. These environments enable realistic simulations and a "felt" experience that drives learning. Agile training and coaching with its emphasis on games and visualization readily lends itself to virtual reality.
Today's virtual reality products are not accessible to all consumers. Virtual reality headsets cost approximately $500 and they require high end computers. However, we expect the price to rapidly come down and, in the same way that all phones now have high resolution video, we expect that all consumer laptops will soon be able to support virtual reality. When this happens, there will be an explosion of training and coaching virtual reality products aimed at both businesses and individual learners.
Virtual reality agile training has sharply different economics than face-to-face training. A live Scrum course may have 20 students which have paid $1K each, producing gross revenues of $20K. We believe that agile training in virtual reality will be able to comfortably 'hold' spaces for hundreds of simultaneous learners who will then be able to pay approximately $200 each for the learning experience, thus sharply changing the economics of training and creating a 'winner takes all' race in which the trainers who are first to develop and embrace this technology will dominate the market. The winning trainers will be able to invest hundreds of thousands or even millions of dollars in creating virtual reality environments that support learning, far outspending what face-to-face trainers can afford.
Case study
One of us (Elena) has used a 360 degree camera (Orah 4i, Nikon KeyMission 360) in coaching and training situations as a way to explore how virtual reality and online technology will disrupt the agile space.
As agile coaches we are always looking for the opportunity to coach developers, product owners, and managers. However, it is hard for people to reach out to us and ask for coaching, and it is even harder for us to reach out and to offer coaching because this is often received as an implied criticism (people often think that it means that they are not performing or a manager isn't happy with their work results).
To address this situation in a supportive and non-confrontational manner, VR recordings of a team's Scrum ceremonies and Agile training classes were made. These recordings provide an external point of view where a viewer can choose what he/she would like to observe. The first VR video was of the team's Scrum Retrospective. With VR goggles an individual viewer can see what's going on in the room from different 360 degree points of view and move the attention to different objects, discussions and people. The viewer can also observe their own behavior and body language during the group discussions. Shortly after viewing the video quite a few individuals reached out and asked to be coached on the Scrum ceremonies and the team's collaboration activities.
VR video allows individual viewers to get a neutral external point of view of their choice. VR allows the viewer to observe not just one's own behavior during the team activities and discussion but also the team's reaction to it. The small size of the VR camera and 360 recording angle doesn't disturb a group discussion and doesn't disrupt an individual because "they are on camera". Nobody knows what the viewer might choose to see in the recording.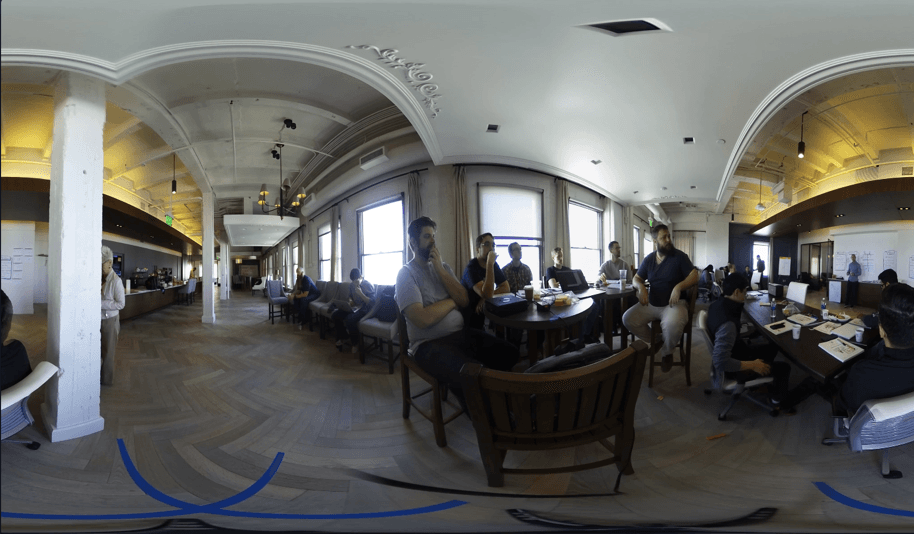 As the next step in this coaching approach, similar situations to the ones observed in the video were staged so that the coachees could once again observe and experience their behavior. These stage simulations are similar to an Escape room exercise where participants don't know what to expect next. After a few recordings of these immersive situations, the coachees said that the VR viewing increased awareness of their own role in the team's activities and discussions. They also said that Product Owners started to use new collaboration and communication tools and techniques and found the coaching to be very helpful in the daily work with the teams.
The total cost of the hardware and software was approximately $700. Given the low cost and the relatively little skill needed to operate the equipment, we expect this practice to grow.
What will happen
We believe that online technology and virtual reality in particular will have a disruptive effect on agile online technology and coaching in the coming three to five years.
We make the following predictions with 90% confidence:
Prediction: By June 30, 2019 thousands of people will have participated in agile activities in virtual reality (e.g., story mapping or an online conference).
Prediction: By the end of 2019 thousands of people will have taken an online agile course which they consider to be excellent.
Prediction: By the end of 2020, at least one large, credible agile/Scrum certification organization will be running agile/Scrum certification courses in virtual reality.
Adoption of online technology is lagging in the agile space in part because one of the Manifesto principles is, "The most efficient and effective method of conveying information to and within a development team is face-to-face conversation." The agile training community is highly biased towards face-to-face training. This allows online training technology to focus in related fields, such as software development and design, so when it finally enters the agile space it will already be a mature technology.
If you are currently working in the agile space, we urge you to prepare for this tectonic shift by upgrading your online technology skills. Consider learning how to use online facilitation tools (such as IdeaBoardz), participating in online agile user groups (such as the Agile Practitioners Online Special Interest Group), and experiencing virtual reality and augmented reality.
About the Author

Michael de la Maza is a Scrum Alliance Certified Enterprise Coach (CEC). As an Agile consultant, his major engagements have been with Paypal, State Street, edX, Carbonite, Unum, and Symantec. Previously, he was VP of Corporate Strategy at Softricity (acquired by Microsoft in 2006) and co-founder of Inquira (acquired by Oracle in 2011). He is the co-author of Professional Scrum with TFS 2010 and Why Agile Works: The Values Behind The Results. He holds a PhD in Computer Science from MIT. He is on email at michael.delamaza@gmail.com and on Twitter @hearthealthyscr.

Elena Vassilieva is Agile Creative Coach. She helped the teams at Warner Brothers, Twitter, Best Buy, StubHub, IBM and other great companies to bring together Design Thinking, Agile and Lean approaches into the Product development. Elena has a background in Engineering management and she is a Certified Scrum Professional and working on her CTC (Scrum Alliance) certification. Elena is shooting VR documentaries and uses online video streaming to create an immersive coaching experience. Her e-mail is havasupai3@gmail.com.