Data Science

Data Science

Follow

577 Followers

Microsoft Achieved Human Parity on Chinese-English Machine Translation by Posted on Mar 15, 2018
Data Science

Data Science

Follow

577 Followers

Facebook Releases Open Source "Detectron" Deep-Learning Library for Object Detection by Posted on Mar 13, 2018
Development

Development

Follow

411 Followers

UK Supermarket Launches Machine Learning Sommelier by

1

Posted on Feb 23, 2018
Culture & Methods

Culture & Methods

Follow

436 Followers

The Relationship between Team Emotion and Delivery by Posted on Feb 05, 2018
Data Science

Data Science

Follow

577 Followers

Machine Learning and Artificial Intelligence - Two Conferences to Attend in 2018 by Posted on Jan 19, 2018
Cloud

Cloud

Follow

194 Followers

Microsoft Announces the General Availability of Azure Bot Service and Language Understanding by Posted on Jan 05, 2018
Data Science

Data Science

Follow

577 Followers

Building GPU Accelerated Workflows with TensorFlow and Kubernetes by Posted on Jan 04, 2018
Data Science

Data Science

Follow

577 Followers

Panel on the Future of AI by Posted on Dec 15, 2017
Data Science

Data Science

Follow

577 Followers

Google and Intel Release Do-It-Yourself Artificial Intelligence Vision Kit by Posted on Dec 01, 2017
Data Science

Data Science

Follow

577 Followers

TensorFlow Lite Supports On-Device Conversational Modeling by Posted on Nov 29, 2017
Data Science

Data Science

Follow

577 Followers

How Apple Uses Neural Networks for Object Detection in Point Clouds by Posted on Nov 28, 2017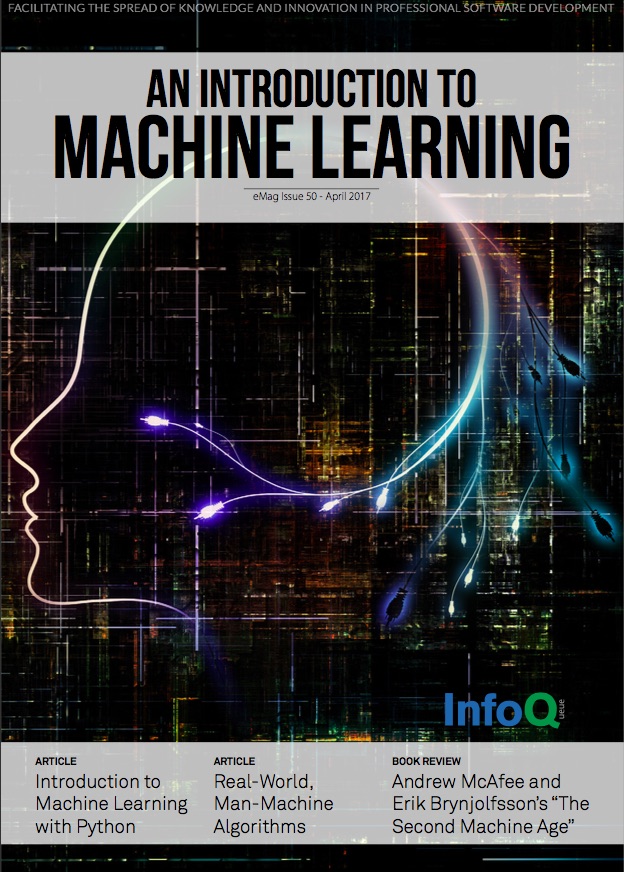 Data Science Data Science Follow 577 Followers The InfoQ eMag: Introduction to Machine Learning
Architecture & Design Architecture & Design Follow 1476 Followers The Morning Paper Issue 3 - Computer Science Applied
Architecture & Design Architecture & Design Follow 1476 Followers The Morning Paper Quarterly Review Issue 2
29:56
Architecture & Design Architecture & Design Follow 1476 Followers Eric Horesnyi on High Frequency Trading and How Hedge Funds are Applying Deep Learning to Markets with Eric Horesnyi Eric Horesnyi Follow 1 Followers Posted on Mar 27, 2017 Eric Horesnyi, CEO @streamdata.io, talks to Charles Humble about how hedge funds are applying deep learning as an alternative to the raw speed favoured by High Frequency Trading to try and curve the market.
30:59
Architecture & Design Architecture & Design Follow 1476 Followers Cathy O'Neil on Pernicious Machine Learning Algorithms and How to Audit Them with Cathy O'Neil Cathy O'Neil Follow 1 Followers Posted on Sep 16, 2016 In this week's podcast InfoQ's editor-in-chief Charles Humble talks to Data Scientist Cathy O'Neil.  Topics discussed include her book "Weapons of Math Destruction," predictive policing models, the teacher value added model, approaches to auditing algorithms and whether government regulation of the field is needed. 1
---
CONTENT IN THIS BOX PROVIDED BY
AI & Machine Learning Software Development Conference
April 9-11, 2018
San Francisco, California
Applied AI for Developers
QCon.ai is a brand new AI and machine learning software development conference from the team behind QCon and InfoQ.com.
---
QCon.ai is a conference for software developers, architects, and technical managers who want to uncover the real-world uses cases for applying artificial intelligence and machine learning in engineering but who may not come from what we traditionally think of as data science.
Software Engineer, Netflix
Haley Tucker
"What I'd like to look more into and spend more time on is the machine learning space. I keep running into problems in my current job that just feels like there is a machine learning solution to it. I think there is a lot of value in spending time in that space."
QCon.ai at a glance
---
Over 30 sessions across 2 days
1 day of optional workshops
Practitioners over evangelists
Never any hidden marketing