Presentations
Older
49:40
Architecture & Design
Architecture & Design
Follow
2128 Followers
Jim Webber explores the new Causal clustering architecture for Neo4j, how it allows users to read writes straightforwardly, explaining why this is difficult to achieve in distributed systems.
56:38
Development
Development
Follow
611 Followers
Jon Moore talks about distributed monotonic clocks (DMC) whose timestamps can reflect causality but which have a component that stays close to wall clock time.
52:35
Followers
John Wilkes shares lessons learned managing clusters at the scale of Google.
01:01:06
Followers
Ryan Vanderwerf speaks about the roles of cache clustering, session clustering, and quartz clustering with open source Terracotta, Quartz, and BigMemory.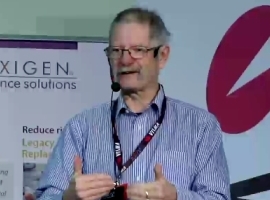 53:41
Followers
Joe Armstrong discusses how fault tolerance relates to scalability and concurrency, and how Erlang helps build fault-tolerant systems on multi-core clusters.
57:33
Followers
Ryan Vanderwerf explains setting up Terracotta and clustering an applications using Ehcache, HTTP Session in Tomcat, and Quartz.
48:40
Followers
Yashwanth Nelapati and Marty Weiner share lessons learned growing Pinterest: sharding MySQL, caching, server management, all on Amazon EC2.
56:42
Followers
A real-world experience of implementing Ehcache at Australia's most visited online news site. How to deal with high traffic, concurrency, and how to implement linear scalability.
59:38
Followers
Billy Newport discusses the ways that developers interact with key/value stores, entity vs column-oriented approaches, sync vs async operations, large data sets, and collocating closures and data.

01:01:00
Followers
Ulf Wiger shows typical Erlang programs, patterns that scale well on multicore and patterns that don't, profiling and debugging parallel applications and ensuring correct behaviour with QuickCheck.
43:27
Followers
Jinesh Varia talks about the architecture of one of Amazon's web services called Alexa. Jinesh explains how Amazon has reached scalability, performance and reduced costs for the Alexa service.
01:02:41
Followers
Purdy discusses Java scaling, performance vs scaling, rewriting frameworks, databases, bottlenecks, abstractions, disaster recovery, one-size-fits-all architecture, big JVM heaps and network failures.