01:10:14
Followers
The panelists discuss the future of the JVM in the context of parallelism and high concurrency of tomorrow's thousands of cores.
40:19
Followers
Ben Christensen explains how Netflix optimizes server's interaction with more than 800 client devices by creating customized concurrent service endpoints with RxJava and Hystrix.
48:51
Followers
Saul Mora discusses using some of the patterns from the Design Pattern book today, and applying patterns in a multicore world.
48:24
Followers
Victor Grazi presents the functionality of the components in the java.util.concurrent library through a series of animations implemented with the respective concurrent methods.
49:30
Followers
Jeremy Cloud discusses SOA at Twitter, approaches taken for maintaining high levels of concurrency, and briefly touches on some functional design patterns used to manage code complexity.
01:13:21
Followers
Bjarne Stroustrup keynotes on what C++ is in general, how C++ 11 makes simple things even simpler, resource management, generic programming, and concurrency.
01:11:51
Followers
Stuart Halloway discusses concurrency features in Clojure: atoms, agents, futures, delays, promises, STM, and dynamic vars.
52:15
Followers
Sébastien Doeraene introduces Ozma – Scala extension providing declarative concurrency – with code samples, and explores what it takes to port it to JVM.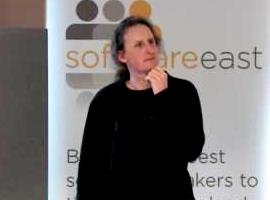 01:00:19
Followers
Simon Marlow introduces some of the main features of Concurrent Haskell: forking threads, MVars, asynchronous I/O, simple inter-thread protocols.
39:29
Followers
Jeff Kelley introduces the Grand Central Dispatch framework for writing concurrent applications for iOS.
48:40
Followers
Andrew Gerrand introduces Go, demoing some of its main features through examples: a concurrent echo server, chat, channels, error handling, etc.
41:34
Followers
Mohammad Rezaei discusses fine-grained parallelism along with an algorithm called Aggregation and a concurrent map built to help dealing with it.