37:35
Followers
Sadek Drobi explains ways to simplify software architectures by reframing the problem and requirements. Also: Scala, Prismic.io, and much more.
18:34
Followers
Roy Rapoport, Insight Engineering Manager at Netflix, talks about how decisions are delegated to the lowest level possible; how open sourcing takes place and how sharing success criteria leads to team and business/IT aligment.
23:31
Followers
Architecture design is defining the basic structure of our software for now and for the future. But how can this work, given that we are living in an agile world accepting the fact that we only have limited knowledge of our final system? InfoQ was talking with Colin Garlick about architecture design and responsibilities during software development.
23:56
Followers
Matthew Skelton talks about the challenges to DevOps and Continuous Delivery adoption, what's the impact of microservices in this space, how to leverage ITIL, and DevOps team topologies.
26:21
Followers
An interview with Shane Hastie about working effectively in distributed agile teams and making remote working work, why product ownership should be a team sport and how product owners teams can work with development teams and the Agile Manifesto translation program.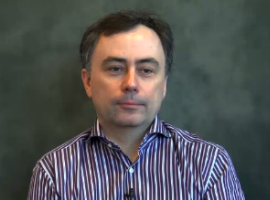 25:13
Followers
John Graham-Cumming talks about his work at CloudFlare, and being a polyglot programmer there. He also discusses reverse engineering GNU Make, and writing a book about it. The interview also touches on side projects with Arduino and Raspberry Pi, his successful campaign to get Turing pardoned, the project to build Babbage's analytical engine, and his Geek Atlas.
12:37
Followers
Recorded at EclipseCon NA 2015, Lars Vogel talks to Alex Blewitt about the state of the Eclipse platform, how Git and Gerrit are helping increase contributions and code quality, and what to look out for in the upcoming Eclipse Mars release.
29:12
Followers
Rebecca Parsons, Thoughtworks CTO, on microservices: prerequisites, challenges and benefits. Also insights on designing services for scalability, handling failure and eventual consistency.
09:41
Followers
Al Tsang talks about using Node.js to build Web APIs, the emergence of an API economy, the convergence between an API Gateway and an ESB, and Node Forward Group's decision to fork Node.
23:15
Followers
At Lean Kanban France 2014 David Anderson talked about the history of Kanban and new developments. InfoQ interviewed David on Kanban adoption, using Real Options with Kanban, the Modern Management Framework and about software for Enterprise Service Planning.
14:00
Followers
Jerome Louvel talks about Web APIs, the Restlet framework and his latest venture APISpark
35:30
Followers
Olaf Lewitz joins us to discuss how you can safely de-scale your organization and on using Temenos and Kris maps to focus on the core values of your organization.