Interviews
19:59
DevOps
DevOps
Follow
971 Followers
InfoQ sat down with Peter Bourgon, engineer at Weaveworks, and discussed how to program in idiomatic Golang, building microservices with his Go kit framework, and how Weave Net and Weave Mesh work.
28:17
Followers
Mitchell Hashimoto explains how Vagrant, Consul, Terraform and Atlas help developers and ops to set up complex systems and keep them running. Also: Go as a language for tools.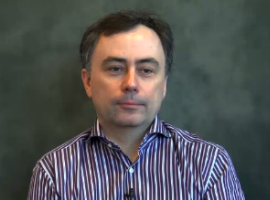 25:13
Followers
John Graham-Cumming talks about his work at CloudFlare, and being a polyglot programmer there. He also discusses reverse engineering GNU Make, and writing a book about it. The interview also touches on side projects with Arduino and Raspberry Pi, his successful campaign to get Turing pardoned, the project to build Babbage's analytical engine, and his Geek Atlas.
40:31
Architecture & Design
Architecture & Design
Follow
2398 Followers
Peter Bourgon discusses distributed programming with commutative replicated data types (CRDTs), how they work, what problems they solve, and his experience with using the Go language at SoundCloud.