35:41
Followers
Cameron Barrie, James Brett, Stewart Gleadow share lessons learned using Agile methodologies to build an iOS application, discussing its architecture and the benefits of hybrid apps.
42:59
Followers
Jason Steele, Jake Henning conduct a hands-on session building a cross-platform mobile C# application for Android, iOS and Windows Phone using Xamarin and MvvmCross.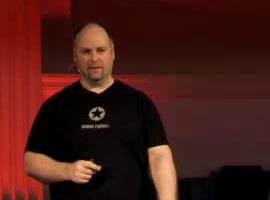 41:55
Followers
Phil Nash discusses iOS development, from the idiosyncrasies of Objective-C to how to test a mobile app to getting an app on the app store and getting it noticed.
51:40
Followers
Graham Lee discusses strategies and tools for testing iOS apps with a view to uncovering hidden security and usability issues.
48:56
Followers
Godfrey Nolan introduces the necessary pieces to set up continuous integration for iOS and Android: Hudson/Jenkins, headless emulators, unit testing tools, functional testing and beta app deployment.
39:29
Followers
Jeff Kelley introduces the Grand Central Dispatch framework for writing concurrent applications for iOS.
50:27
Followers
Phil Nash discusses the challenges and practical consideration regarding doing TDD on mobile devices, providing advice for such development on iOS.
01:08:15
Followers
Pete Goodliffe presents advanced techniques for creating iOS apps based on real life examples that show how to make the most of Objective-C, how to create Retina apps, and others.
24:18
Followers
John Bender presents the good, the bad, and the ridiculous aspects of doing cross-platform mobile web development, suggesting progressive enhancement as a way to address the existing issues.
47:38
Followers
Matt Wash introduces the Geomerics Enlighten framework used by several popular games for generating dynamic lightning scenes and the challenges met porting it to iOS and Android.
31:29
Followers
Horia Dragomir offers tips on creating responsive UIs on mobile platforms along with advice on several pitfalls that need to be avoided.
01:11:39
Followers
Julian Harty covers various challenges and practices for testing applications for mobile devices.