Books
Newer
Java
Java
Follow
670 Followers
The JHipster Mini-book is a guide to getting started with hip technologies today: AngularJS, Bootstrap and Spring Boot. This book shows you how to build an app with JHipster, and guides you through the plethora of tools, techniques and options you can use. Furthermore, it explains the UI and API building blocks so you understand the underpinnings of your great application.
Followers
This eMag aims at providing an overview of an example set of tools that would constitute a typical toolchain. These are popular tools today, but you should look at them as illustrations of the kind of tasks and workflows you might need to perform in your organization as you move along a DevOps path.
Followers
The release of Java 8 was considered a game changer for the Java platform. With new features like lambda expressions, streams, and the new Date and Time APIs, the Java 8 demonstrates that a language can be modernized without compromising stability or backward compatibility. In this eMag we explore some of the important or lesser known features of Java 8, along with a glimpse of how we got here.
Followers
Over the past 15 years the term REST has been used and discussed a lot, whether it's when comparing with Web Services, used within the context of Cloud, or of course when talking about use the Web we use every day. In this eMag you will learn about these and other important aspects of REST.
Followers
This eMag examines topics such as how Twitter re-architected its code-base to improve stability and performance, the approaches Netflix uses to be hyper-resilient, and how Java is replacing C++ for low latency coding. We also look at some lower level tricks such as feedback controls for auto-scaling, and using memory and execution profiling to identify performance bottlenecks in Java.
Followers
Selecting and properly tuning your Java Garbage Collector can be the difference between a performant application and a drag. In this eMag we look at the inner workings of the latest garbage collectors and we investigate the revolutionary new Garbage First collector, from theory to tuning.
Followers
The authors of this book share their experience and lessons learned while building an enterprise-wide Identity and Access Management system using an architectural approach called LIMA.
Followers
With Spring Data, the ever popular Spring Framework has cultivated a new patch of ground, bringing Big Data and NOSQL technology like Neo4j to enterprise developers. This guide introduces you to Spring Data Neo4j, using the fast, powerful and scalable graph database Neo4j to enjoy the benefits of having good relationships in your data.
Followers
"Getting Started with Grails" brings you up to speed on this modern web framework. Companies as varied as LinkedIn, Wired, and Taco Bell are all using Grails. Are you ready to get started as well?
Followers
Within this book you will find everything you need to get up and running using Struts2 – from the architecture and configuration, to implementing actions and the supporting infrastructure such as validation and internationalization. Above all else, it focuses on the practical – with plenty of code and productivity tips to get you started using Struts2 today.
Followers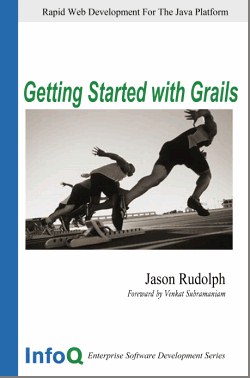 Grails is an open-source, rapid web application development framework that provides a super-productive full-stack programming model based on the Groovy scripting language and built on top of Spring, Hibernate, and other standard Java frameworks. Over the course of this book, the reader will explore the various aspects of Grails and also experience Grails by building a Grails app.
Followers
Java Transaction Design Strategies shows how to design an effective transaction management strategy using the transaction models provided by Java-based frameworks such as EJB and Spring. Local, programmatic, declarative, and XA models are explained; the book concludes with a set of design patterns show how to effecitvely use these models.