Architecture & Design
Architecture & Design
Follow
1630 Followers
This eMag takes a look back at five of the most popular presentations from the Architectures You've Always Wondered About track at QCons in New York, London and San Francisco, each presenter adding a new insight into the biggest challenges they face, and how to achieve success. All the companies featured have large, cloud-based, microservice architectures, which probably comes as no surprise.
.NET
.NET
Follow
247 Followers
The C# programming language was first released to the public in 2000. and since that time the language has evolved through six releases to add everything, from generics to lambda expressions to asynchronous methods and string interpolation. In this eMag we have curated a collection of new and previous content that provides the reader with a solid introduction to C# 7 as it is defined today.
Culture & Methods
Culture & Methods
Follow
484 Followers
This book includes a set of cut-and-dried techniques for improving your cooperation with the business. The main goal of this publication is to give you two key skills: discovering the business needs and managing the conversation in a way that will enable you to collect precise and useful information.
Cloud
Cloud
Follow
223 Followers
Technology choices are made, and because of a variety of reasons - such as multi-year licensing cost, tightly coupled links to mission-critical systems, long-standing vendor relationships - you feel "locked into" those choices. In this InfoQ emag, we explore the topic of cloud lock-in from multiple angles and look for the best ways to approach it.
Architecture & Design
Architecture & Design
Follow
1630 Followers
A summary of five CS papers chosen from the 55 that Adrian Colyer has reviewed for his Morning Paper blog during Q2 2016. Amongst the five papers in the magazine Colyer takes a look at how Facebook collect and analyse over 1 trillion data points per day across 2 billion unique time series, and the technology behind bots on Q&A systems like Siri, Cortana, Alexa et al.
DevOps
DevOps
Follow
578 Followers
The creation of many competing, complementary and supporting container technologies has followed in the wake of Docker, and this has led to much hype and some disillusion around this space. This eMag aims to cut through some of this confusion and explain the essence of containers, their current use cases, and future potential.
Java
Java
Follow
714 Followers
In this eMag we have curated articles on bytecode manipulation, including how to manipulate bytecode using three important frameworks: Javassist, ASM, and ByteBuddy, as well as several higher level use cases where developers will benefit from understanding bytecode.
Java
Java
Follow
714 Followers
Apache Shiro is a powerful and easy-to-use Java security framework that performs authentication, authorization, cryptography, and session management. This book will help you find out what Shiro actually is, and will help you to secure your Java EE project from scratch and to understand the security philosophy.
Culture & Methods
Culture & Methods
Follow
484 Followers
#NoProjects – a number of authors have challenged the idea of the project as a delivery mechanism for information technology product development. The two measures of success and goals of project management and product development don't align and the project mindset is even considered to be an inhibitor against product excellence. This emag presents some alternative approaches.
Architecture & Design
Architecture & Design
Follow
1630 Followers
A summary of five CS papers chosen from the 66 that Adrian Coyler has reviewed for his Morning Paper blog during the first quarter of 2016. Topics include distributed transactions, transaction recovery, and Hyperloglog.
Development
Development
Follow
461 Followers
This year was the tenth anniversary for QCon London, and it was also our largest London event to date. Including our 140 speakers we had 1,400 team leads, architects, and project managers attending 112 technical sessions across 18 concurrent tracks and 12 in-depth workshops. This eMag brings together InfoQ's reporting of the event, along with views and opinions shared by attendees.
Mobile
Mobile
Follow
119 Followers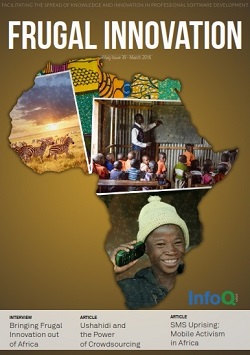 In little over a decade, Africa has gone from being a region where it's still hard to find power lines, fixed-line telecom infrastructure, and personal computers to being the second-most mobile-connected continent where about 15% of the billion inhabitants own a cell phone.