Architecture & Design
Architecture & Design
Follow
891 Followers
A summary of five CS papers chosen from the 66 that Adrian Coyler has reviewed for his Morning Paper blog during the first quarter of 2016. Topics include distributed transactions, transaction recovery, and Hyperloglog.
Development
Development
Follow
219 Followers
This year was the tenth anniversary for QCon London, and it was also our largest London event to date. Including our 140 speakers we had 1,400 team leads, architects, and project managers attending 112 technical sessions across 18 concurrent tracks and 12 in-depth workshops. This eMag brings together InfoQ's reporting of the event, along with views and opinions shared by attendees.
Mobile
Mobile
Follow
74 Followers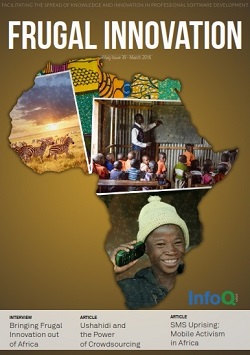 In little over a decade, Africa has gone from being a region where it's still hard to find power lines, fixed-line telecom infrastructure, and personal computers to being the second-most mobile-connected continent where about 15% of the billion inhabitants own a cell phone.
Culture & Methods
Culture & Methods
Follow
276 Followers
This eMag brings together a number of articles that explore ways to consciously design your culture, how to nurture and grow attitudes of craftsmanship and professionalism in teams, how to create places which are great to work in that get great outcomes, and how to make a profit.
Culture & Methods
Culture & Methods
Follow
276 Followers
Why do some companies excel with agile and others see virtually no improvement? The difference is culture and an understanding that agile is a framework for deep cultural change instead of a process or set of practices to increase efficiency. Why Agile Works: The Values Behind the Results focuses on why and how agile works and where agile should take organizations in terms of values.
Java
Java
Follow
482 Followers
If there were ever any question that Java was the de facto standard for server side enterprise development, Java 8 has certainly quelled that one. The world now anxiously awaits Java 9 and the innovations it promises. Oracle has slated Java 9 for a March 2017 release. In this eMag, we take a look at what's on the scheduled horizon for Java 9 and beyond.
DevOps
DevOps
Follow
353 Followers
In this e-mag, we explore some of those patterns through testimonies from their practitioners and through analysis by consultants in the field who have been exposed to multiple DevOps adoption initiatives.
Mobile
Mobile
Follow
74 Followers
This eMag provides a concise review of all that is essential for developers to know for building apps for the latest release of Apple's mobile OS. This eMag is essentially based on the video sessions from WWDC that Apple made available to developers and tries to enrich them with links to reference material that has become meanwhile available online.
Java
Java
Follow
482 Followers
The JHipster Mini-book is a guide to getting started with hip technologies today: AngularJS, Bootstrap and Spring Boot. This book shows you how to build an app with JHipster, and guides you through the plethora of tools, techniques and options you can use. Furthermore, it explains the UI and API building blocks so you understand the underpinnings of your great application.
Data Science
Data Science
Follow
375 Followers
This eMag focuses on the graph database landscape and the real world use cases of graph databases. It includes articles and interviews covering topics like data modeling in graph databases and how companies use graph databases in their application. It also includes an article on full stack web development using a graph database.
Cloud
Cloud
Follow
108 Followers
In this eMag, you'll find practical advice from leading practitioners in cloud. Discover new ideas and considerations for planning out workload migrations.
Culture & Methods
Culture & Methods
Follow
276 Followers
This eMag offers readers tactical approaches to building software experiences that your users will love. Break down existing silos and create an environment for cross-collaborative teams: placing technology, business and user experience design at the core.