Presentations
39:39
Web API
Web API
Follow
231 Followers
Cameron Waeland discusses the evolution of Compass and presents their extensible code generation framework which is at the heart of their automatically generated REST to gRPC reverse proxy.
52:40
Web API
Web API
Follow
231 Followers
Chris Roche and Christopher Burnett discuss how they extended the Protocol Buffer (PB) IDL to create unified APIs and data models, and how they used Envoy to move HTTP 1.1 services to gRPC.
40:05
Development
Development
Follow
549 Followers
David Howden introduces gRPC and outlines its main strengths/weaknesses, and then recounts his experience of migrating from JSON/HTTP-based REST to gRPC, including benefits and issues encountered.
43:24
Architecture & Design
Architecture & Design
Follow
1880 Followers
Oliver Gould discusses Finagle, a library providing a uniform model for handling failure at the communications layer, enabling Twitter to fail, safely and often.
32:26
Java
Java
Follow
835 Followers
Ray Tsang discusses using gRPC's streaming API to build sophisticated real-time applications, diving into integration with Maven, Gradle, Spring Boot and RxJava.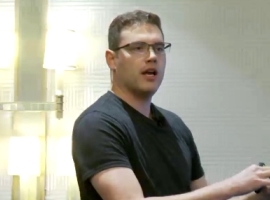 01:00:09
Followers
Ben Christensen discusses the mental shift from imperative to declarative programming, working with blocking IO such as JDBC and RPC, service composition, debugging and unit testing.