Presentations
40:05
Development
Development
Follow
610 Followers
David Howden introduces gRPC and outlines its main strengths/weaknesses, and then recounts his experience of migrating from JSON/HTTP-based REST to gRPC, including benefits and issues encountered.
43:24
Architecture & Design
Architecture & Design
Follow
2123 Followers
Oliver Gould discusses Finagle, a library providing a uniform model for handling failure at the communications layer, enabling Twitter to fail, safely and often.
32:26
Java
Java
Follow
941 Followers
Ray Tsang discusses using gRPC's streaming API to build sophisticated real-time applications, diving into integration with Maven, Gradle, Spring Boot and RxJava.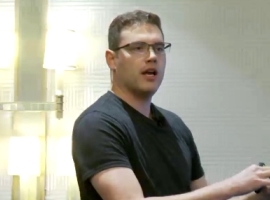 01:00:09
Followers
Ben Christensen discusses the mental shift from imperative to declarative programming, working with blocking IO such as JDBC and RPC, service composition, debugging and unit testing.