Interviews
Older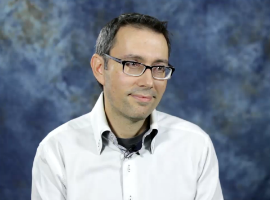 27:06
Followers
JavaScript expert Panos Astithas discusses the latest trends in mobile app development. The tools that Panos employs in his work as Software Engineer at Mozilla help to keep their applications as bug-free and smooth running as possible. Effective debugging is all about having the best developer tools available.
30:30
Followers
In this exclusive interview with "NJ", app designer and engineer from Adobe Systems, at the QCon 2013 in San Francisco, NJ talks about the open source code editor known as "Brackets". The challenges around front-end development; JavaScript, HTML, CSS development. the open source project and the actual branded Adobe product called Adobe Edge Code, part of Edge Tools and Services.
31:21
Followers
Andrew Prentice and Jo Cranford talk about testing and development approaches at Atlassian, in particular the role of Quality Assistance and approaches to effectively testing JavaScript.
19:18
Followers
David Nolen explains the state of ClojureScript and how it integrates with browsers and the Javascript ecosystem. Also: Source Maps and how they will make Javascript a better compilation target.
27:22
Followers
Eric Evans shares his view on how the last trends in technology, such as NoSQL, functional languages, thick browser-based client, JSON and others, make him rethink some of the DDD concepts.
18:05
Followers
Alex Russell talks about the shortcomings of the web platform and how it is evolving in order to adress them. He also explains about how APIs and browsers are improving, and shares his vision on things to come.
20:17
Followers
Allen Wirfs-Brock talks about the ambient computng era and how the web and the browsers fit in this vision. He also shares his experiences from working on EcmaScript 5/6, and explains about the evolution of this spec.
52:26
Followers
Andreas talks about the benefits of the Open Web and how it compares with proprietary closed-stacks. He also talks about various projects like Boot to Gecko, Broadway, pdf.js and more, that bring the web platform in a whole new level.
14:19
Followers
Aditya talks about the benefits of working with the HTML5 platform and the state of the art both in mobile devices and desktop. He also makes his prediction about were the market is heading and how the demand from media companies will shape future devices and specs.
18:32
Followers
Chrome Developer Advocate Michael Mahemoff, talks about the importance of single page web apps and the challenges that developers have to face while building them. He elaborates on developer tools, debugging techniques, Chrome Web Store and the future of web apps.
36:05
Followers
Brian Warner, which is an engineer with Mozilla Labs, talks about Browser Extension APIs and how the Jetpack SDK and CommonJS are changing the way we use the browser as a development platform. He also talks about the differences between the popular browsers and the security considerations that arise from trusting 3rd-party add-ons.
22:14
Followers
In this interview Google tools honcho from Brad Abrams talks about how Google tools integrate with Spring tools to help make Java developers' lives easier. Abrams discusses Google's reasons for targeting the popular Spring Framework. He also delves into the integrations between Google App Engine, Google Web Toolkit (GWT) and Speed Tracer with Spring tools such as Roo, STS, Spring Insight and more.