Presentations
28:39
Cloud
Cloud
Follow
129 Followers
Dave Syer shows how Spring Cloud Cluster provides a simple abstraction for leader election and how it is implemented using Zookeeper, Hazelcast and etc.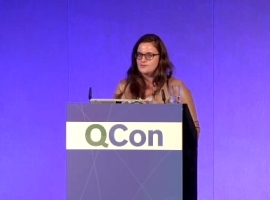 28:50
Followers
Jessie Frazelle talks about which customer cases drove Docker clustering and describes the key technical decisions and code in the implementation.
52:35
Followers
John Wilkes shares lessons learned managing clusters at the scale of Google.
41:55
Followers
Jamie Allen describes three patterns using Akka actors: handling a lack of guaranteed delivery, distributing tasks to worker actors and implementing distributed workers in an Akka cluster.
57:33
Followers
Ryan Vanderwerf explains setting up Terracotta and clustering an applications using Ehcache, HTTP Session in Tomcat, and Quartz.
48:40
Followers
Yashwanth Nelapati and Marty Weiner share lessons learned growing Pinterest: sharding MySQL, caching, server management, all on Amazon EC2.
43:18
Followers
Sean Lynch and Matt Ingenthron introduce Membase, detailing how they added clustering features in Erlang, what they built and what lessons they leaned along the way.