Presentations
58:21
Followers
The panelists discuss if code generation techniques help or hinder long-term software maintenance, and how such techniques can be integrated in the maintenance process.
43:03
Followers
Juan Manuel and Jesús López González share their experience gathered over five years designing and implementing Speech, a DSL for programming social processes.
01:30:30
Followers
Gilles Di Guglielmo and Julien Baudry present patterns for solving UI issues –large forms, linked form fields, conditional field display, dynamic list content, incremental validation-, using modeling.
49:43
Followers
Sebastian Erdweg introduces SugarJ, a Java-based extensible programming framework which extends Java with closures.
51:20
Followers
Martin Thiede introduces and demoes RText, an open source textual DSL framework that can be used with almost any text editor or IDE.
46:36
Followers
Michael Rauch and Christoph Gutmann explain how Eclipse Modeling technology is successfully applied to establish forward engineering in the domain of technical SOA.
01:12:58
Followers
Jürgen Mutschall ponders what is to be done to make MDSD a mandatory development methodology for every large scale project.
01:11:39
Followers
Rainer Koschke discusses software cloning – reusing code through copy and paste.
01:01:03
Followers
Darius Silingas reviews multiple real-world MDA cases by presenting the problems faced, analyzing what went wrong, and suggesting how to address similar issues in your projects and organizations.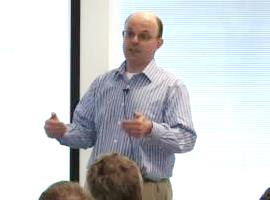 57:41
Followers
Ian Goodsell discusses the challenges encountered with tool versioning and new approaches needed to support continuous delivery.
01:26:22
Followers
Markus Völter conducts a tutorial on polyglot programming, explaining why one should use multiple languages and how.
55:33
Followers
Sven Efftinge keynotes on the history, the current status and the future of code generation tools and techniques.