43:49
Followers
Simon Marlow describes a concurrency-based system built with Haskell that allows front-end programmers to write business logic to access all the back-end services in a concise and consistent way.
42:10
Followers
Keith Adams examines the strengths that made PHP a dominant language in its niche, highlighting Facebook's attempts at remedying its inconsistencies and misfeatures while maintaining its strengths.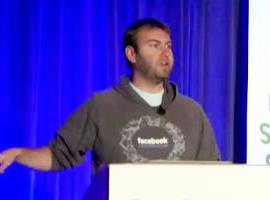 45:31
Followers
Christian Legnitto offers insight in some of the tools and processes used by Facebook for pushing new updates to their mobile apps.
39:39
Followers
Pedro Canahuati describes how Facebook's operations maintains their infrastructure, including challenges faced and lessons learned: prioritizing calls, managing technical debt, incident management.
43:38
Followers
Keith Adams shares HHVM insights showing how a system can become very performant if it is well tuned.
39:14
Followers
Keith Adams outlines PHP's strengths and Facebook's attempts at remedying the inconsistencies and misfeatures in the core language.
51:20
Followers
Nicolas Spiegelberg discusses Facebook Messages built on top of HBase, the systems involved and the scaling challenges for handling 500TB of new data per month.
21:17
Followers
Guilherme Ottoni presents the design, implementation, and an evaluation of the HipHop compiler for PHP.
51:49
Followers
Chuck Rossi unveils some of the tools and processes used by Facebook for pushing new updates every day.
42:13
Followers
David Mortenson details how Facebook maintained efficiency while increasing the number of engineers by reducing the n00b time sink, keeping development fast and avoiding unintended consequences.
49:37
Followers
Dhruba Borthakur discusses the different types of data used by Facebook and how they are stored, including graph data, semi-OLTP data, immutable data for pictures, and Hadoop/Hive for analytics.
53:40
Followers
James Pearce discusses the current trends in social applications and some of the challenges and solutions in creating HTML5 applications for mobile devices.