Presentations
45:54
Followers
Adam Warski shows how to replace features of DI containers with plain Scala code using MacWire, and adding interceptors using macros.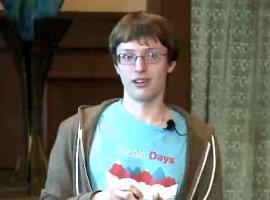 38:47
Followers
Eugene Burmako introduces Scala macros, starting with the initial design and the actual release in production in Scala 2.10, addressing Scala macro system use cases and patterns.
25:04
Followers
Nimrod is a statically typed programming language that tries to give the programmer ultimate power without compromises on runtime efficiency.
30:04
Followers
Chris Houser and Jonathan Claggett compare macros with monads, suggesting when it is better to use each of them, and pondering what could be done to improve them.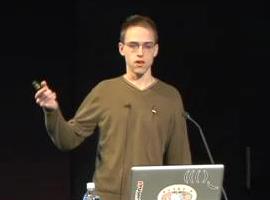 38:35
Followers
Gary Fredericks discusses macros, what they are, how to write good ones, when to use them and when to avoid using them.
29:26
Followers
José Valim introduces Elixir, a programming language for the Erlang VM – an attempt to provide better abstractions and productivity tools like protocols and macros usually required for web development
44:57
Followers
David McNeil introduces a model for thinking about Clojure evaluation through code samples with the purpose for an easier understanding and writing of macros.