Books
DevOps
DevOps
Follow
831 Followers
This DevOps eMag has a broader setting than previous editions. You might, rightfully, ask "what does faster, smarter DevOps mean?". Put simply, any and all approaches to DevOps adoption that uncover important mechanisms or thought processes that might otherwise get submerged by the more straightforward (but equally important) automation and tooling aspects.
Culture & Methods
Culture & Methods
Follow
676 Followers
This eMag brings together a number of articles that explore ways to consciously design your culture, how to nurture and grow attitudes of craftsmanship and professionalism in teams, how to create places which are great to work in that get great outcomes, and how to make a profit.
Followers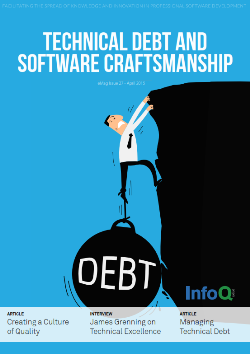 This eMag brings together a number of authors who have addressed the topic on InfoQ and suggests ways to identify, monetize, and tackle technical debt in your products.
Followers
This book provides a set of essential thinking tools for understanding Agile adoption and transformation: how they differ and what you need to know to avoid being another statistic in the widespread adoption failure. In particular, you will learn how to use culture to work more effectively with your organization.
Followers
This mini-book offers an easy to follow 10 step guide to taking the initial plunge and start using Lean principles to optimizing value and flow in your system. Each step consists of a section explaining "why" followed by examples of specific tools, practices and rules that have helped other teams better understand and optimize their system.