Presentations
Older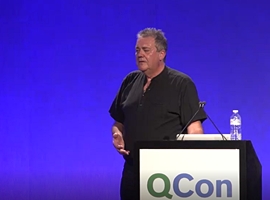 48:48
Development
Development
Follow
612 Followers
Dave Farley explores the term "Software Engineering" and how it relates to craftsmanship.
01:06:38
Culture & Methods
Culture & Methods
Follow
674 Followers
Alison Lloyd examines some less-than-stellar occurrences in non-software fields, drawing out some ideas that she hopes will make software development a little less painful.
59:51
Followers
Pete Goodliffe keynotes on what it takes to become a better programmer, discussing tools for reviewing the personal skillset and techniques to help one "become a better programmer".
47:07
Followers
Chad Fowler keynotes on his career, the passion, the mistakes and good choices he made, and how that can help others learn the craft of software engineering.
36:36
Followers
Dan North describes some of the many facets of craftsmanship using examples of mastery from various fields and tries to figure out exactly what is programmers' craft.
53:48
Followers
Dick Wall makes connections between Lao-Tzu' philosophical insights found within his writing, Tao Te Ching, and the art of software development.
59:16
Followers
Kevlin Henney addresses the motivation, implications, pros and cons of a craftsmanship view of software development, as well as touching on other metaphors and their implied practices.
43:30
Followers
Terry Yin explains different programming exercises, outlining the difference in their effectiveness.
50:04
Followers
Jen Myers discusses the need to make software development attractive and accessible to a larger audience, improving the overall development and learning process in order to have better programmers.
01:00:50
Followers
George Fairbanks stresses the importance of having a good grasp of various conceptual models in order to be a master-builder, translated into development as "learn your software architecture".
48:09
Followers
Kevlin Henney examines code samples to see what can be learned from them starting from the premise that one won't write great code unless he knows how to read it.
51:20
Followers
Patrick Debois discusses the role of tools in creating a new devops culture that needs to be build inside organizations around the idea of craftsmanship.