Books
Architecture & Design
Architecture & Design
Follow
1124 Followers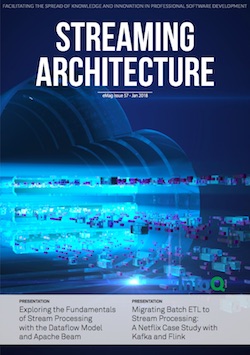 This InfoQ emag aims to introduce you to core stream processing concepts like the log, the dataflow model, and implementing fault-tolerant streaming systems.
Followers
Apache Hadoop is proving useful in deriving insights out of large amounts of data, and is seeing rapid improvements. Hadoop 2 now goes beyond Map-Reduce; it is more modular, pluggable and flexible and it fits a variety of use cases better. We explore this as well as some tools that can help utilize Hadoop better.
---
CONTENT IN THIS BOX PROVIDED BY
AI & Machine Learning Software Development Conference
April 9-11, 2018
San Francisco, California
Applied AI for Developers
QCon.ai is a brand new AI and machine learning software development conference from the team behind QCon and InfoQ.com.
---
QCon.ai is a conference for software developers, architects, and technical managers who want to uncover the real-world uses cases for applying artificial intelligence and machine learning in engineering but who may not come from what we traditionally think of as data science.
Software Engineer, Netflix
Haley Tucker
"What I'd like to look more into and spend more time on is the machine learning space. I keep running into problems in my current job that just feels like there is a machine learning solution to it. I think there is a lot of value in spending time in that space."
QCon.ai at a glance
---
Over 30 sessions across 2 days
1 day of optional workshops
Practitioners over evangelists
Never any hidden marketing