Presentations
Older
01:27:29
Java
Java
Follow
837 Followers
Dan Woods talks about Ratpack, a high-through, reactive, non-blocking web framework for Java 8. He showcases the framework's features and explains how to write applications with Ratpack.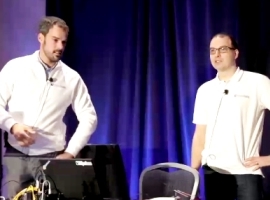 36:41
Followers
Jonas Helming, Maximilian Koegel develop a simple client-server app using a variety of Eclipse frameworks and producing 10 different versions of the same client running on the multiple platforms.
42:47
Followers
Jeremy Saenz discusses the use of web frameworks, suggesting that libraries, such as his open source project Martini, can better serve the needs of web development.
01:26:34
Followers
Dan Woods talks about Ratpack, an asynchronous web framework for the JVM that was inspired by the simplistic nature of Ruby's Sinatra framework.
44:36
Followers
David Pollak presents Lift's design and how the same design decisions were applied to Clojure/ClojureScript/AngularJS. Lift is a web framework with support for server-push.
01:02:59
Followers
The panelists discuss JavaScript tooling: how to select them, benefits of compiling to JavaScript, differences between MVC solutions, using one framework for both client and server, etc..
37:23
Followers
Juergen Fesslmeier discusses the advantages of using a complete JavaScript stack in order to create business web applications demoing creating such an app with Wakanda.
01:20:30
Followers
Yehuda Katz, Jeremy Ashkenas, Nick Small, Alex MacCaw, and Igor Minar explain what can be done with their JavaScript frameworks, Ember, Batman, Angular, Backbone, Spine.
46:53
Followers
Dio Synodinos explains and demoes HTML5 visualization tools and frameworks: CSS3, SVG, Canvas, WebGL, Raphaël, Processing.js, D3.js, Fabric.js, etc.
56:29
Followers
Tom Dale demoes creating an RSS reader in Ember.js, a JavaScript framework for creating complex web applications.
57:54
Followers
Sadek Drobi presents the architecture of the Play2 framework, a framework helping developers creating web applications in Java and Scala.
41:40
Followers
Guillaume Bort and Sadek Drobi introduce Play, a Java and Scala web development framework, insisting on its asynchronous reactive capabilities built on Iteratee IO.