24:18
Followers
At QCon London Helen Walton and Pete Burden discussed what it takes to design a collaborative, agile supporting culture in an organisation, if it is possible for large organisations to actually change and what is needed to enable that change. The spoke about the Spark the Change conference and how it is a showcase of organisations that are actually working in new ways.
16:06
Followers
Jenni explores the neuroscience which shows why agile works, how it links to the factors that motivate people (using the SCARF model) and how leadership at every level and shows how empowering people is necessary for organisational success.
46:34
Followers
Frank Tino is an executive at a large software company who brought Agile to his organization using an invitational approach, instead of imposing practices on teams. He used a method called OpenSpace Agility to bring an entire enterprise into the process of experimenting with Agile principles and practices, in service to getting a rapid and lasting Agile adoption at scale.
09:57
Followers
Aino Corry talks about overcoming barriers in retrospectives, facilitating effective retrospectives, techniques for doing retrospectives and the vital skills that retrospective facilitators need.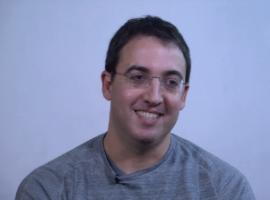 21:01
Followers
InfoQ interviewed Yuval Yeret at the Lean Kanban France 2014 conference about kick starting Agile the Kanban way. He explained how teams can do pull-based change using Kanban, skills for change managers and patterns that can be used to support agile adoption in enterprises.
09:49
Followers
Sandy explains how Trade Me adopted a truly self-organising model of team formation to establish ten product development squads and how she and others use Personal Kanban to prioritise and manage work.
23:24
Followers
Charlie talks about how Solutions IQ changed to become a truly agile organization, applying the principles and practices of agile development to every aspect of running a global company.
15:53
Followers
Heather and Kent present their experiences using positive politics to influence change in organisations undergoing an agile transition, how leadership beliefs can be influenced through upward micromanagement, playing by the rules to influence change and sharing stories to motivate action
23:12
Followers
Pat Reed talks about the Agile Accounting program of the Agile Alliance, which provides guidelines for organisations to adapt their financial accounting approaches to accommodate developing products in and agile iterative way. One of the major challenges to large-scale implementation is how treat agile projects from a capitalization perspective and this program provides guidelines on how to do so.
22:47
Followers
Richard Dolman & Steve Spearman are agile coaches who are collaborating on producing a freely available tool to compare a variety of scaling frameworks for agile adoption. They spoke at Agile 2014 about the content of the tool and how organisations and teams can utilize it.
14:28
Followers
At Agile 2014 Gil Broza spoke about what servant leadership really means, getting past the buzzwords to practical advice for managers and leaders on how to empower teams and individuals. He also previewed his upcoming book on the Agile Mindset.
16:46
Followers
At Agile 2014 Sally spoke about what it takes to form healthy sustainable high-performing teams, the organizational culture that is needed to nurture self-organization and a new tool for team and organization health checks.