This article first appeared in Objective View magazine and is brought to you by InfoQ & Objective View magazine.
Agile Software Community of India was happy to host 1236 Attendees from 28 different countries. We had attendees playing 342 different roles from 226 different companies sharing, learning, networking and enabling the community to improve their agility as part of Agile India 2014 conference.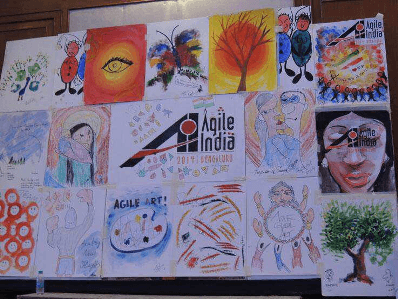 (peer-to-peer learning.)
For 10 years we have been running these conferences and every year the community-feeling keeps getting better. This year, finally one could sense the true spirit of large scale community at the conference. It was not a one person show anymore. Also, it was amazing to see how well folks were networking and learning from each other.
This year we got tremendous support from a diverse set of companies sponsoring the event. Many people appreciated that the conference was not only supported by Agile tools & consulting companies, but was also supported by companies like JP Morgan, HP and Siemens. This clearly shows that the industry believes in the agile movement and wants to invest in nurturing our budding community.
Another thing the participants really appreciated was, how inclusive the conference program was. In the early days of Agile India, we were very heavily influenced by eXtreme Programming. But over the years, we've tried our best to be more inclusive of other methods (Scrum, Kanban, Lean Startup, DSDM, etc.) and frameworks (SAFe, DAD, etc.) We strongly believe that the conferences job is to
create an equal platform for everyone, get the best in the industry and let people decide what makes most sense to them, in their context.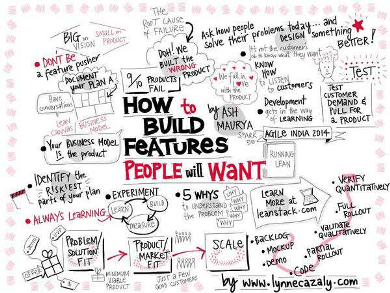 The entire conference program was put together by committee of volunteers , who are selected via a self-nomination process. Also anyone is allowed to put in a proposal via our open submission system. We got 263 proposals for talk, out of which 64 proposals were selected.
The conference was run for four days with each day day dedicated to specific topic.
Scaling Agile Adoption - Day focused on adopting Agile in organizations of all types and sizes, scaling from single team doing agile to multiple teams, departments and non IT adoption of agile practices. Ellen Grove headed this theme as its chair.
Offshore/Distributed Agile - Day focused on Offshore teams, distributed teams either in same time-zone or different time-zones and its impact on agile projects. Ravi Kumar headed this theme as its chair.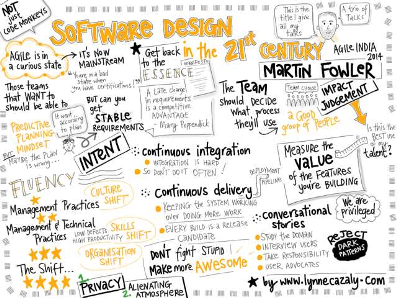 Agile Lifecycle - Day focused on the entire lifecycle of a project/product starting from product discovery, project kickoff, release planning, user story mapping, development & testing practices, CI pipelines from development to deployment, measuring feature usage, doing A/B testing and beyond. Michael Norton (Doc) headed this theme as its chair
Beyond Agile - Day focused on taking Agile methods to the next level such as Lean Startups for Enterprises, Continuous Delivery, using cloud services such as Iaas or Paas, Automation in device/embedded software, Agile in mobile development including CI & A/B testing, challenges in managing generalizing specialists. Tathagat Verma headed this theme as its chair.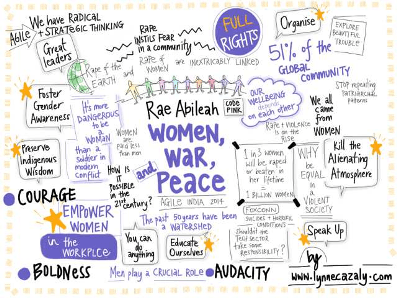 Morning keynotes by Martin Fowler (@martinfowler), Todd Little, Ash Maurya (@ashmaurya) and Dave Thomas (@pragdave) and evening keynotes by Rae Abileah, Ryan Martens where inspiring not just from technology perspective but even opened our eyes in many different ways. We tried many unique concepts during this years conference:
Agile Art!:
During all the three evening receptions, the participants created a visual art piece together with the help of Richard Kasperowski and the team from McAfee. This helped the participants to create new connections and build/reinforce the community of Agilists in India and around the world.
Book Signing and Book Store:
Every year Agile India attracts top speakers from around the world. Most of these speakers have a track record of writing very influential books. To enable the fan/follower of these authors, we set up a book store at the conference and had book signing events where attendees were able to get a personal autographed book by the authors. Many folks appreciated this initiative. And we plan to make it even stronger next year.
Agile India Webinar Series:
We invited many speakers to the Agile India 2014 Conference. However due to travel constraints or other conflicts, they were not able to make it. However few of them agreed to do an exclusive webinar (Google Hangout) with us. The recordings of their webinar is available at: http://2014.agileindia.org/program/webinars/
Agile India Job Fair:
Agile India was happy to host the world's first job fair dedicated for hiring Agile practitioners. The goal of
the Agile Job Fair was to create a platform dedicated for the Agile practitioners to meet their potential Agile employers and for companies to find Agile practitioners to enable their journey to Agile adoption and excellence.
See videos of all the talks 2014.agileindia.org. Find out about next year's event at agileindia.org
About the Authors

Naresh Jain is an internationally recognized Technology & Process Expert. As an independent consultant, Naresh worked with many fortune 500 software organizations and startups to deliver mission critical enterprise applications. Currently Naresh is leading two tech-startups, which build tablet-based adaptive educational games for kids, conference management software and social-media search tool. His startups are trying to figure out the secret sauce for blending gamification and social learning using the latest gadgets. In 2004, Naresh founded the Agile Software community of India, a registered non-profit society to evangelize Agile, Lean and other Light-weight methods in India.
Pramod Sadalage is principal consultant at ThoughtWorks where he enjoys the rare role of bridging the divide between database professionals and application developers. He is usually sent in to clients with particularly challenging data needs, which require new technologies and techniques. In the early 00's he developed techniques to allow relational databases to be designed in an evolutionary manner based on version-controlled schema migrations. He is the co-author of Refactoring Databases, co-author of NoSQL Distilled and continues to speak and write about the insights he and his clients learn.

This article first appeared in Objective View magazine and is brought to you by InfoQ & Objective View magazine.