Key Takeaways
An innovation mindset is a must for any organization to survive, and the demand for the necessary soft skills has strongly increased in the last years
Even if your employees have the necessary creativity, you cannot expect them to be innovators without any further support
Sometimes the small, tiny innovations are the ones who make a difference!
No big-bang innovation company program has ever worked; we need to think big, and start small
In order to nurture an innovation culture in your organization, employees need trust, time, space, teams, a second operating system, MVPs, and co-creation
What do we really mean when we talk about "innovation"?
"I have to finish the project first!" "We have a deadline!" Does this sound familiar to you?
One of the greatest challenges that executives face is promoting creativity and innovation within their companies; employees struggling with their daily work "don't have time" to take a more creative approach in their company. Despite numerous Design Thinking workshops and Hackathons, most traditional companies fail to develop a culture of innovation. Yes, innovation is failing!
We read the famous article "Software is eating the world" in 2011. Ten years later, in 2021, the new mantra is "Innovation must eat the world!" This means that as soon as we introduce a new product to the market, we must start competing against it ourselves, the so-called "disrupt yourself" behavior, because you can be sure that all your competitors are doing it as well!
However, even if we are clearly aware of the dire need to promote innovation, why is this not taking place? What can we do to create an innovation mindset in the organization, starting today?
Based on our experience supporting several organizations worldwide to "be innovative", we have compiled some guidelines which can support you in changing the attitude of each and every employee in your organization.
The first question that arises however, is, creativity or innovation?
Actually, the answer is both. It is proven that creativity is one of the top soft skills required nowadays: having creative employees is for today for any organization of paramount importance, as shown by the World Economic forum's The Future of Work Report 2020.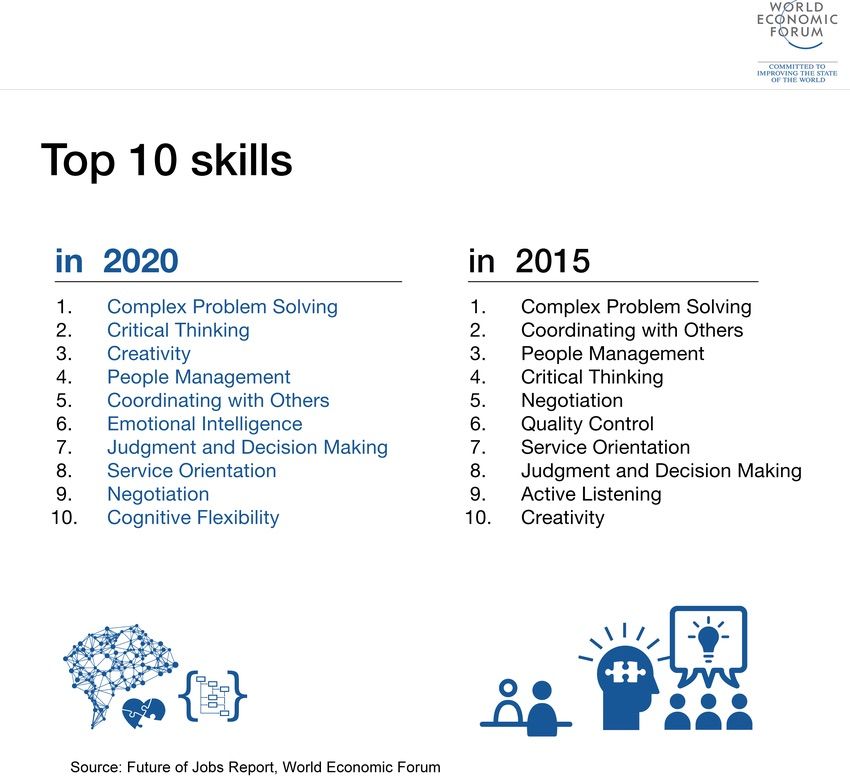 But this is not enough! You might have the most gifted creative profiles in your enterprise but still have very little innovation.
Why? Because the problem is somewhere else! It is not about the lack of "proper" employees for innovative projects; we have observed during the last years that for any enterprise, each and every employee can be an innovator!
Maybe the definition of "innovation" as such is the very first thing we have to look into. When you mention the word "innovation," most people involved think big; or better said, they think huge. We imagine a gifted employee with Albert Einstein's IQ who creates an amazing product which will change the direction of the world economy. We dream of gadgets like Apple Watch or SpaceX rockets…even if all these amazing revolutionary products are a great thing to have, innovation is far more than that.
Rather, it is about the tiny little improvements any employee can do, even the newcomer junior receptionist; hundreds of simple, low-cost- no-effort activities are in plain sight just waiting for somebody to deploy them.
Let's take a simple example: the queue at a governmental department in Cadiz (South Spain). Instead of people standing around for hours in line, we saw that the attendees left their shoes to queue up, and sat barfoot on the chairs around, waiting for their turn- that is, for their shoes to be first in the line!
Waiting for hours in a queue, in the middle of the hot summer, can cause severe health problems, especially for older women with swollen veins. The "queuing shoes" approach we observed is an excellent preventive measure to avoid for example varicose vein treatments.
Such simple innovative improvements can make the difference; if we manage to get all employees jumping into the innovation bandwagon, we will get to where we want to be.
Seven guidelines to introduce innovation in your organization
What do we need to do to get there?
Here are our seven steps for an innovative mindset: each step is the KO criterion for the following one, meaning, if you don't meet criteria no. 1, you cannot move on.
1. Trust
As simple as this: do you trust your employees?
Most recently during the lockdown of 2020 there became a clear understanding that it was is possible to control knowledge workers; perhaps there exists some amazing software which "controls" the activities taking place in the laptops of the company, but, in the XXI century, controlling your employees makes no sense.
One excellent example of trust in the industry is the Finnish technological company Futurice.
Any newcomer who starts working at Futurice receives a company credit card. But how do they use it? Since 2012 Futurice has applied the decision-making at Futurice framework 3x2 , visible to anyone on the internet: Futurice bases all purchasing decisions on the combination of three parameters (People, Customer, and Numbers) related to two further parameters (Now and Future) . So far, no absurd purchases have been made!
Moreover, everybody at Futurice has access to the financial state of the company, so any employee is aware of the economic situation of the company before making any expenses.
Furthermore, employees at Futurice can decide whether they work for commercial projects, or for Chilicorn Fund , the open source projects platform supported by the company.
Which project a certain employee works on, or whether they move back into a commercial project instead, is completely up to them, as there is no concrete % of time assigned for open source projects; employees have complete freedom to try new things out!
There are many ways to secure a safe environment in which your employees can be creative, but whatever you do, make sure that there trust is in place; when trust is a given, employees can be empowered to try things out, reducing control and signoffs to a minimum extent. By maximizing employee empowerment, we can accelerate decisions, and velocity is one of the main ingredients of innovation.
2. Time
When WhatsApp was founded in 2009 by Brian Acton and Jan Koum, they had all the time in the world…they were unemployed, so they could fully dedicate their time to their new idea. A couple of years later, 2014, WhatsApp was acquired by Facebook for approximately US $19.3 billion.
There is no point in expecting our employees to spend time in creative processes if they are 120% allocated to existing products and projects. This is a pattern which we unfortunately keep observing in many companies: there are excellent events and creative workshops ongoing throughout the organization, with impressive results, but they drop dramatically a few weeks later, and the ideas are left to the side, until a competitor brings it into the market.
Time is the new currency! It is not about the big fish eating up the small fish anymore; in the XXI century the fast fish is eating the slow fish up. So, if your employees have a brilliant idea, they need speed to bring it into the market, and this requires time and dedication.
There are many good examples out there in the industry which demonstrate how to allocate time for innovation, for example:
At Ericsson Germany, we made Fridays "trydays": on Fridays you could dedicate some time to new products or technology.
3M for many years has already had the 16% concept, where any employee can spend 16% of their time on whatever activities they are interested in, as of the very first minute of their day.
Futurice not only reserves 10% of time for learning, but they also pay up to 30 hours/month for any activities and experimenting done outside of office hours, as long as it is published as open source.
Scaled Agile Framework (SAFe) suggests dedicating a complete two-weeks sprint every quarter to innovation activities. Not just one team, but a complete team of teams come together in a programme called "Agile Release Train". This allows ca. 100 people to try things out in a collaborative environment.
Which method is best? That depends. Make a choice based on what you think fits your company best, but absolutely secure time for your employees. Remember that time was the most important asset that the founders of WhatsApp had.
3. Space
You hear a lot of urban myths about companies starting out in a garage. Well, many top companies worldwide actually started there!
Whether it's a garage, a war room, or any space you choose, your company does need some "room" to meet and some technology, assets, etc… to try things out.
Within the last few years we have seen many companies securing space for creativity, co-creation, and experimenting; and yes, for many organizations, like in Ericsson Germany, it is called a "garage".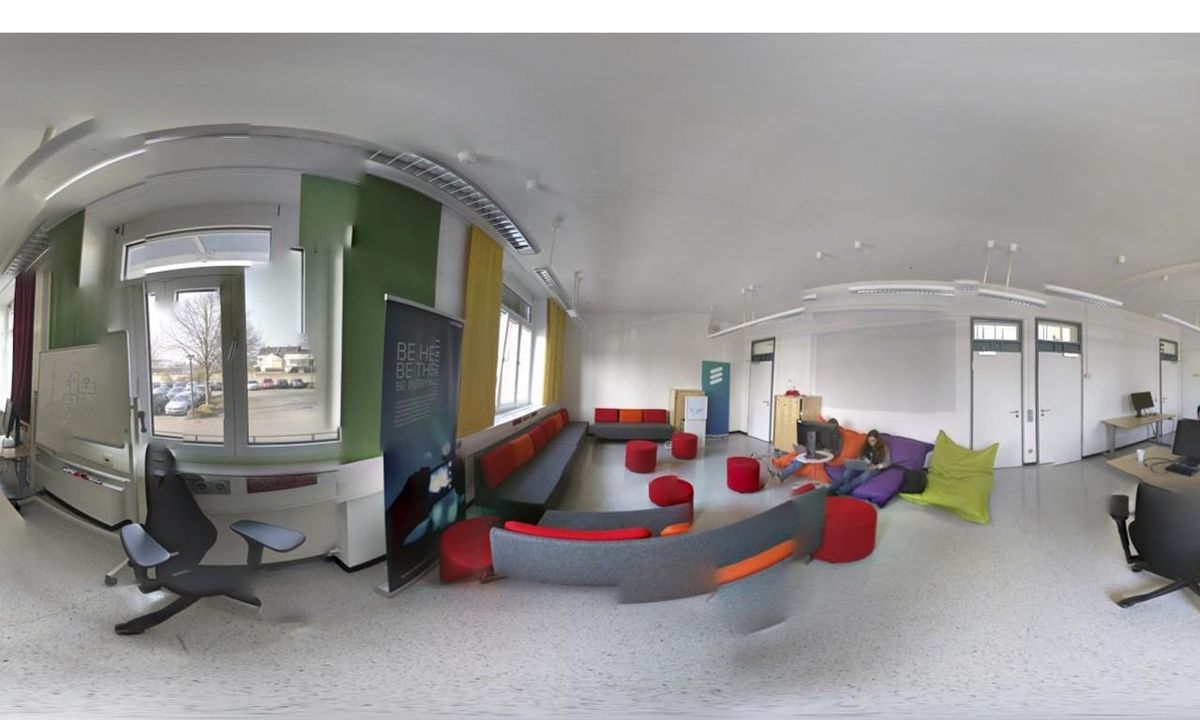 The interesting thing about the creation of the Ericsson Garage in Germany is that it was done by very enthusiastic employees, really a "top-down" approach. Employees searched for the proper room, found one, and secured the creative area, it was as simple as that!
As for today, as the world has now been dealing with a pandemic for almost two years, the world "room" has a completely different meaning: we are facing the challenge of providing "digital rooms" for innovation to take place and the assets might be stored in a Cloud.
A German online retailer running two Innovation Weeks a year could move them to the online approach without any hassle; our experience has shown that enthusiastic people do find a solution. Some of our clients just started with a Zoom space and a Miro board; management just needed to secure the licenses.
If employees have a safe environment, and the time for it, they will always find a way to create a digital space.
4. Teams
One of the most attractive things about Hacklatons is observing the teams; we have been at several events where completely new teams came together for two-day events, and the dynamic is impressive!
I had the honor of being part of a cross-functional high-performing team when working at R&D Ericsson Germany. My own experience confirms that different opinions and points of view promote the best ideas, so don't expect the best ideas from individual contributors.
Creative tension within a team is the best soil for great innovative ideas to grow; ensure your company promotes self-organized, cross-functional teams, with a wide diversity of characters and skills.
There are so many examples in the industry. A very interesting one is Thomas Edison: "We think Thomas Edison invented the light bulb, and we envision him alone in his studio slaving away at it. The truth is, Edison didn't invent the light bulb so much as he refined it and made it commercially viable. […]
In addition, he rarely worked alone. During the peak of his inventing career, Edison built a large studio in Menlo Park where roughly 15 other inventors worked alongside him, trading ideas and collaborating on projects. I like to think that his greatest invention wasn't the light bulb; it was Menlo Park." David Burkus "The Myths of Creativity"
It is amazing when you see a team of teams innovating together! We have worked with an "incubator ART" in a multinational in the telecom sector: around 100 people work together on releasing innovation every three months applying Scaled Agile Framework.
Our experience so far in different sectors shows that dedicated teams, that is, teams where the members of the team are stable, and 100% focused in their team activities, are the best approach for finding innovative solutions.
5. Dual operating system
Many years ago during a Hacklaton some colleges came up with a completely new business case. They were very excited; they built a prototype, they waited for the innovation board to approve the budget…several weeks later, a competitor was already in the market with the same idea.
We keep seeing companies in the industry creating great ideas…but failing to let the ideas move at high speed through the company's stable processes. Hierarchical organizations might be stable, but in most cases it is slow. So you see cases of excellent opportunities waiting for the innovation board to meet in four weeks and make a decision on budget…in the meantime, a competitor comes up and eats your lunch.
It was John Kotter who introduced the concept of "dual operating system" (Accelerate! HBR 2012). He highlighted the need for different tracks, as different products might need different velocity.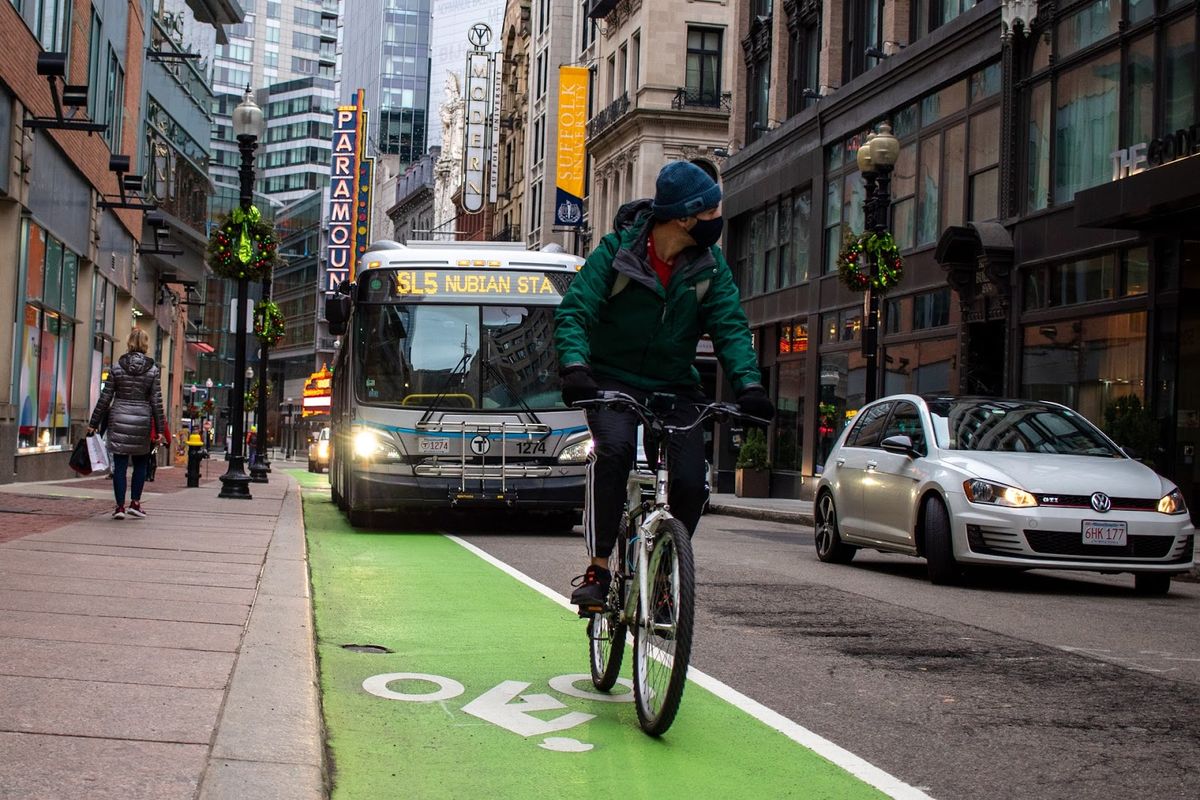 Photo by Aaron Doucett on Unsplash
We want to ensure that "business as usual" remains, but at the same time, create "fast tracks" through the network for innovative ideas to progress, for experimentation, for failure, and of course, success.
6. MVP, MVP, MVP
One of my first consultancy assignments was supporting a startup as a product owner. For several months the development teams did a very good job, and we quickly had a Minimum Valuable Product (MVP) in our hands which we tried to share with customers. Unfortunately, our CEO was "afraid" of showing a low quality product, which was far too basic and far below the announced expectations.
Whatever your fantastic idea looks like, you might be suffering from "product arrogance": you and your team are completely convinced that the idea you have in your hands is the greatest thing to ever happen to humankind. Never forget, in the heat of the creative process, the only thing we have are "assumptions". And they remain assumptions until a customer gives feedback on whatever we are trying to create.
Design Thinking brought us the customer into the creative process and Eric Ries gave us the concept of Minimal Valuable Product (MVP). There are several definitions of MVP, which creates a bit of confusion. It was Reid Hoffman, the founder of LinkedIn, who said: "If you are not embarrassed by the first version of your product, you've launched too late."
And being late is something we cannot afford to do when it comes to innovation.
Unfortunately, a pattern we observe is that for most of the innovative ideas there is a strong tendency to create "a basic product", which might take months.
An MVP is not a product; this is a basic rule for innovation approaches. An MVP validates an assumption, and, as long as we don't validate it, it remains an assumption. Don't put effort in products nobody needs. Whenever you try something new, you need an MVP to know as soon as possible if it makes sense to put more effort into it…
Our startup failed. We never managed to convince the CEO to validate the assumption, the team worked for months without validation, and we ended up with a product nobody needed…
7. Involve other sectors
2019 Ericsson Eurolab in Germany offered startups in the region the possibility to jointly develop 5G applications, and so started a very successful collaboration with regional partners.
Furthermore, in 2020 Ericsson Eurolab took advantage of the proximity to the RWTH University, one of Germany's universities with the highest prestige. They applied the Ericsson 5G solutions to create Europe's largest 5G research network, the 5G Industry Campus Europe in Aachen (Germany). Comprising multiple partners, the 5G Industry Campus Europe aims to develop, implement and test applications and solutions for 5G industrial use.
Those are just two examples of how to secure "co-creation" as a new development approach for innovation; complexity and speed of change are far too important that we can innovate alone.
Co-creation also means involving the customer as a partner. For several years, Ericsson Eurolab Germany has invited up to 600 customers to the Ericsson Innovation Day in Aachen, Germany.

In this showcase event, customers have the opportunity to see what ideas are emerging, and where they could get involved from the very beginning to design and develop new innovative products.
What is next?
In summary, what do you need to create an innovation mindset, and secure innovation as part of your company's DNA?
Trust your employees
Given them time
Give them physical (or digital) space
Create teams
Secure a dual operating system
Support Minimal Valuable Products
Involve and co-create with any sector
Our personal advice: don't wait any longer. Whatever your sector is, innovation is eating the world, and you should be prepared.