Key Takeaways
There has been a shift in IT outsourcing practices after the global pandemic of 2020. The shift in these outsourcing practices means businesses need to rethink their outsourcing strategies. For those planning to get software development, these changing practices mean greater focus on forming a stronger relationship.
They need to ensure continuity while also thinking about sustainable practices focused on the socially and environmentally-conscious users.
Security becomes a top concern as cybersecurity threats escalate. Many businesses are now outsourcing security to managed service providers.
With fourth industrial revolution transforming most industries with technology, cloud computing, 5G network, IoT, and RPA will transform how businesses outsourced their business processes.
Many businesses became hesitant about outsourcing to offshore companies after the pandemic. This led to an increased inclination towards nearshoring practices.
Agility in business operations became the leading reason why businesses outsourced in recent times but owing to the pandemic, cost reduction once again became the driving force for outsourcing.
2020 wasn't an easy year for most businesses. It highlighted the many gaps in their preparedness for disruptive times. Many businesses came to a standstill while others saw their operations, sales, and business relations decreasing.
No one had expected the sudden challenges, surprises, and disruptions that 2020 had in store for businesses across all industry verticals. The impact of the pandemic is still undeterred in several sectors. And the outsourcing industry is no different.
The second quarter of 2020 saw several outsourcing contracts canceled or coming to a halt. However, there was a pressing need to continue operations and stay competitive despite the uncertainty. Through the second half of the year, businesses started regaining trust in outsourcing companies and renewed their contracts with the main focus on business continuity and risk management.
In 2021, while some of the changes of the past year are reflecting in current outsourcing practices, there are some new trends visible in the industry.
Business continuity is central to outsourcing.
Cybersecurity is becoming a priority.
The Fourth Industrial Revolution and embracing disruptive technologies in outsourcing are becoming more critical than ever.
Cost is once again becoming a top concern in outsourcing relations considering the uncertain economic conditions across the globe.
Nearshoring is gaining prominence but backsourcing is still losing relevance.
After some in-depth research of the latest studies, here is my analysis of how outsourcing practices are changing in 2021.
Outsourcing security to MSPs to gain popularity
The COVID-19 pandemic ushered in a digital revolution with a majority of the businesses undertaking five years' worth of digital transformation within a few months. However, with the increased shift to digital, exposure to cyber-attacks also increased. A survey by Syntax revealed that most IT leaders and decision-makers are dissatisfied with their current security tools and practices. Out of the total 500 decision-makers surveyed, 83% plan to move their security teams from in-house to a managed service provider (MSP).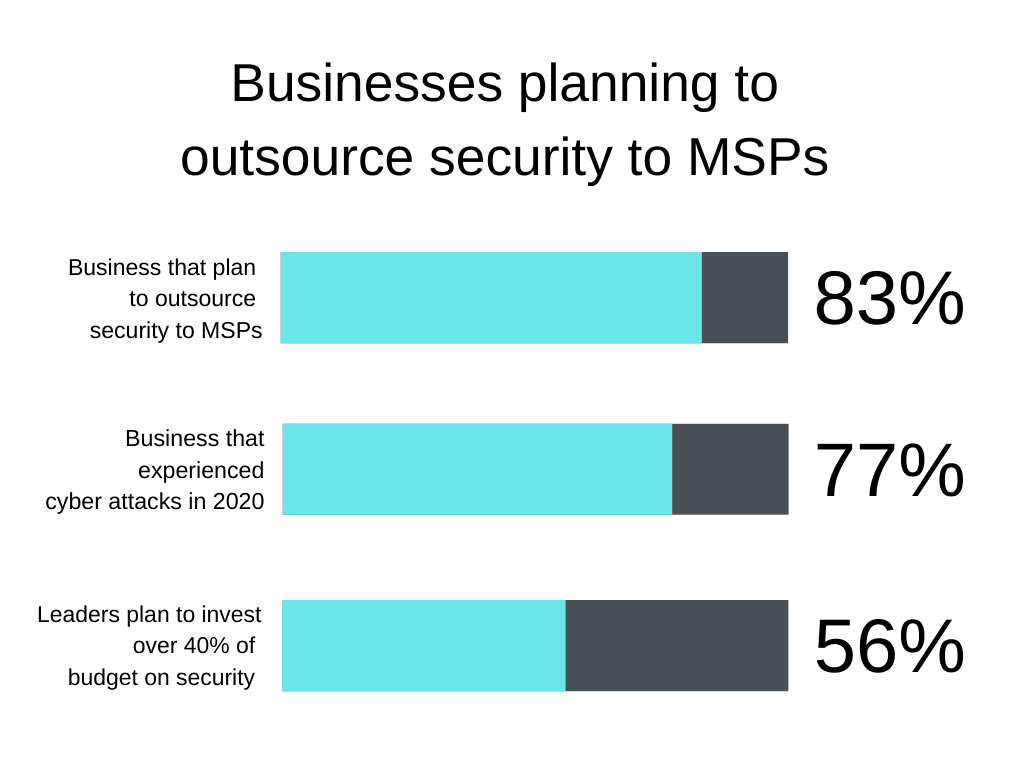 Ever since the pandemic, cybersecurity attacks have worsened. Over 77% of leaders experienced regular cybersecurity attacks since March 2020. And as they scaled their digital transformation initiatives, the threats escalated. IT leaders want all levels of their organization's security to improve—employee training, cloud, business continuity, and disaster recovery—not just the business level.
56% of the leaders even plan to invest over 40% of their overall budget on improving cybersecurity by outsourcing it to managed service providers. Most companies plan to purchase threat intelligence, bot detection, and vulnerability scanning from MSPs.
In fact, outsourcing security functions has become so popular that by 2022 the MSP market is expected to reach $41 billion. IT outsourcing companies will gear up to offer better security services, security architecture, and security strategy to protect all important data in this age of digital transformation.
Business continuity becomes central to outsourcing relations
One thing on every organizations' mind during 2020 was to recover from the dark phase of low business. But more than disaster recovery, they had to respond to the fluctuations in business growth and be focused on business continuity.
They need to react, remodel, and return to business in the "new normal" which is touted to be financially risky. Whether it was onshore, nearshore, or offshore, business continuity compelled every business to carry on with outsourcing relationships, but with some new provisions or policy changes.
Businesses have started looking for outsourcing contracts that have provisions for lockdowns or global uncertainties where the world comes to a standstill.
No matter how hesitant, confused, or scared startups, enterprises, or SMBs were, they continued getting their products built to digitally transform and avoid becoming a thing of the past. They enhanced their outsourcing relationships to keep their businesses afloat and ready for any future disruption.
hen choosing the vendor or outsourcing partner, business continuity will be the top priority. In addition to the usual factors in assessing an IT outsourcing company, businesses are also looking at their ability to deliver from home with complete data security.
Outsourcing gears up for the Fourth Industrial Revolution
The tech ecosystem had already embraced the Fourth Industrial Revolution in terms of advancing technologies. But the outsourcing community was still a step behind. It still relied on humans for the majority of work. As the pandemic ushered in the future of work, outsourcing changed. A new digital outsourcing model emerged to help outsourcing approaches be at par with the Fourth Industrial Revolution.
As the majority of businesses have embraced the technology revolution, outsourcers are also gearing up for the same. These technologies in outsourcing will enable both parties to become more flexible, resilient, efficient, and productive while driving stable revenue. More organizations are strategically incorporating these evolving technologies into their policies in the coming times. Some of the technologies we can see being incorporated into outsource services are:
Cloud Computing: Most businesses are taking outsourcing practices to the cloud. No wonder the cloud market is expected to be $331 billion by 2022. Cloud storage allows seamless collaboration and accelerates digital transformation. Most businesses are permanently enabling cloud infrastructure and including cloud capabilities in outsourcing would make the relationships more transparent.
5G Network: Offering fast wireless networking, 5G takes outsourcing to the next level in the Fourth Industrial Revolution. It makes everything faster in outsourcing relationships: management, communication, collaboration, data transfer, and much more.
Internet of Things: The Internet of things is enabling service providers in the outsourcing community to offer accurate analytics for predictive maintenance, optimize networking infrastructure, and even generate BI insights.
Robotic Process Automation: A new digital model of outsourcing is taking shape and software bots are replacing a large portion of the IT work. Most of the repetitive tasks that don't require human interference are being done by bots. These AI-powered bots are intelligent and aren't just making outsourcing more tech-savvy but also help save time, costs, and human efforts.
Sustainable outsourcing gains prominence
Most readers think about environment-friendly outsourcing practices when hearing the term sustainable outsourcing. However, here, we aren't talking about that aspect of outsourcing. Instead, we are talking about sustainability in general—practices that satisfy present needs without compromising with future needs.
Businesses are now looking forward to more sustainable practices in outsourcing to continue having a long-term relationship. The pandemic forced businesses to revoke their outsourcing contracts with companies mostly because they couldn't trust their project during uncertain times. Moving forward, businesses are more focused on building strategic partnerships or value networks with outsourcing service providers to ensure continuity.
These outsourcing relationships will be different from the current approach. They wouldn't just be focused on the current project but a larger partnership. The Senior VP of a large outsourcing company says, "Clients don't need classic vendor management. They want vendor management that can understand technology, understand the start-up ecosystem, help find solutions for the business, and manage internal stakeholders."
Two firms, the outsourcing service provider and the buyer, come together to form a valuable relationship. It will no longer be a short-term solution. The buyer sets up goals with all the risks, changes, and requirements in mind, then builds and chooses the right outsourcing strategy based on that. They join hands as strategic partners to build stronger, long-lasting relationships.
New nearshoring Meccas appear for post-COVID-19 recovery
There are three ways to outsource: offshore, onshore, and nearshore. Earlier, offshore was the most popular way to outsource. However, last year changed that to a large degree. The majority of the outsourcing destinations like India were in complete lockdown and many IT companies were shut. Businesses became reluctant and revoked the majority of the projects back and looked for companies near them. This increased the popularity of nearshoring.
What is nearshoring?
Nearshoring is a form of outsourcing where companies partner with a service provider located in a country near theirs. It should be a different country but the same region. For example, if you are based in Australia, you outsource to New Zealand. While nearshoring offers the same benefits, the cost will remain a challenge. That's why many companies opted for offshoring. However, considering the technology evolution in such countries and to mitigate risks, companies are now looking for talent within their region. This, in turn, is leading to a sudden boom in nearshoring.
Countries like Bosnia & Herzegovina soon became a nearshoring Mecca, for countries in Western Europe. The pandemic opened doors to new opportunities for such countries. The location, near-native language capabilities, and cultural familiarity made more people shift towards nearshoring. Similar instances were seen in Latin American countries like Mexico and Columbia appealed to companies from the United States for large-scale nearshoring.
In the coming months, there will be a sharp increase in nearshoring opportunities for companies in regions like Eastern Europe, Latin America, and the like.
Cost reduction is again a top reason to outsource
Outsourcing started as a way to reduce operational costs. However, with time, factors like quality, talent shortage, IT infrastructure, speed, etc., became the driving forces for outsourcing. Cost became an ancillary benefit for other reasons. In a 2018 Deloitte survey, cost was no longer the key objective to outsource. It was overtaken by faster time to market, flexibility to scale, competitive edge, and better user experience.
However, the 2020 survey shows that reducing operating costs is becoming a critical factor once again. Businesses are now choosing their outsourcing partner based on the extent of cost reduction. This is mainly because of the economic uncertainty caused by the COVID-19 pandemic.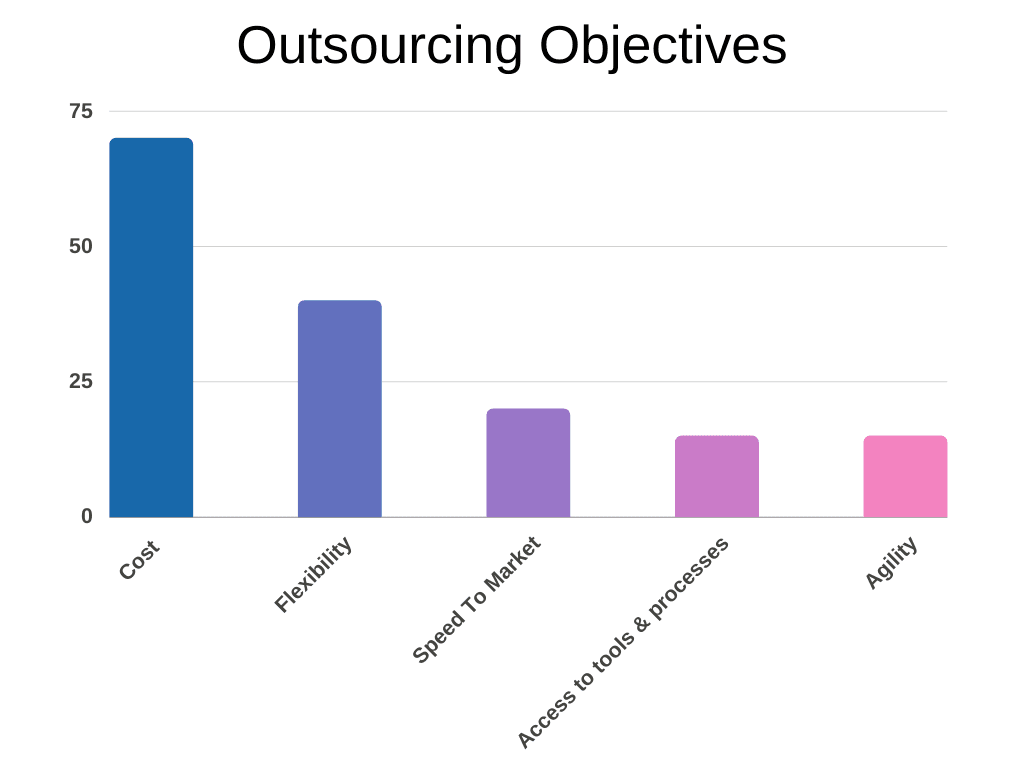 Flexibility, agility, scalability, and technology enablement are top concerns. However, cost holds the power to make or break an outsourcing relationship. The final decision to hand in the contract is once again driven by cost, no matter how much one talks about the other benefits.
In a nutshell
Back at the start of 2020, we had anticipated a new digital outsourcing model to gain popularity but the year had other plans. The uncertainty pushed things further and new trends in the outsourcing industry came to the fore.
While the industry is embracing disruptive technologies like Artificial Intelligence, RPA, cloud enablement, outsourcing providers are also using the same to enable their partners to digitally transform. New contracts are revolving around cybersecurity and the company's preparedness to continue delivering projects regardless of another lockdown in the future.
Despite the uncertainty of 2020 pushing it further, the digital model of outsourcing is all set to emerge. What we had expected to see by the end of 2020, we'll be seeing the progress this year.
About the Author

Swati Sharma, an avid writer by day and an ardent reader by night, is in charge of Content Marketing at Classic Informatics, a global web development company. Owing to her passion for her profession, she loves to stay updated about the current and upcoming trends in the IT industry.