Key Takeaways
Business owners need to understand that people are the most valuable "resource" in their operations.
Employer-employee relationships are two-way roads in which the goals of both parties need to be addressed.
Setting distinct milestones for individual as well as business goals is crucial for keeping people motivated and on track to achieve targets.
Emphasizing personal branding is a fantastic way to nurture in-house talent and use it to strengthen your brand.
Investing in quality training is vital for developing professional skills and reducing employee turnover.
We're at a fascinating time in history. Since the turn of the millennium, there have been countless technological breakthroughs that have changed the business world as we know it. Even more, the generation raised over this time (trying not to use the "M" word) is beginning to form the majority of the workforce.
One of the major consequences of these changes is that the value of company culture is at an all-time high. As the cost of employee turnover certainly isn't getting any less, business owners need to take the oft-neglected practice of developing in-house talent VERY seriously. While this process can definitely be cumbersome, it must be viewed as a long term investment in the most crucial resource for any organization: people.
For business owners, the workplace isn't just an entity that benefits the bottom line. If you want people to stick around for the long haul, there needs to be a focus on making your company a breeding group for exceptional talent. Not only does this make existing employees more inclined to stay put, but also attracts more talented and passionate people who have a lot to offer. It's this core value that makes companies like Google such a prized destination for talent everywhere.
Here are four tactics to help you reach this desirable status.
1. Outline Individual Development Plans
A common tendency found in today's employees is they have no problem jumping ship if they feel their company doesn't care very much about their values, and is not committed to individual growth – this is especially true with millennials (okay, I give up).
One of the biggest mistakes a company can make is assuming they know their employees' skills and career aspirations, or disregarding them altogether. A well-crafted strategy to create loyal and adept talent should not only identify individual objectives, but also provide opportunities and pathways to achieve them.
As an employer, start by outlining your own goals and values – both long term and short term. How exactly does employee development factor into business growth?
Next, talk to employees and find out more about what they hope to accomplish in their career. Help them outline their dreams on paper (or screen). From here, you need to come to an agreement on how the company's and its employees' visions can be realized with win-all situations along the way.
For example, let's say you have brought on a content marketing specialist who has just graduated. Her career goals are to one day become a thought leader in the industry with published work across the web. Clearly, if she reaches the top, it's the best for both parties. The employee gets widespread recognition for their expertise, and your company sees a boost in its domain authority, industry standing, and community reach.
One company that really does a great job of providing educational and thought leadership opportunities for its team members is Degreed. The business itself provides other companies with material for certification training for their own employees. Degreed walks the walk by encouraging its workforce to never stop learning. Employees are offered $100 a month towards their continued education, and the company's blog features pieces from their team members who share what they've been learning.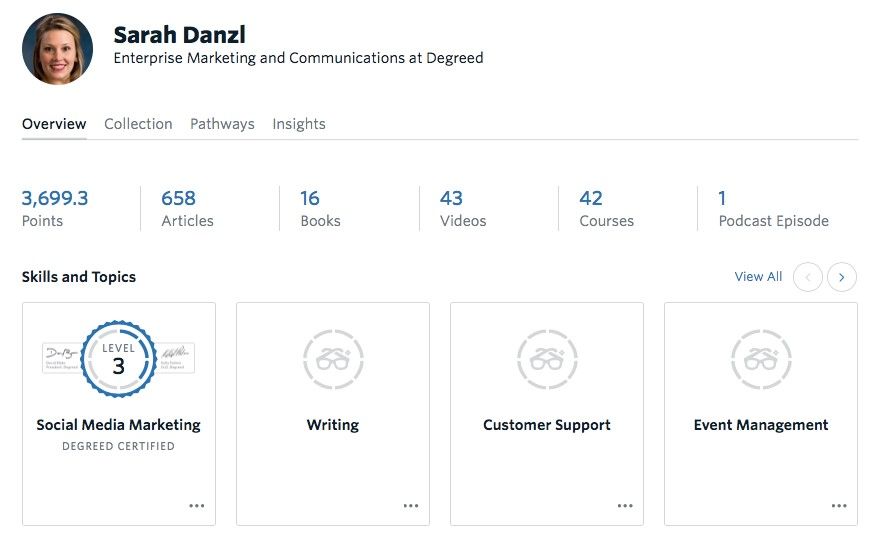 Once employees gain new skills, they can use their knowledge to become powerful thought leaders and employee advocates.
Many companies these days are pushing their top leaders to do more personal branding. Having known thought leaders within a company to share and market their knowledge does wonders for a more widespread and diverse digital presence. Smart "knowledge commerce" platforms like Kajabi are great for this purpose. Companies are able to customize content portals and have in-house thought leaders create consistent messaging that educates target audiences and potential customers.
Kajabi allows you to blog about your organizational knowledge, package, and promote it from a central hub. It also comes with a number of integrations like MailChimp and Google Analytics, making it easy to take advantage of cross-channel marketing and measure results. This way, you aren't just giving your employees a platform to showcase their skills and knowledge; you're also expanding your own bank of brand messaging and its reach.
Career growth plans involving content and brand association should take into account the current aptitude of each employee, their potential, readiness, and skillset. This information should then lay the framework for their trajectory.
Doing this in the early stages of employment makes your workforce more knowledgeable and goal-oriented, while increasing employee satisfaction.
2. Identify Milestones
Once you and your employees have outlined respective goals, it's time to determine the appropriate milestones for all parties involved.
This should be laid out in real timelines with significant events (such as promotions and raises) along the way. Setting milestones is a win for everyone. They provide the necessary focus on growth metrics and set a template for Key Performance Indicators (KPIs).
Let's say you have just brought a new salesperson onboard. You can usually set exact milestones for their career in relation to their usual sales targets and related numbers they hit. For instance, if they want to take on a leadership role and be making a certain salary by the one-year mark, negotiate a milestone based on the revenue they bring in during that timeframe.
Once these milestones are set, make it a point to sit down with each employee every three months to discuss performance, voice concerns, challenges, and solutions.
Performance management tools like Halogen make the process of setting up a milestone reward system easy. Using the software, you can set up profiles for each employee in accordance with the goals and milestones agreed on previously.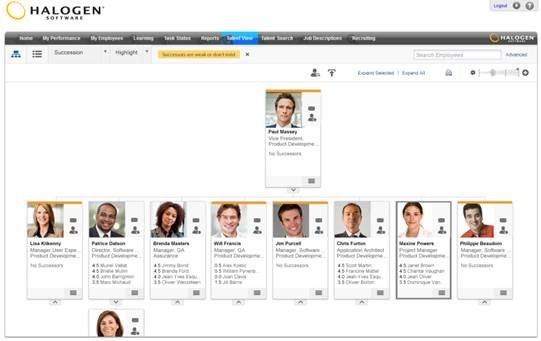 In addition to scheduling periodic performance reviews, employees can see exactly what is expected of them with full visibility of whether milestones are being met or not. Systems like this are crucial in making sure the bigger picture remains in focus. With objectives and KPIs mapped out, team members are in a much better position to take charge of their own career development.
Making the reward program fun and memorable is a great way to build engagement and connection within the company. Hireology, a recruiting and talent management SaaS company, celebrates their employee's rite of passage with a special ceremony. Once workers have been with the company for 90 days, they are certified as "hireologists" and their achievement is celebrated with personalized coats and a company-wide celebration.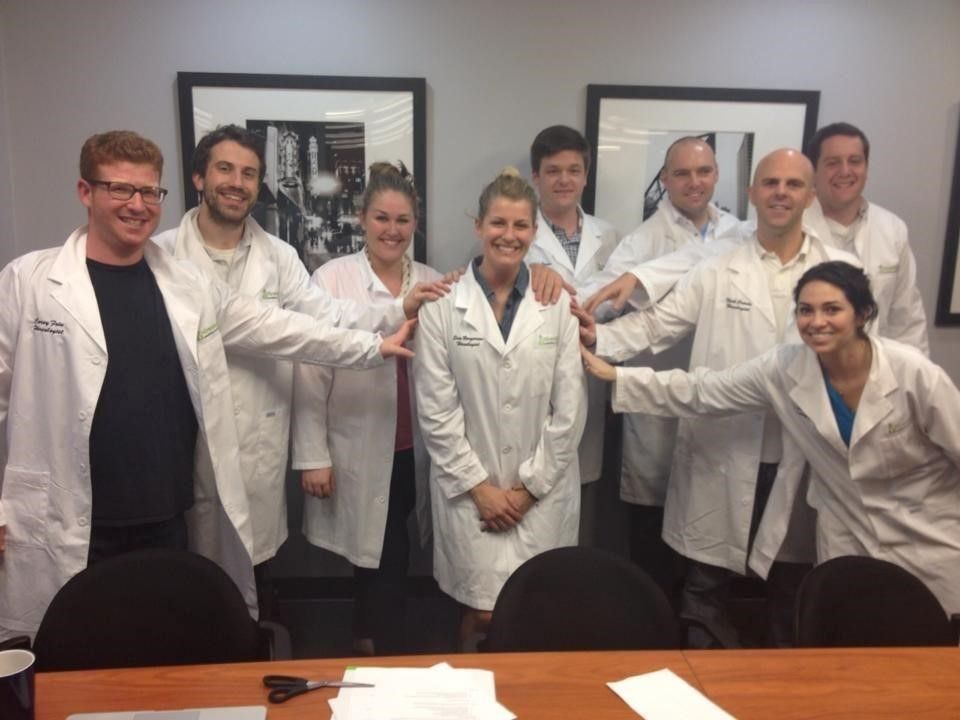 Here are some more examples of celebratory rituals at startups around the world.
As an employer, you need to keep in mind that you cannot always make hard guarantees when identifying milestones. You never know what the economic climate or state of the company will be like in the future. Be sure not to overpromise.
3. Provide Interactive Training Programs
Time and time again, companies everywhere make the detrimental mistake of hiring young, green candidates to take advantage of cheap (or free; hello, interns!) labor, but not placing enough emphasis on training. This is a surefire way to increase your turnover rate – a metric that strongly influences the decisions of talented employees and even potential hires.
Education does NOT end after getting a diploma or degree. In fact, 35% of millennial workers consider comprehensive training and development programs among the top benefits they can get from an employer.
When it comes to turnover costs, not placing emphasis on training can end up costing you big in the long run. As previously mentioned, workers today have no problem finding the door if their needs aren't being met. A study conducted by the Center for American Progress found that turnover can cost an estimated 100% to 300% of the base salary of a replaced employee. This factors into the costs of recruiting, onboarding, off-boarding, and lost productivity.
That being said, – and this should be obvious – if you want to develop top tier talent within your organization, creating programs that educate employees on "the way we do things here," the systems in place, and the effective working style that you've figured out to be the best for your culture, needs to be at the top of your priorities for ongoing success.
Employee onboard training is just another thing to add to the list of what Amazon does well. The retail giant provides intense training for new hires during their first month on the job, with some training even offered online so workers can complete it at home. If employees want to pursue additional training in their fields, Amazon will reimburse 95% of tuition costs, although it offers lots of leadership training opportunities within the company itself.
Teal Pennebaker, corporate communications manager, explains, "We want our employees to be owners from day one, so we train them to take ownership over products and services…this helps them pioneer a career at Amazon."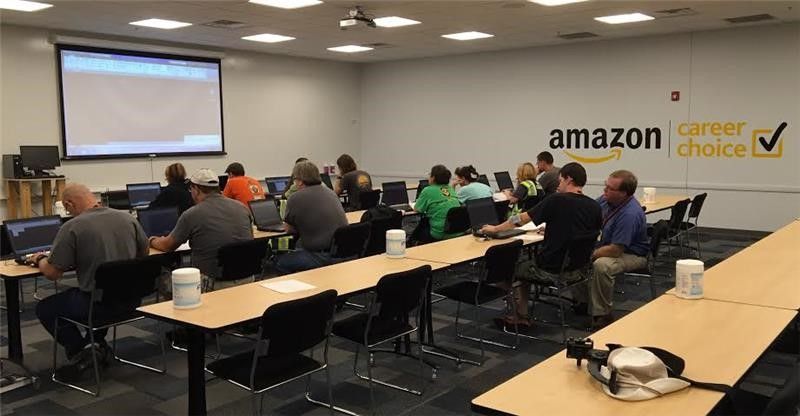 When you consider the platforms that enable in-house employee training, webinars are emerging as one of the most popular formats. 70% of organizational coaches surveyed by a Wainhouse Research study said webinars are more beneficial than self-paced training.
Videoconferencing solutions like ClickMeeting enable you to craft virtual classrooms tailored to your training objectives. You can then host interactive webinars with whiteboard tools, slide decks, screen sharing, real-time polls and chat translations, where participants can clarify any queries they might have on the spot.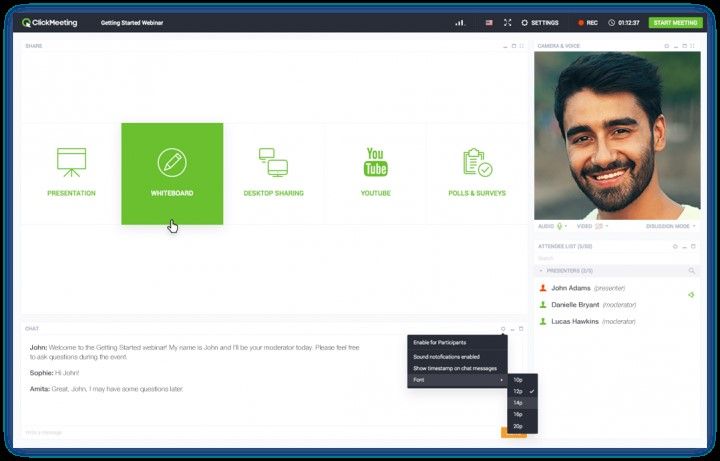 The best part about using webinars for employee training is you can conduct lessons to and from people located anywhere (with just an internet connection), keep track of progress, and stick to an agenda without distraction.
Ultimately, your ability to train employees to work smarter, be more productive, and develop solution-oriented mindsets is the foundation of a stellar workforce.
4. Encourage Constant Feedback
Building top-tier talent is far from a one-size-fits-all endeavor. Now, if you own or manage a successful company, it's easy succumb to the mindset that your way of doing things is the best way. In reality, the people involved in the day-to-day operations almost always possess a different point of view with regard to policies, processes, and customer experience. They should always feel free to share their insights on improving the way the company functions.
There are bound to be certain issues that upper management simply doesn't know about, which is why it's critical to value everyone's opinions. If you want to create a company culture that prides itself on professional development, you need to maintain an open door policy in terms of feedback. Ask yourself:
Can employee training be improved?
Could communication be more efficient?
Are there any new systems or software solutions that could make life easier for everyone?
That said, employees invariably tend to experience a certain degree of hesitation when it comes to honest (read, blunt) feedback about a company. Some employees may be afraid of being judged, ridiculed or even fired. Again, technology offers a solution – tools like TinyPulse help ease the strain by allowing people to leave anonymous reviews and criticism. Managers can set the system to send out periodic questions to gauge how operations are being run, and get answers organized in the form of visual reports, making it simple to make policy change decisions.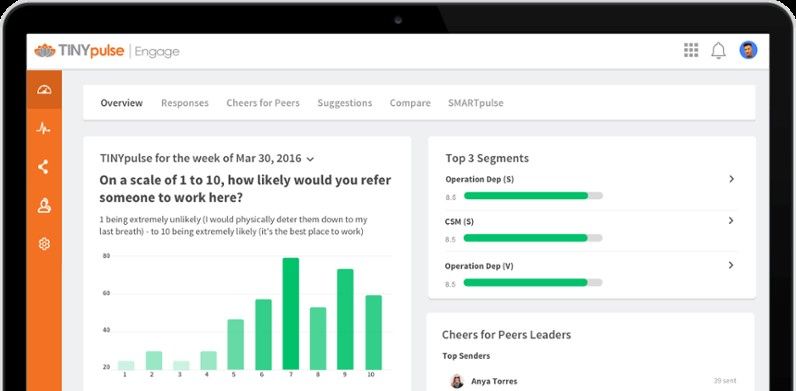 You need to make it clear that all input is valued in growing a company by taking transparent, concrete steps based on consensus. Further, wherever possible, tie feedback back to your employee rewards program.
Employees are a great resource for uncovering weaknesses within an organization, and they may have some innovative suggestions for solutions as well. Virgin Trains (one more company from Richard Branson's exhaustive Virgin list) regularly reaches out to employees within the organization for product suggestions or improvements.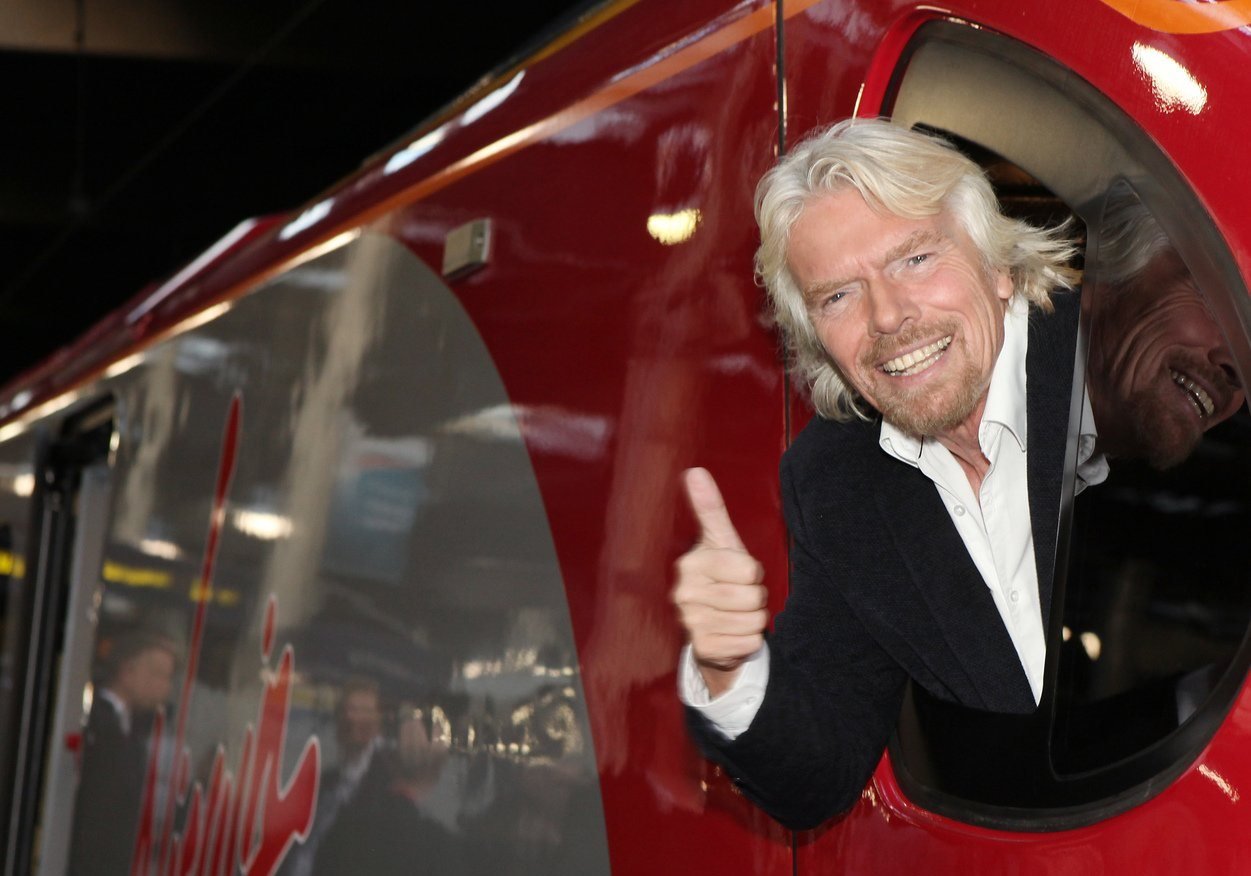 As a result, one of the train managers was actually responsible for suggesting ideas to revamp the online seat reservation system, which resulted in an 25% growth in success rates!
The mindset that employees are you most powerful resource cannot be stressed enough.
Over to You
Every company wants to be a hotbed for breeding the best talent in their industry. While a great deal of the burden is placed upon the individual, ultimately, it's up to you to give them all the tools they need and the ideal environment to hone their skills and see positive growth.
So much of this comes down to communication. As long as all parties are 100% upfront about mapping out goals, identifying and sticking to plans to meet them, using the right tools and methods, and keeping the door open for consistent improvement, your company will be a proud destination for the best in your industry.
About the Author

Lori Wagoner is a market researcher and consultant. She helps small businesses build their brand locally and globally with lean digital marketing strategies. Lori is also an avid business and tech blogger - she writes frequently for My Customer, Tweak Your Biz, Customer Think, and other publications. You can catch her on Twitter @loridwagoner.