Books
Older
Architecture & Design
Architecture & Design
Follow
1124 Followers
This eMag explores the topic of observability in-depth, covering the role of the "three pillars of observability" -- monitoring, logging, and distributed tracing -- and relates these topics to designing and operating software systems based around modern architectural styles like microservices and serverless.
Architecture & Design
Architecture & Design
Follow
1124 Followers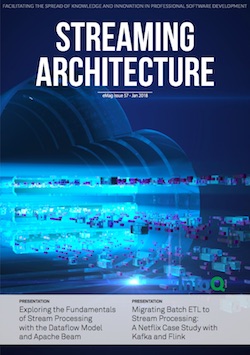 This InfoQ emag aims to introduce you to core stream processing concepts like the log, the dataflow model, and implementing fault-tolerant streaming systems.
DevOps
DevOps
Follow
414 Followers
This DevOps eMag has a broader setting than previous editions. You might, rightfully, ask "what does faster, smarter DevOps mean?". Put simply, any and all approaches to DevOps adoption that uncover important mechanisms or thought processes that might otherwise get submerged by the more straightforward (but equally important) automation and tooling aspects.
Cloud
Cloud
Follow
131 Followers
In this eMag, the InfoQ team pulled together stories that best help you understand this cloud-native revolution, and what it takes to jump in. It features interviews with industry experts, and articles on key topics like migration, data, and security.
Development
Development
Follow
302 Followers
The JHipster Mini-Book is a guide to getting started with hip technologies today: Angular, Bootstrap and Spring Boot. All of these frameworks are wrapped up in an easy-to-use project called JHipster. This book shows you how to build an app with JHipster, and guides you through the plethora of tools, techniques and options you can use.
JavaScript
JavaScript
Follow
192 Followers
This eMag is meant to give an easy-going, yet varied introduction to reactive programming with JavaScript. Modern web frameworks and numerous libraries have all embraced reactive programming. The rise in immutability and functional reactive programming have added to the discussion. It's important for modern JavaScript developers to know what's going on, even if they're not using it themselves.
Cloud
Cloud
Follow
131 Followers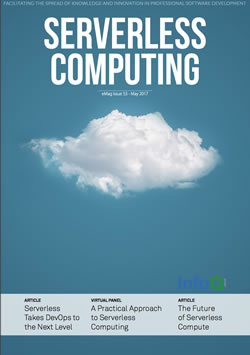 In this InfoQ eMag, we curated some of the best serverless content into a single asset to give you a relevant, pragmatic look at this emerging space.
DevOps
DevOps
Follow
414 Followers
This eMag collects articles that explore how to go about scaling DevOps in large organizations – effectively identifying cultural challenges that were blocking faster and safer delivery – and the lessons learned along the way. We include a couple of practices that can help disseminate those lessons.
Data Science
Data Science
Follow
456 Followers
This eMag looks at data science from the ground up, across technology selection, assembling raw and unstructured data, statistical thinking, machine learning basics, and the ethics of applying these new weapons.
Java
Java
Follow
559 Followers
For this Reactive Java emag, InfoQ has curated a series of articles to help developers hit the ground running with a comprehensive introduction to the fundamental reactive concepts, followed by a case study/strategy for mi- grating your project to reactive, some tips and tools for testing reactive, and practical applications using Akka actors.
.NET
.NET
Follow
175 Followers
The C# programming language was first released to the public in 2000. and since that time the language has evolved through six releases to add everything, from generics to lambda expressions to asynchronous methods and string interpolation. In this eMag we have curated a collection of new and previous content that provides the reader with a solid introduction to C# 7 as it is defined today.
Cloud
Cloud
Follow
131 Followers
Technology choices are made, and because of a variety of reasons - such as multi-year licensing cost, tightly coupled links to mission-critical systems, long-standing vendor relationships - you feel "locked into" those choices. In this InfoQ emag, we explore the topic of cloud lock-in from multiple angles and look for the best ways to approach it.