Danube technologies has delivered the Summer '07 release of ScrumWorks Pro, which includes Bugzilla and Jira integration, burndown charts with theme filtering and more options for projecting and trending, as well as a few more things.
ScrumWorks Pro can integrate with both Bugzilla and JIRA by importing items from either into ScrumWorks Pro as backlog items, where they can be manipulated like any other backlog item. These can be imported individually or in bulk, using searches to select the items of interest. InfoQ spoke with JD Aspinall of Danube Technologies about the nature of this feature, and how to use Bugzilla and/or Jira alongside ScrumWorks Pro:
I think the users that requested this feature were hoping to use the two tools alongside one another.

Many of our users track all their bugs as Product Backlog Items in ScrumWorks Pro. There are many others that for various reasons have chosen to utilize a different tool to track issues and only chose to import certain defects.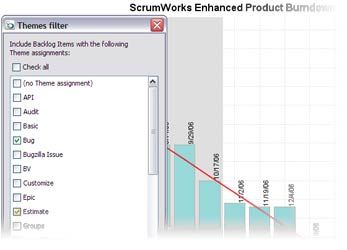 Burndown charts may now be grouped by theme; having organized your backlog in themes, ("akin to web 2.0 tags"), you may highlight or filter your backlog using themes and now filter the burndown using these same themes.
Users can also conduct some what-if analysis by altering the way the burndown chart trend lines are projected using one of:
the Last N sprint
the Best N sprints
the Worst N sprints
a user specified "theoretical" projection
Small, co-located teams seem best-suited to agile development, and these teams often prefer physical tools like whiteboards and index cards. However, with the increasing visibility of agile methods in the enterprise, many people are seeking to find ways to apply these methods in larger and distributed teams for whom the physical tools are less effective, and turning to agile project management software.
ScrumWorks was the third-most popular Agile project management tool in the Agile Tooling Survey 2006 used by ~10% of respondents, although the survey does not seem to distinguish between the Pro and Basic versions.
ScrumWorks Pro is available to existing license-holders at no cost. Licenses are priced at $249/user/year; floating and shared-user licenses are not available, although volume discounts and multi-year subscriptions are available. The server is supported on Windows XP/Vista/2003 Server, Mac OS X 10.4.2+ and Linux, the desktop client on Windows XP/Vista/2003 Server, Mac OS X 10.4.2+, and Linux KDE windows manager and the web client on Internet Explorer 6+, Mozilla/Firefox 1.5+, and Safari 2.0+.
There are few reviews of ScrumWorks Pro, so if you've had the opportunity to use ScrumWorks Pro on a software project, please add your voice. For more information on ScrumWorks, visit Danube Technologies' website and watch the introduction to the free ScrumWorks Basic tool. For more information on agile tools, read on in InfoQ's agile community.