The McKinsey Quarterly Report published a recent study by Michael Chui, Andy Miller, and Roger P. Roberts. The study spanned the last couple years and more than 50 early adopter enterprises. The purpose of the study was to gain insight into successful adoption of Web 2.0 technologies in the enterprise to improve participation and suggests vast amount of opportunities for Web 2.0 tools in the enterprise.
Web 2.0 covers a range of technologies. The most widely used are blogs, wikis, podcasts, information tagging, prediction markets, and social networks. […] What distinguishes them from previous technologies is the high degree of participation they require to be effective.
Paraphrasing the classification of the Web 2.0 technologies, the authors classify them into the following categories,
Collaboration – wiki's, shared workspaces etc.
Communication – Offers broad communication capabilities via blogs, podcasts etc.
Collective Estimation – Harnessing the power of the collective, "crowd-sourcing" using information markets
Metadata Creation – tagging, curation and collaborative filtering
Social graphing – Social networking leverages connections between people to offer new ideas, solutions, applications
The capabilities that are unlocked by these tools are illustrated by the following graphic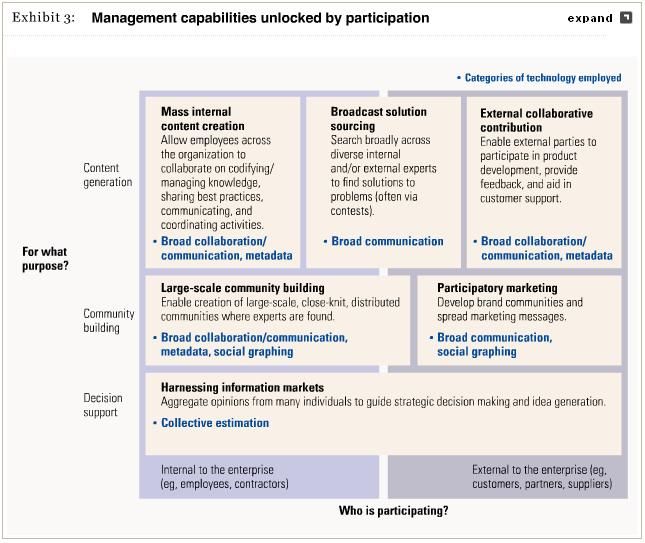 The authors offer guidance, citing examples, on management imperatives required to help companies navigate the Web 2.0 landscape and succeed implementing these technologies.
1. The transformation to a bottom-up culture needs help from the top.

Web 2.0 projects often are seen as grassroots experiments, and […] successful participation, […] requires not only grassroots activity but also a different leadership approach: senior executives often become role models and lead through informal channels.

2. The best uses come from users—but they require help to scale.

[Traditionally identification and prioritization of] applications [have] focused primarily on improving the effectiveness and efficiency of known business processes. […] By contrast, our research shows the applications that drive the most value through participatory technologies often aren't those that management expects. [Management needs to observe what works and then scale it up].

3. What's in the workflow is what gets used.

Participatory technologies have the highest chance of success when incorporated into a user's daily workflow. [… As an example] Google is an instructive case to the contrary. It has modified the way work is typically done and has made Web tools relevant to how employees actually do their jobs. The company's engineers use blogs and wikis as core tools for reporting on the progress of their work. Managers stay abreast of their progress and provide direction by using tools that make it easy to mine data on workflows. Engineers are better able to coordinate work with one another and can request or provide backup help when needed.

4. Appeal to the participants' egos and needs—not just their wallets.

A more effective approach [for participation] plays to the Web's ethos and the participants' desire for recognition: bolstering the reputation of participants in relevant communities, rewarding enthusiasm, or acknowledging the quality and usefulness of contributions.

5. The right solution comes from the right participants.

Targeting users who can create a critical mass for participation as well as add value is another key to success. To select users who will help drive a self-sustaining effort (often enthusiastic early technology adopters who have rich personal networks and will thus share knowledge and exchange ideas), a thoughtful approach is required.

6. Balance the top-down and self-management of risk.

A common reason for failed participation is discomfort with it, or even fear. In some cases, the lack of management control over the self-organizing nature and power of dissent is the issue. In others, it's the potential repercussions of content—through blogs, social networks, and other venues—that is detrimental to the company. Companies often have difficulty maintaining the right balance of freedom and control.

Prudent managers should work with the legal, HR, and IT security functions to establish reasonable policies. Ultimately, however, companies must recognize that successful participation means engaging in authentic conversations with participants.
The study concludes with a suggestion that "company leaders need to survey their current practices. Once they feel comfortable with some level of controlled disruption, they can begin testing the new participatory tools".
Be sure to check out the original article in The McKinsey Quarterly.