The Agile Australia conference was held in Melbourne, Australia on 15+16 September 2010.
The conference theme was "Delivering Business Value with Agile"
Keynote speakers included Jim Highsmith (see this InfoQ article about his executive breakfast talk on the opening morning of the conference), Jeff Smith from Suncorp and Martin Fowler from Thoughtworks.
Highsmith's opening keynote was titled "Beyond Scope, Schedule and Cost – Optimizing Value".
He spoke about the importance of adapting to change at all levels of the organisation, in all aspects. Change is the "new normal" not only for Information Technology, but across all areas of the business. He linked the ability to respond to change to the importance of quality – defect reduction levels of 95% or higher have been linked to the delivery of significant business value for our organisations, unfortunately the defect reduction levels in most IT departments sit at about 75%, so there is a long way to go before we can consistently deliver on the promise of Agile techniques.
He discussed the importance of breaking the speed of delivery fixation common in traditional project management approaches. Focusing on quality first will have the side-benefit of increasing speed to market, whereas a focus on speed first will probably result in increased technical debt and slower time to market.
He also presented an updated "triangle" of drivers on a project – traditional project management looks at the three aspects of "cost, schedule and scope" as the dimensions of control on a project. The Agile triangle has Value, Quality and Constraints as the dimensions. The traditional iron triangle elements define the constraints within which the project must deliver value and quality.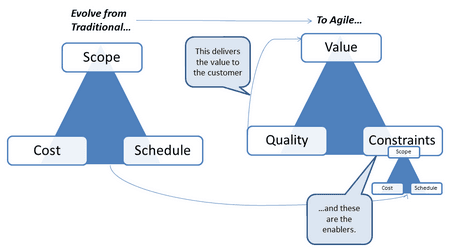 Jim Highsmith's Value Delivery Triangle

He states "A traditional project manager focuses on following the plan with minimal changes, whereas an agile leader focuses on "adapting successfully to inevitable changes."
Slides from his talk can be viewed here
Jeff Smith from Suncorp gave the second keynote talk – "Delivering Business Value with Agile"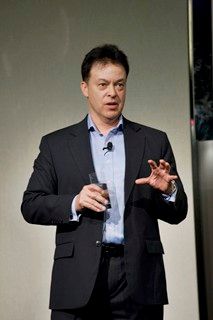 Jeff Smith at Agile Australia
He talked about how the Agile transition at Suncorp is beginning to spread outside of the information technology group into broader business areas, and how they are getting measurable business benefits from the new ways of working.
Adopting Agile is a fundamental change in how work gets done, and an even bigger change in how work gets managed. Leadership is about helping people make the mindset shift – from a "can't do" to "why not" attitude. Attracting developing and retaining good people is the primary responsibility of leadership at every level of the organisation, People are motivated by intrinsic factors – create an environment where the passion of the individual is allowed and encouraged rather than trying to cheer-lead or threaten them into performance.
This means creating an "safe to fail" environment – people must be able to experiment and feedback mechanisms need to be in place so corrections can be made quickly.
He listed three important principles that Suncorp have adopted in their Agile adoption:
Clarity over certainty

Course correction over perfection

Simplicity over complexity
Achieving these principles doesn't come easily and naturally for many organisations; it requires creating a culture based on the important Agile values - trust and respect, courage and honesty and innovative accountable.
He spoke about how Suncorp's transition to these values has resulted in measurable benefits - massively accelerated time to market and about double the number of business process changes released into production as was atainable previously.
---
Craig Smith's summary of the first day of the conference can be found here.