A new Couchbase survey indicates that the adoption rate of NoSQL solutions by enterprises is rising. Will this be the year of NoSQL as some suggest, and what are the main adoption forces at work?
Couchbase, the company providing the Couchbase Server, a document-oriented database, has conducted in last December a survey on more than 1,300 developers, software architects and IT managers spread over Americas, Europe and Asia, with 150 respondents coming from Couchbase's own customers. The main points of the survey, indicating a trend in NoSQL adoption, are:
50% of the respondents funded NoSQL projects in the first half of 2011
70% of the respondents with more than 250 developers plan to fund NoSQL projects in 2012
Interestingly enough, most of the respondents did not mention scalability as the main factor for adopting NoSQL solutions, but the inflexibility of database schemas: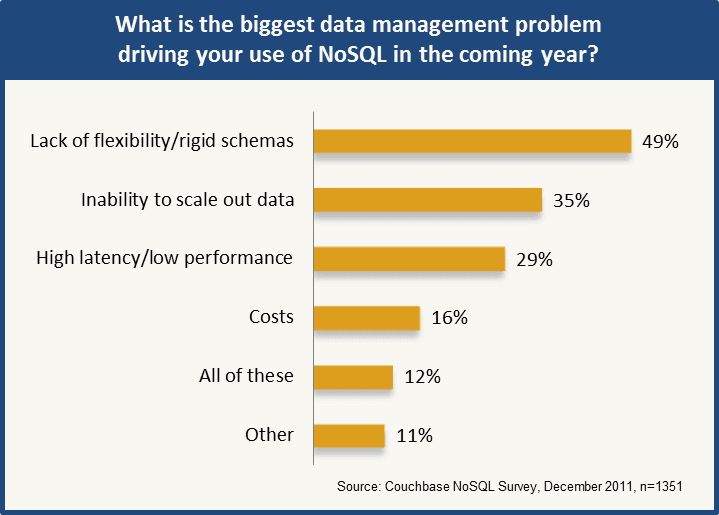 Regarding the question "What is your biggest expectation/hope for what NoSQL technology will do for you in 2012?", some of the users' responses related to DB Schemas were:
"Free us from the problem of inflexible schemas that are hard to adapt to changing business requirements"
"Retire legacy rigid datastores and replace with more efficient, flexible stores"
"Insulate us from expensive schema changes. Simplify horizontal scaling"
According to the survey, NoSQL solutions are mostly used for: real-time tracking and segmentation of users for ad targeting, disaster recovery, inventory tracking, manufacturing automation, insurance underwriting, multi-call center operations (with replication of production data), and Twitter stream analysis .
The NoSQL adoption increase resonate with another survey on 400 developers in North America published last summer by Evans Data:
NoSQL is being rapidly accepted by corporate enterprise developers in North America with 56% reporting at least some use of the schema-less database and 63% citing plans to use in the next two years according to Evans Data's recently released North American Development Survey. NoSQL is considerably stronger in the enterprise segment than within the general developer population where 43% expect to use NoSQL.
A NoSQL Market Forecast for 2013-2018 published by Market Research Media in January predicts the worldwide NoSQL market to reach "$3.4 Billion by 2018 at a CAGR of 21% between 2013 and 2018. NoSQL market will generate $14 Billion in revenues over the period 2013 – 2018," also supporting the idea that the NoSQL market is expected to grow.
On the same note of NoSQL picking up steam, GigaOm's Structure Event Europe 2012 mentions on its agenda:
This year's bull trends are NoSQL adoption and the emergence of cloud platforms specifically designed for volumes of data. We will dive into what the changes are and what they mean for your company.
Alex Popescu, a software architect and InfoQ's co-founder, considers there are two main ways for NoSQL databases to be adopted by the enterprise: 1) "Seamless integration with Hadoop" and 2) NoSQL solutions becoming "first class citizens of widely adopted frameworks."