Microsoft announces price reduction for Windows Azure Storage by 20% with effect from December 12, 2012 including deployment of a flat network for Windows Azure across all datacentres. It provides very high bandwidth network connectivity for storage clients thereby significantly enhancing scenarios such as MapReduce and HPC.

Windows Azure Storage Accounts provide support for geo-replication by default with the ability to disable it if not required. When not enabled, locally redundant storage will be available for Windows Azure which is cost effective when compared to geo-replication.
Along with the recent price reduction notification, Microsoft also announced increased scalability targets for Windows Azure Storage. Moreover, Microsoft also confirmed that they will continue to invest in improving bandwidth between compute and storage.
The pricing structure for geo and locally redundant storage is shown below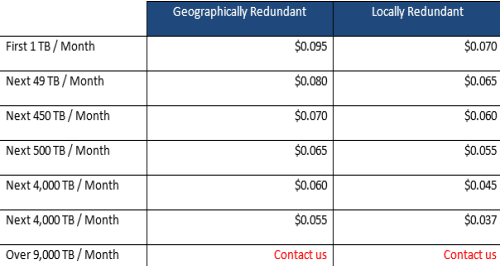 Alex Williams, TechCrunch:
Google and Windows Azure need more differentiation with features. At that point, the price drops make sense. But for now, it seems more like a race to the bottom more than anything else.
Mary Jo Foley, ZDNet:
The cloud-storage pricing wars just keep going and going.
Pedro Hernandez, contributing editor at InternetNews.com:
As it stands today, Amazon's prices generally match those of Azure by starting at $0.095 for the first 1 TB per month, down 24 percent from its earlier $0.125 rate. Google undercuts them both by offering its cloud storage for $0.085 for the first 1 TB per month, with prices dropping further to $0.054 for the next 4,500 TB per month.
Joe Panettieri, Talkin' Cloud
For smaller channel partners, the price cuts are a mixed blessing.
Arjun Bajaj, Co-founder at HeadOn Labs
Windows Azure happens to be the only service I like to use from Microsoft. After using it for sometime, and having tried other providers too, including AWS and Rackspace, it has the lowest prices for a Virtual Machine than any other service I have found it till now!
Igor Papirov, University of Illinois at Chicago
I wonder how many companies will truly care and benefit from this updated pricing. I run a company dedicated to monitoring of Windows Azure applications and we ourselves use a ton of Azure storage, but even with our capacity our storage bills are minuscule.
Sweet! Windows Azure Storage has reduced prices by ~28%. Let the pricing wars continue!

Windows Azure Table Storage provides scalable, durable storage in the #cloud & is now 28% cheaper!