New Relic has recently released version 2.1 of their iPhone app that enables developers to monitor all installed plugins in addition to management of alerts generated by the monitoring tool. Moreover, it is possible to gather summary metrics of MySQL, Mongo, Redis and Amazon Web Services applications, servers and key transactions irrespective of location.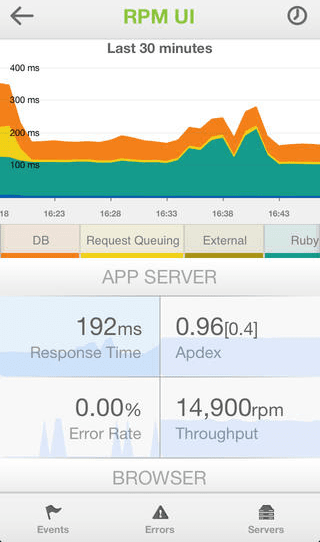 The latest New Relic iPhone update provides an ability to get a push notification when MySQL's replication lag exceeds certain number of seconds. You will also be able to know when certain events doesn't occur as per the guidelines or rule book right from your iPhone device, which enables you to prevent errors.
The recent update, which works only on iOS 6+, includes features such as improved chart history and includes several bug fixes based on the feedback from the previous version. It also enables you to monitor both web and mobile based applications and servers including the ability to generate alerts.
New Relic application performance monitoring software is SaaS based and it enables developers and DevOps teams to manage their web app performance and mobile app performance. It provides in-depth real-time visibility into the health and reliability of Ruby, PHP, Phython, Java, .NET and Node.js web applications.

In order to use the iPhone app you must log in with your existing New Relic credentials and a list of all user accounts inside the app will be displayed inside the app. You will then be able to set up push notification individually for each application by clicking on your app, selecting Settings tab and then choosing Alerts Threshold tab. You will able to either enable or disable iOS notifications from the right hand side navigation column inside the dashboard. As a developer, you can also add new users by tapping on '+' sign located on the bottom left of the dashboard.