Jelastic has released a mobile app for iOS platform which provide an ability to connect to cloud management system remotely to monitor the environment and view account information.

The app displays the status of your environment if you select the Environment tab. If the icon is green then it denotes that the server is running and gray if it is stopped. On the other hand, if you see green icon under cloudlets then it indicates normal usage and if it is yellow then the resource usage is about to reach its optimum level.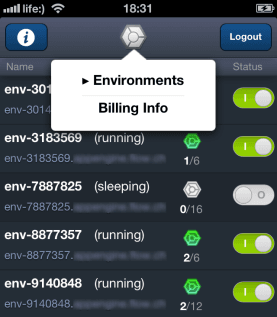 However, if the icon is of red color then it indicates that the resource consumption has reached the configured scaling limit. The app also displays the billing info that provides a history of your environments for a user specified period of time.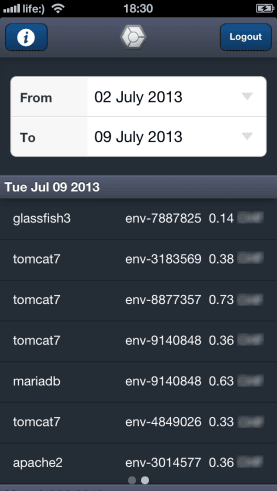 "The mobile app was developed specifically for enabling Java and PHP developers to significantly boost workday productivity from any location and is compatible with iPhone 4, 4S, 5 or iPad 2, 3, 4G," said Ruslan Synytsky, Chief Technology Officer, Jelastic. However, the product team refused to disclose any information when asked about the possibility of a mobile app for Android and Windows Phone 8 platforms.

InfoQ had a chat with Jelastic product team to know more about the recently released mobile app.
InfoQ: Will the mobile app fully replaces the currently available web based access?
No, mobile app is an addition to our main service.
InfoQ: What are the main features of the mobile app?
Viewing and monitoring environments in Jelastic
Viewing the current status and resource consumption for each environment
Changing the state of any Java/PHP environment: (i.e. stop a cloud environment that is currently not in use in order to decrease resource consumption, and re-activate the environment as needed)
Tracking a balance and viewing billing history
Refilling an account to get more resources for using Jelastic hosting services
InfoQ: Can you please share with us the future plans (roadmap) regarding the mobile app?

Here are the feature we plan to implement in the future:
Watch applications (contexts), open them in browser
Viewing environment's nodes, each node resource usage, ability to restart node
Resource limits scaling for each environment node
Viewing logs
One click application deployment from a mobile device
Login and Signup usability improvements, application toolbar improvements, improved environment controls (start, stop, restart)