DevExpress Universal 13.2 adds Token Box control for both ASP.NET WebForms and MVC platforms with which you will be able to auto-complete values from a predefined list either by selection from the dropdown window list or manual input.



The Token Box control includes features such as DataBinding and inherit all the themes included with DevExpress. It also enables users to either create custom tokens or pick tokens from the dropdown list via AllowCustomTokens property. On the other hand, ShowDropDownOnFocus property controls the dropdown window visibility when the editor gets focus.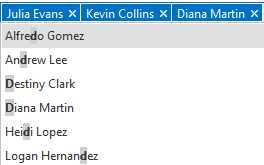 "The visual cue is a different way to display selected items but I believe it gives the users a nice user interface when they can easily see their selected items," said Mehul Harry, Program Manager, DevExpress.
The control also enables users to filter the dropdown list as soon as items are entered into the window. It also not only indicates the choice users have selected from the dropdown list but also adds an X mark at the right side to enable users to remove it if the related value is not required anytime in future.