Mozilla is set to celebrate the 10th anniversary of the Firefox 1.0 release by launching a version tuned for developers. Last week, Mozilla hinted at Firefox Developer Edition, a version made "by developers, for developers", but otherwise has been uncharacteristically quiet.
Details about this version are scarce as Mozilla has temporarily closed the doors on its famously open development process. While development on the mainline browser is still wide open, a branch dedicated to the Developer Edition went behind closed doors. For example, bug #1076914 is now private, though a cached version of the bug reveals the text:
We need a name for the new Firefox Browser with features geared for Developers. The plan is to rebrand Aurora, add features we know Developers know and love and release on a weekly basis.
On IRC, Matthew Noorenberghe, a developer on the Firefox Team, said that the Developer Edition is "just Aurora rebranded." Aurora has been the release of the browser that comes before the Beta build and gives developers access to features that will enter the Release branch 12 weeks ahead of time. In an article for ghacks.net, Martin Brinkman posted screenshots of what the Developer Edition may look like.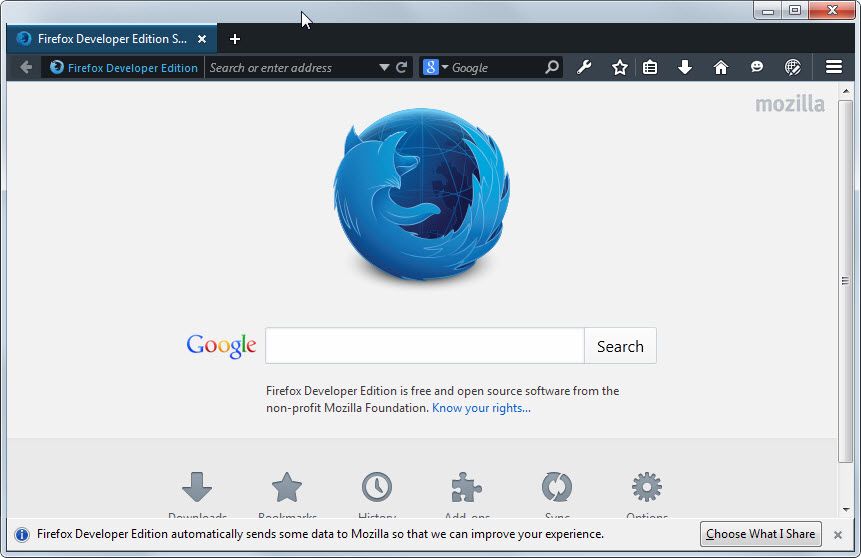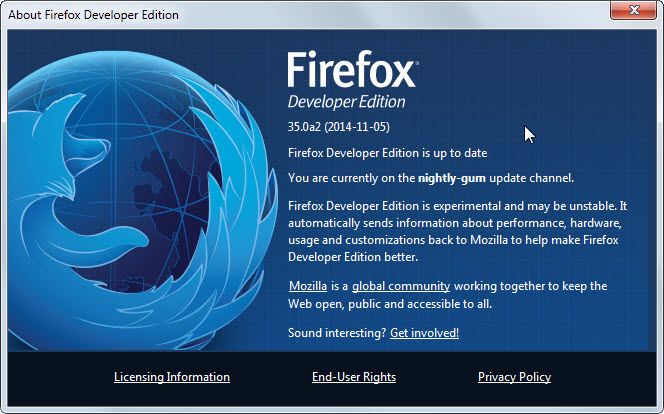 He said that the Aurora build will no longer be a stop in the release cycle and that in the future, "Releases are moved from Nightly to Beta (after six weeks) and from Beta to Stable (after twelve weeks)."
By default, the Developer Edition includes the Firefox Developer Tools Protocol Adapter which purports to allow developers to debug the Chrome desktop and iOS Safari browsers from within Firefox.
In the video accompanying their blog post, Mozilla claimed they had "unleashed the Dev Tools team on the entire browser." InfoQ obtained a build that included the Browser Toolbox, which is a Dev Tools-like experience focused on the browser itself rather than the webpage displayed. This tool allows theme developers to manipulate the look and feel of the browser and immediately see the results.
Mozilla will launch the Firefox Developers Edition on Monday, November 10th. Firefox 1.0 was released on November 9, 2004. Developers can download nighly versions of the FIrefox browser, including the special Developer Edition.