DigitalOcean, a young cloud hosting company based in New York has secured a funding of $50 million.
DigitalOcean offers affordable and scalable virtual private servers for developers. For $5 a month, developers can spin up virtual servers called droplets that come with 512MB of RAM, 20GB of SSD storage and 1TB of bandwidth. Earlier the company has raised Series A round of $37.2 million at a $153 million valuation led by Andreessen Horowitz. Now it has raised another $50 million "This financing illustrates Fortress's continuing interest in the data center and cloud services industries. In our view, DigitalOcean is well positioned to succeed in the expanding cloud infrastructure sector," said Aaron Blanchette, Managing Director at Fortress Investment Group LLC. "We look forward to playing a part in DigitalOcean's organic expansion as they bring their cloud offerings to more international users."
According to Netcraft, DigitalOcean has grown extraordinarily over the past year. In December 2012, DigitalOcean had just over 100 web-facing computers; in December 2014, Netcraft found more than 124,000. DigitalOcean provides SSD-backed virtual computers which are available by the hour. The cheapest droplet, as it refers to virtual computers, costs less than a cent per hour, about a third of the price of Amazon's cheapest option.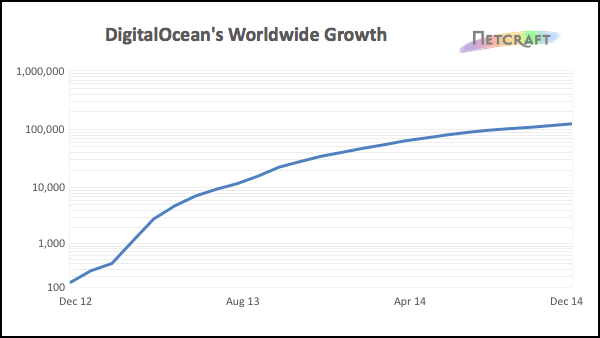 "Each month this year we've seen an average of 20,000 new users deploying servers on our platform," said Karl Alomar, COO of DigitalOcean. "A large line of credit makes sure we're able to lease more equipment at more favorable rates and scale globally to keep up with international demand."
DigitalOcean is known for bringing cutting-edge technologies like CoreOS, Mesos and Docker to its cloud platform. It's documentation is comprehensive and the tutorials are very helpful for beginners.