Recently published results from RightScale's 2015 State of the Cloud survey indicate higher adoption of IaaS than PaaS. In a blog post, the company highlighted the usage patterns of Microsoft Azure and Google Cloud Platform among enterprises.
It is not surprising to see that PaaS users are also using IaaS to run their workloads. Both Azure and Google Cloud Platform have IaaS and PaaS components in their stack. Azure Cloud Services and Azure Websites form the PaaS layer while Azure VMs and Virtual Network provide the infrastructure services.
Google App Engine (GAE) was one of the early entrants in the PaaS market. With the launch of Google Compute Engine (GCE) in 2013, customers had the choice of IaaS and PaaS to run their applications. Microsoft and Google are making it easy by bridging the platform and infrastructure. For example, Azure customers can run elastic, auto-scaled web front end in the PaaS layer that talks to an application tier and database tier deployed in Azure VMs. Managed VMs in Google App Engine bring best of both worlds to developers by letting them choose a custom VM deployed within the PaaS environment.
RightScale's survey indicates that 15 percent of IaaS users also use PaaS for their deployments which means customers are taking advantage of the integration features exposed by Microsoft and Google.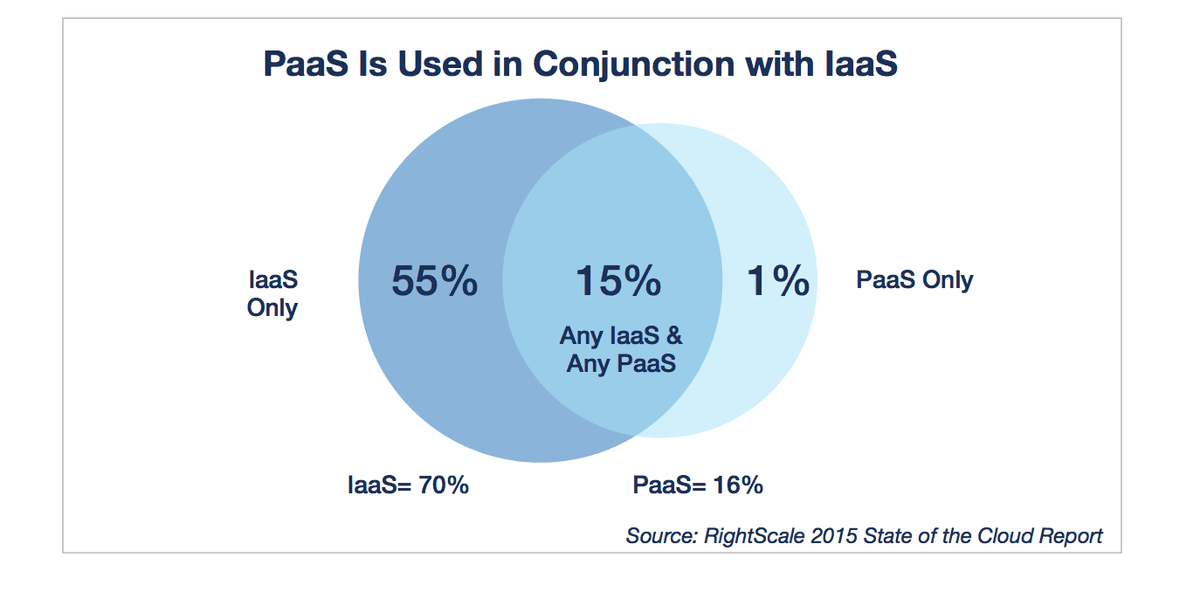 With more than 60 percent customers running applications in Azure IaaS, Microsoft's investment in infrastructure services is paying back. Launched in 2012, Azure VMs came two years after Azure Cloud Services which were part of the initial launch. In 2013, Microsoft claimed that they were adding 7000 Azure IaaS user every week. RightScale survey results confirm that Azure customers prefer IaaS to PaaS.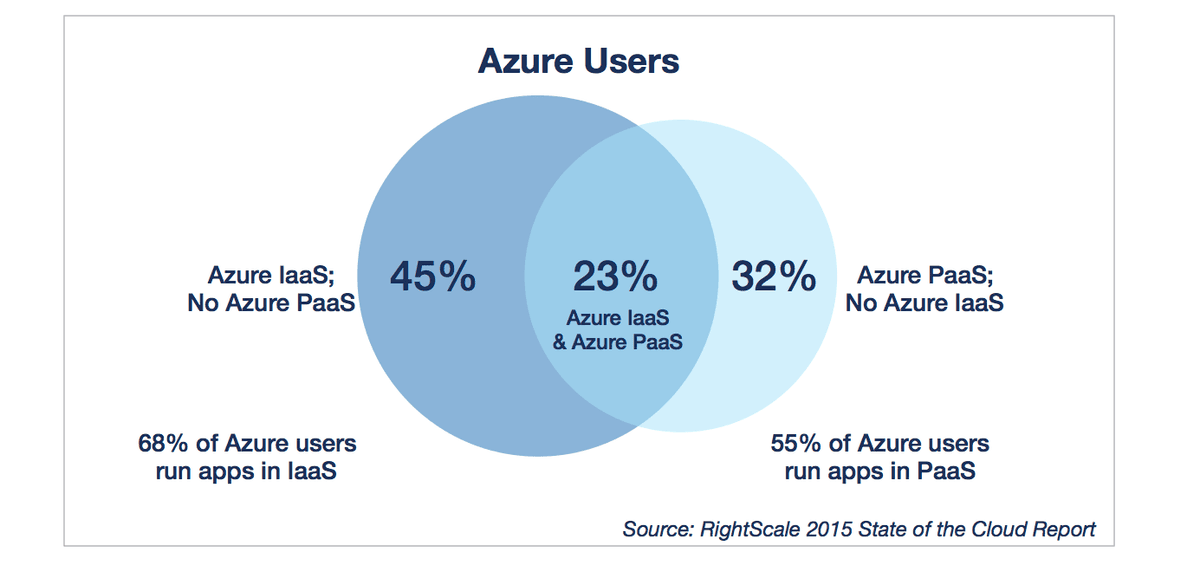 It is interesting to see that Google customers use more of PaaS than IaaS. GAE is a popular cloud platform among Python and Java developers. As an early mover, App Engine enjoyed the attention it got from independent software vendors transitioning to SaaS. Snapchat, Khan Academy, Rovio are some of the well-known companies that use GAE. The survey reports that 69 percent of Google customers use GAE while 31 percent use GCE.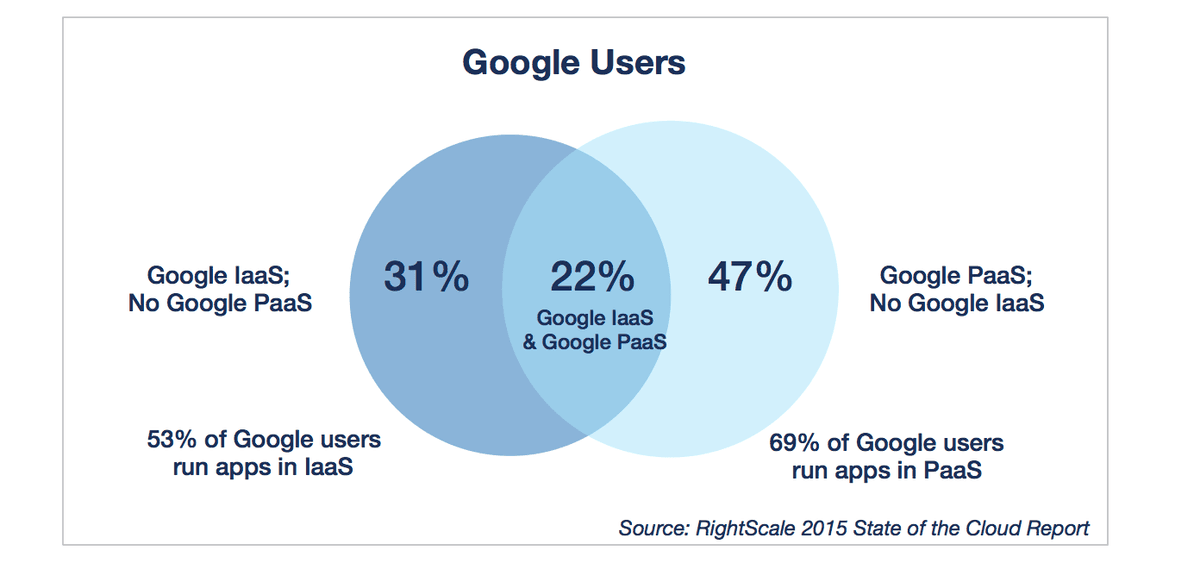 When compared to 2014, Microsoft Azure's adoption has gone up by 6 percent while Google Cloud Platform adoption dropped by 1 percent.
Microsoft Azure has emerged as the second most preferred cloud platform with AWS being the first.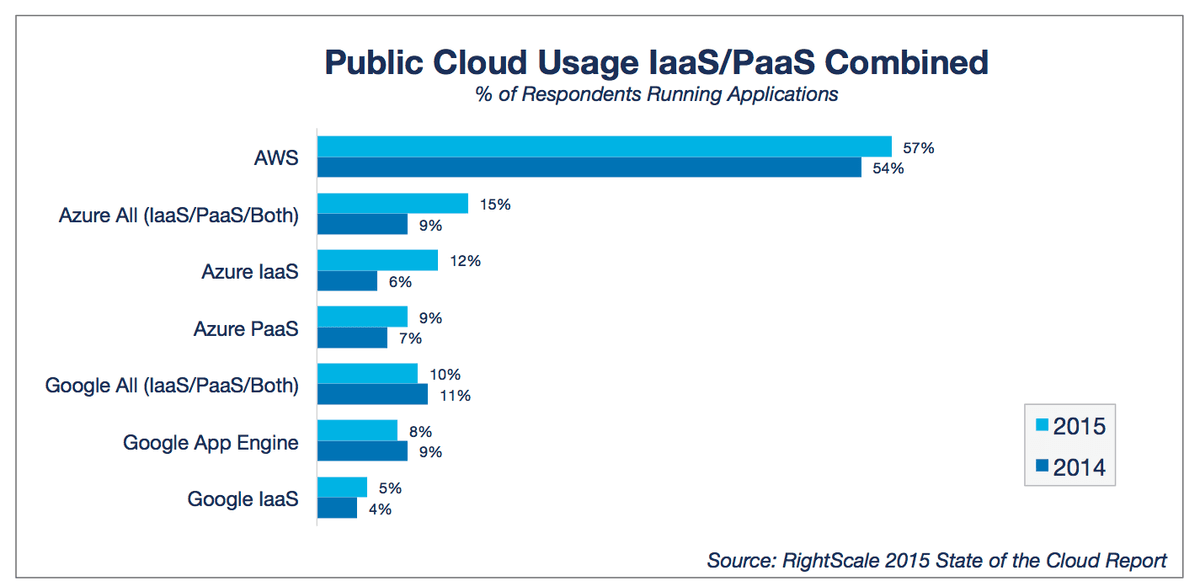 The key takeaway from this report is that the IaaS market is growing faster than that of PaaS.