Nasuni, the cloud NAS and storage company published the results of its annual cloud storage benchmarking test. Microsoft Azure Storage emerged as a winner on speed, availability, and scalability. Amazon S3 and Google Cloud Storage were the other services included in the benchmark.
Nasuni's annual report called The State of Cloud Storage consists of the results from the benchmarking test where it tests mainstream cloud storage services on a set of parameters. This year, Nasuni confined itself to three leading service providers - Microsoft Azure Storage, Amazon Simple Storage Service (S3), and Google Cloud Storage. Though the company considered IBM SoftLayer and HP Cloud Storage, they decided to drop it due to scheduled outages and lack of change in vendor's strategic direction.
The benchmark tests each cloud storage service on throughput, availability and scalability parameters. The speed test measures the raw ability of each storage provider to handle large numbers of writes, reads, and deletes . Nasuni tests each service with files of varying sizes using different levels of concurrency. The availability test takes place over a 30-day period and measures each service's response time to a single read, write, and delete operation at 60-second intervals. Scalability test measures each provider's ability to perform consistently as the number of objects under management increases.
Nasuni's methodology included using consistent VM configurations across multiple geographies to run the benchmark tests. The benchmark tests were designed to evaluate the performance of a storage provider under file-server data load. Each file data set represented the same distribution of file sizes used by actual Nasuni enterprise customers. Availability tests were run from a single VM provisioned in Rackspace. The 'response time' metric was used to measures each provider's response time to a single read, write, and delete operation performed at 60-second interval. Scalability tests were conducted using internal machines to reach the highest scalability numbers in the shortest amount of time.
On the performance benchmark, Microsoft Azure Storage emerged as the winner. However, Amazon S3 gave a tough fight to Azure outperforming it on test involving higher file sizes.

For the second test related to availability, Amazon and Microsoft had a tie. Google Cloud Storage trailed behind with an average response time of .5 seconds, which is nearly 5x slower than S3 and Azure Storage.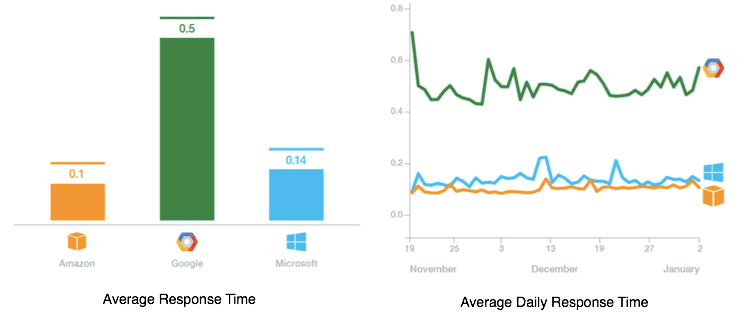 The third test that measured the scalability tested each service on the variance of write speed, the number of write misses, and the number of read misses. This test showed less of a difference between providers with Google and Microsoft showing zero write errors, while Amazon had five write errors for an error rate of .000005 percent. Microsoft Azure Storage had the highest variance, while posting the second highest speed and a flawless record of zero read and zero write errors.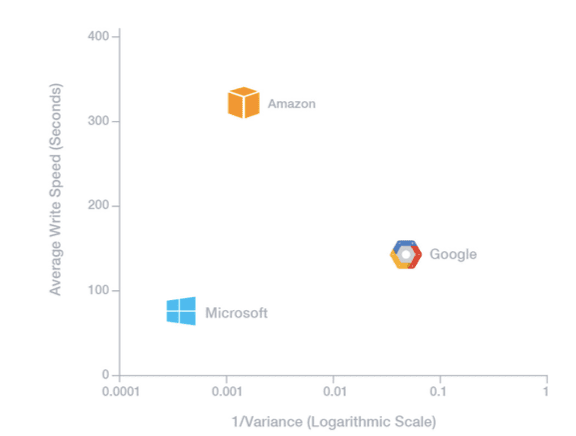 According to Nasuni benchmark's final result, Microsoft is the top cloud provider for public cloud storage. It delivered the best speeds across small and medium-sized files and, in some cases, beat Amazon by nearly 2x. For large files, Amazon showed better write and read performance, but Microsoft's delete speeds topped Amazon's.
This is the second time in a row Azure topped Nasuni's benchmark tests.