Amazon has announced a new Business Intelligence service that runs in AWS called QuickSight.
Throughout the years, Amazon has introduced a number of solutions to make it easier for developers to collect, process, and store data, such as Amazon RDS, Amazon Redshift, Amazon Aurora, Amazon DynamoDB, Amazon EMR, Amazon Kinesis, and Amazon S3. By introducing a fast, scalable BI service that caters to business users and can pull data from any of AWS data stores, as well as from on-premise data stores, Amazon takes an important step to becoming a full-service shop for all data needs.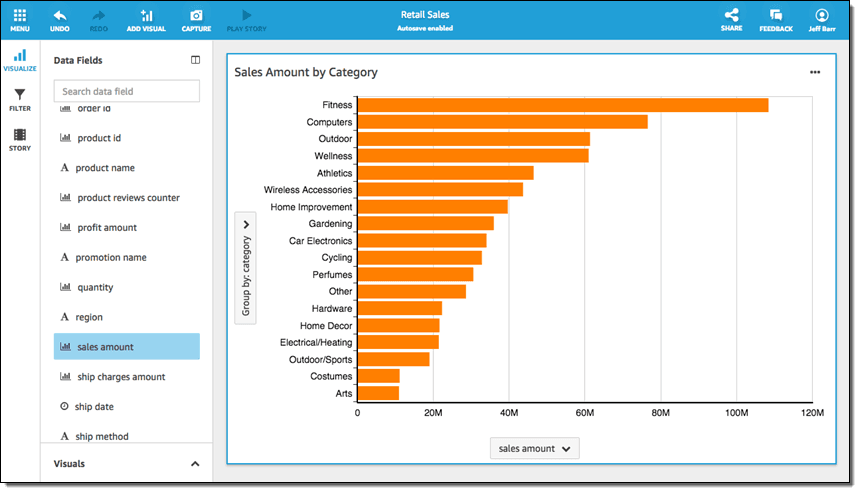 QuickSight is powered by SPICE, which stands for Super-fast Parallel In-memory Calculation Engine. SPICE uses a combination of columnar in-memory storage and data compressiong to allow users to run interactive SQL-like queries on large datasets and get rapid responses. SPICE was designed to plug into other BI tools as well. According to Amazon, they are currently working on integrating SPICE with Domo, Qlik, Tableau, and Tibco.
Werner Vogel - Amazon's CTO - has published a blog post on QuickSight. According to his blog, QuickSight provides several features to maximize ease-of-use and productivity:
Auto Data Discovery
QuickSight automatically discovers the data sources for which the customer has access, such as Redshift, RDS, S3, or DynamoDB, and builds a live metadata catalog from these data sources.
AutoGraph
AutoGraph automically picks the best graph type for the user (e.g. bar chart, line graph, scatter plot, pie chart, etc.) based on the number of items and dimensions in the dataset, data types, and other metrics.
Suggetions
QuickSight can suggest interesting queries based on the data source selected, most accessed queries, and other parameters.
Collaboration
Users can annotate and securely share live analytics results with others in their organization via QuickSight's storyboards. QuickSight also integrates with Active Directory, allowing enterprises to share insights using their existing credentials.
Native Access on Mobile
Data on Amazon QuickSight can be accessed from native applications for iPad, iPhone, Android phones and tablets.
QuickSight is currently available for Preview. Pricing is monthly per user and starts at $9 per user per month. You can learn more about QuickSight here.