On October 7th, 2015 Microsoft announced the general availability of its Azure Backup Server. Azure Backup Server was previously known as Project Venus and targets backup scenarios for small and medium-sized enterprise (SME) customers.
Back in October 2013, Microsoft released Azure Backup as a service which targeted file and folder backups to Azure through the use of a local agent and connectivity to Azure. The service ensured that data was encrypted in transit and at rest but was missing some key workloads that customers were looking for.
As the Azure Backup service grew, customers were requiring better support for enterprise workloads; beyond files and folders. Shreesh Dubey, principal group program manager at Microsoft, discussed some of these customer requirements in a recent blog post: "As the service grew, we started getting requests for protecting business workload data such as SQL, Exchange, SharePoint and Hyper-V virtual machines." Azure Backup Server now addresses these workloads and provides backup support for IIS, Active Directory, DNS, VMWare and physical Windows and Linux servers.
Backup support for these business workloads was initially targeted only for Microsoft's System Center Data Protection Manager (DPM). For enterprise customers, with a suite license, this was welcomed news, but for many SME customers a suite license was cost prohibitive.
Dubey describes Azure Backup Server as "functionally equivalent to System Center DPM" with three differences:
No Integration with System Center components
No Tape Support
Requires an Azure Backup subscription
One of the primary use cases for Azure Backup Server is to support hybrid cloud backup. In this scenario, a customer will deploy a Windows Server within their environment. Customers will also require an Azure subscription where they will create an Azure Storage Vault and specify the type of storage they will require such as local redundant or geo redundant. Next, a customer will need to download an Azure Backup Server agent which is approximately 3 gb in size and install it on a Windows Server in their environment. During the installation of the agent, customers will need to provide their Storage Vault credentials so the data can be sent to the correct storage instance in Azure.
Before data is sent to Azure it is encrypted and sent over HTTPS. Once the data lands in Azure, it will remain encrypted with Grandfather-father-son (GFS) support to ensure multiple backup cycles are maintained. Administrators will be able to configure their backup processes using either a GUI or shell which are included as part of the agent install.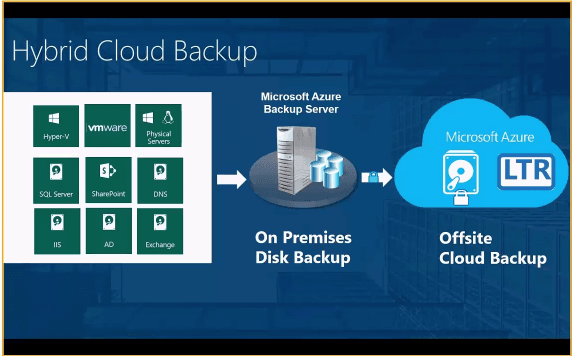 Image Source: (screenshot) https://azure.microsoft.com/en-us/blog/announcing-microsoft-azure-backup-server/
While Microsoft has identified Hybrid Cloud Backup as a key scenario for them, customers do not have to send their backups to Azure if they do not want to. For customers with low recovery time objective (RTO) times, restoring from the cloud may not meet their business requirements. In these scenarios, customers can use Azure Backup Server to ship backups to on premises storage.
Licensing costs take into consideration the number of protected instances you have, the size of each instance and the type of storage that is required (LRS or GRS). There are no charges for restores, outbound bandwidth, storage transactions and the Azure Server Backup server which includes an underlying SQL Server instance.