Google has organized this week the Ubiquity Dev Summit 2016 with sessions on their IoT technologies - Brillo, Weave, Beacons – and other technologies for wearable, TVs and Auto.
The Ubiquity Dev Summit 2016 took place this week and introduced developers to some of the Google technologies helpful in targeting some of the less pervasive devices - IoT , wearable, Chromecast, TV, Auto. There were keynotes and sessions on Brillo, Weave, Beacons, Google Cast, Android TV and Android Auto. Here we present summarized information from the IoT sessions.
Google has entered the IoT market because they see an important market here. According to a study by IDC, Intel and United Nations and presented during the Day 1 Keynote, in 2020 there will be close to 200B smart devices, or 26 such devices per each person living on the planet. These devices will not only be incorporated in wearable, but most of them will be embedded in various technologies developed by different industries. A survey of several major IoT manufacturers shows that the main issues in the path of IoT advancement are, in order: Interoperability, Security, Business Case, Legacy Hardware, Technological Immaturity, and Privacy. Google focuses on IoT interoperability, security and privacy with two technologies: Brillo and Weave.
Weave is a device-to-device communication protocol developed by Nest, and later acquired by Google, which we covered in a previous post. Brillo is an embedded OS accompanied by core services and a development toolkit. It supports OTA updates which Google considers as mandatory to deal with eventual security issues and communicates with other devices over Weave. The Android HAL makes it run on various hardware. The basic architecture of Brillo is depicted in the following chart: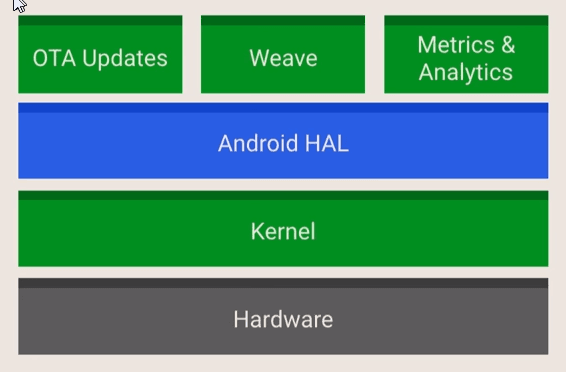 Weave is integrated into Brillo but it also comes as libraries for Android, iOS and the web. Early adopters can get their hands on Brillo and Weave by requesting an invitation.
Another IoT technology that Google is working on is Beacons, representing smart devices placed indoors to provide semantic location information. Google considers this technology important based on the time spent by humans inside – 90% of the time. Such devices could be used for indoors navigation, proximity-specific notifications (present ticket at entrance), precise location features (bring the ordered food at a specific table), and others.
Beacon devices are 1-way signal transmitters using Bluetooth Low Energy. This prevents them pairing with other devices such as smartphones, protecting the privacy of users. Beacons transmit a very small payload of information, up to 20 bytes, to minimize power consumption. The payload can contain URLs, UIDs, or telemetry information sent using the Eddystone protocol, which is open sourced. There are SDKs for Android and iOS.
For more information on these technologies we recommend Google Developers YouTube channel containing the recorded sessions from the Ubiquity Dev Summit 2016.