With Swift's open-source release in December, its meteoric rise since it was first announced in 2014 continues. Before the announcement, Swift's position in the TIOBE index in November 2015 had clibmed up to 15th in the chart, sitting just below Objective-C, Apple's key language for iOS and OSX development. However, Objective-C is several decades old at this point and has not seen any significant adoption outside of Apple's ecosystem. Although it has had some minor changes over the past few years, these changes are likely to have been driven by the nascent Swift in order to provide interoperability.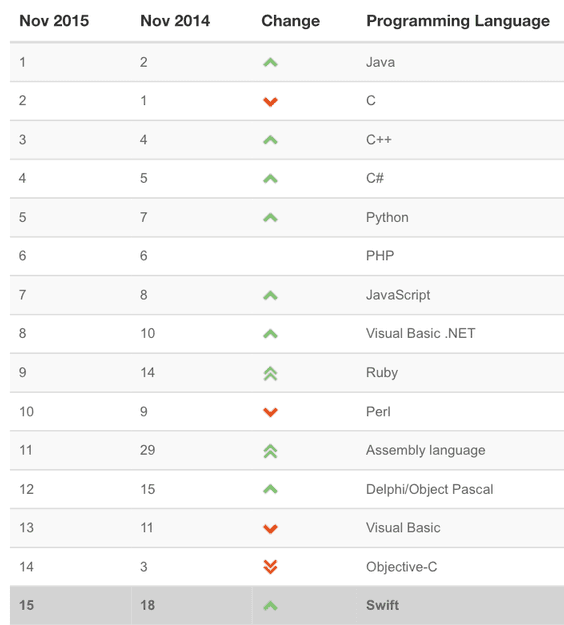 The subsequent entry in the TIOBE index shows Swift and Objective-C trading places, with Swift moving up to position 14 and Objective-C being demoted to position 15.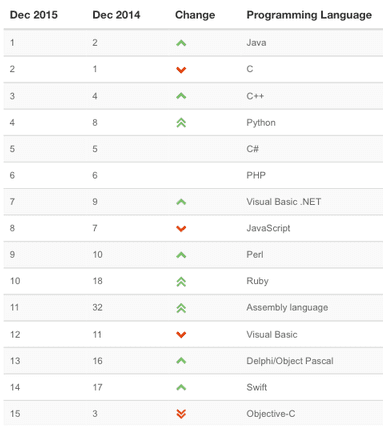 By the end of 2016 it is likely that Objective-C will have dropped out of the top twenty list, and Swift is likely to be vying for places in the top half of the table; and it's likely that 2016 will see Swift as being marked TIOBE's language of the year.