The WBS PayTech Conference, held at Warwick Business School in Coventry, UK, was a two-day event focused on mobile payment technologies, electronic fund transfers, and money exchange innovations. The conference overview cites the ongoing 'transubstantiation' of money into data as a driving factor behind the conference:
"The increased digitalization of money and payments the last couple of decades means that the vast majority of money in circulation today exists as information, which flows through networks of hardware and software. This 'transubstantiation' of money into data has had major implications on the way we process economic transactions but also think about the different practices of value exchange."
The PayTech Conference Programme, which was subtitled "Technologies of Exchange in a Digital Economy," consisted of introductory remarks followed by five sessions, each led by a moderator and including multiple speakers from universities and industry.
Session 1, "Digital innovation in the payments industry
Session 2 - From cash, to plastic, to mobile payments: Discussing the evolution of monetary forms
Session 3 - Financial inclusion and the role of mobile money
Session 4 - Transactional data, analytics and algorithms
Session 5 - 'Interrogating the Blockchain': A conversation on the applications, issues and impact of distributed ledgers in payments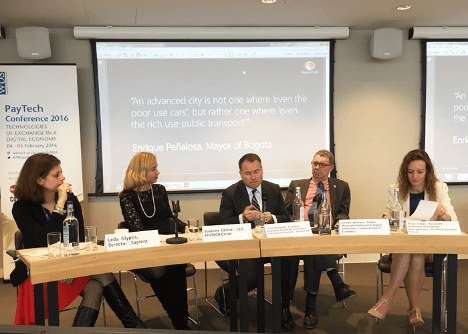 In the opening session, Dr. Pinar Ozcan of the Warwick Business School noted that, while mobile payments have recently become popular, they were delayed in the West for 15 years due to "squabbling" between banks and technology firms:
"Mobile operators needed access to bank accounts, while banks, in turn, needed mobile operators because the user's bank information and the payment software needed to be integrated into the mobile service of the user. But wrangling over who dealt with -- and essentially owned -- the consumer resulted in it being delayed."
Sessions 4 and 5 changed the focus from history to modern technology. In Session 4, Crispin Rogers said "Data is the new oil, I still love that expression coming from a Shell background." Session 5 introduced attendees to blockchains, a key aspect of bitcoin, which Dr. Garrick Hileman described as "a new trust and co-operation mechanism - a digital handshake." Professor Tomaso Aste said "I don't want to see a system where a few companies can control the whole network." Dr. Rachel O'Dwyer spoke about the public implications of the blockchain.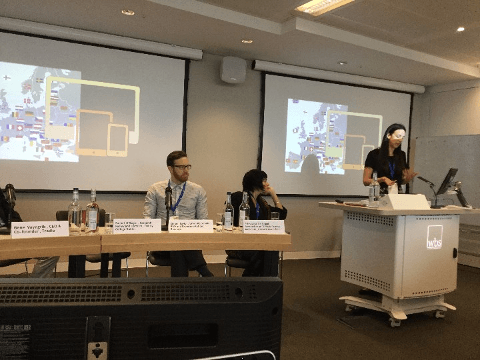 A fire alarm brought Session 5, as well as the conference, to a premature close. A live blog, "WBS PayTech Conference: On the road to a cashless society", provides a pictorial review and text commentary on the sessions and presentations as the conference proceeded. Conference attendees tweeted the event using the #WBSpaytech hashtag.
Content from the conference will be available soon.