RightScale just released the results of their annual "State of the Cloud" survey which identifies trends in cloud adoption and usage. The key findings? Organizations are investing in both public and private clouds, security is no longer the number one challenge to adoption, Docker and Ansible are quickly growing in popularity, and central IT departments are taking on a greater role in cloud decision making.
This survey was conducted in January 2016 by RightScale, a provider who offers a multi-cloud management platform. RightScale interviewed 1,060 people, 61% from North America. 41% of respondents came from enterprises (companies with greater than 1,000 employees) and 59% came from small/medium businesses (SMB, or companies with fewer than 1,000 employees). Over half of those surveyed were in IT/Ops roles, with the remainder coming from development or business roles.
Hybrid cloud adoption is on the rise, according to the first key finding of the report. 95% of respondents are using cloud computing, up from 93% last year. Public cloud consumption rose just 1%, but private cloud adoption jumped 14% among those interviewed. Hybrid consumption – defined here as using public and private cloud resource pools together – leapt from 58% last year to 71% this year.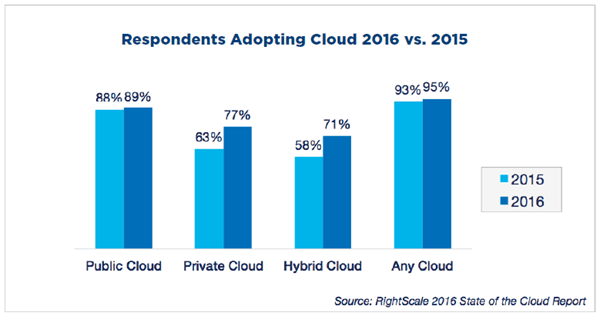 Another key finding of the report related to the number of clouds in use. Surveyed organizations are, on average, using 3 public clouds and 3 private cloud environments. Enterprise workloads are steadily moving to each environment, with the percentage of enterprises deploying 1,000+ VMs to public cloud increasing from 13% to 17%, and an even greater percentage of enterprises moving 1,000+ VMs to private cloud (22% to 31%). RightScale points out that the growth in private cloud workloads "may include long-standing virtualized environments that have been enhanced and relabeled as a private cloud." The graphic below shows the breakdown of where virtual machines run today.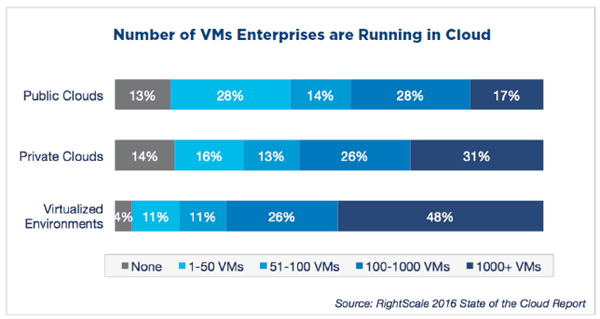 Security, long the primary reason why IT departments were skeptical of the public cloud, has taken a backseat to the growing cloud skills gap. A "lack of resources/expertise" is now the leading challenge to cloud adoption. Enterprises declare "security" a challenge at a higher rate than smaller companies do, but even among enterprises, the percentage of those reporting security as a significant challenge has dropped from 47% to 37% over the past two years. Those at different stages of cloud maturity report different overall adoption challenges, but cloud expertise tops the list for each.
The survey shows a large jump in companies claiming to have adopted DevOps practices, another of RightScale's key findings. 74% of organizations, up from 66% last year, are embracing DevOps, but RightScale highlights that adoption at the enterprise level isn't uniform. Only 21% of enterprises are embracing DevOps at an organizational level, with most support happening at the business unit or team level.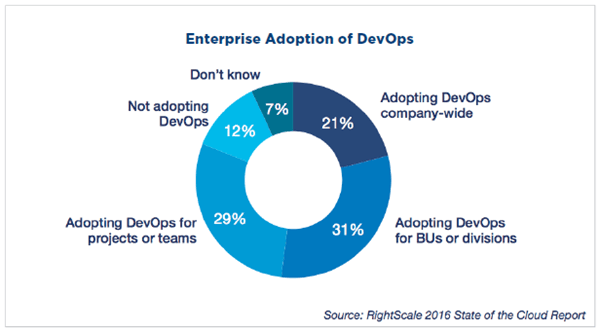 DevOps is often associated with configuration management tools. Chef and Puppet are equally popular, according to RightScale, with each used by 32% of respondents. Within enterprises, Puppet has a small lead over Chef in terms of adoption (42% to 37%), while Chef is favored by SMB users (28% to 25%) . Ansible is quickly growing in popularity with a doubling of total usage (10%-20%) over the past year, and a 23% adoption rate at enterprise customers. Docker also made a dramatic jump over the past twelve months. 27% of total respondents claim to use Docker, up from 13% just a year ago.
Public cloud consumers are still heavily targeting AWS, although adoption was flat year over year. Microsoft Azure experienced noticeable growth over the same time period. RightScale's survey also assessed adoption of Google (both IaaS and PaaS products), VMWare's vCloud Air, IBM SoftLayer, Digital Ocean, and Oracle Cloud. AWS saw the largest gain within enterprise businesses, with 6% growth in adoption. Within SMBs, AWS dropped slightly, and Azure saw growth. Enterprises and SMBs differ on their cloud provider preferences. While both segments have AWS and Azure as their top choices, enterprises favor VMware and IBM next, while SMBs prefer Google and Digital Ocean.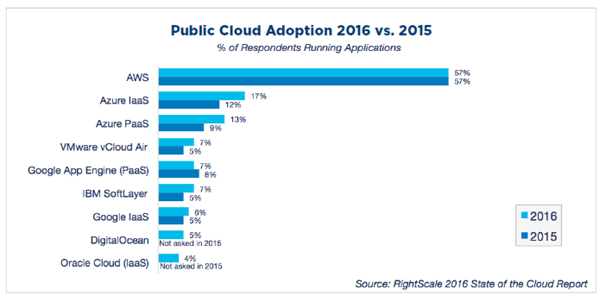 Despite the proclamations by the proponents of public cloud, private cloud is not dead. RightScale's survey shows that private cloud adoption is on the rise, and there are "noticeable increases in adoption rates of every private cloud technology." Enterprises preferred VMware technology for their private clouds, with OpenStack in fourth place. For SMBs, who adopt private clouds at a lower rate than enterprises, OpenStack was the second most popular choice. RightScale mentions that these overall results include respondents who view their VMware environment as a private cloud, even if it doesn't meet the commonly accepted definition.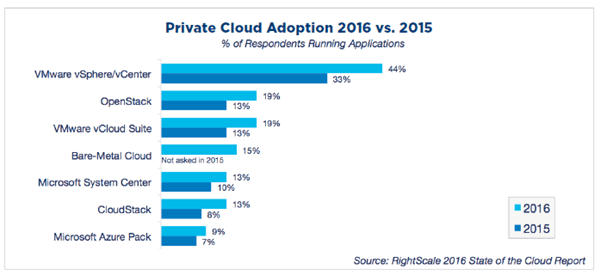 The role of central IT departments in cloud decision-making is evolving, according to RightScale.
Early use of cloud was mostly driven by individual development teams using public cloud for specific applications or projects. As enterprise cloud use increased, central IT began to take the role as broker of cloud services in order to ensure appropriate management, governance, and control. However, in past years, respondents within enterprise business units expressed reluctance to secede control to central IT.
This behavior seemed to change in the past year, as central IT got more engaged in helping select cloud platforms, building private clouds, setting policies, and advising departments on their application readiness. Now, 42% of those within business units think central IT should select public clouds, and 44% think central IT should set policies for use. Those numbers are up from 31% and 34%, respectively. Interestingly, the percentage of business units saying that central IT should manage their cloud deployments actually dropped in the last year, from 39% to 29%, possibly an indicator that the local DevOps teams don't want others to run their systems.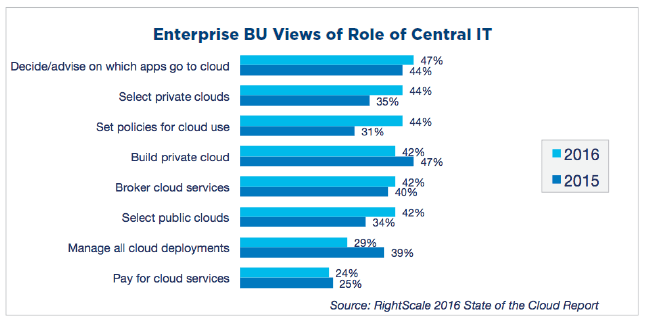 RightScale believes that this 2016 survey shows that a "super-majority of organizations are now operating in a hybrid environment" and "the shift is well underway from shadow IT driven by individual teams to a centralized approach that enables cloud consumption by brokering cloud services to the entire organization." For the full report, visit the RightScale site.