As you may already know, InfoQ has reached an important milestone this month: we have been creating and sharing content with you for 10 years now. All along the way we have remained true to our initial mission: to deliver content that can effect change and innovation in the software-development community. We rely on a team of domain practitioners who have been covering the most important and innovative topics in the industry, at the same time providing best practice examples and solutions to problems that they themselves have been confronted with.
This anniversary has prompted us to do a long-term retrospective on how the site has evolved over the last 10 years. Part of what we've been looking at is how our readers' interests have changed over time. We found the results interesting and thought you might enjoy seeing them. Below is the most popular item published for each year that InfoQ has been operating:
The best performing item of all time was 2012's A Brief Introduction to REST.
Editorial Positioning 2016
InfoQ and QCon's 2016 editorial coverage will focus on some of the key technologies that are in the innovator and early adopter phases, including those that are in the process of "crossing the chasm":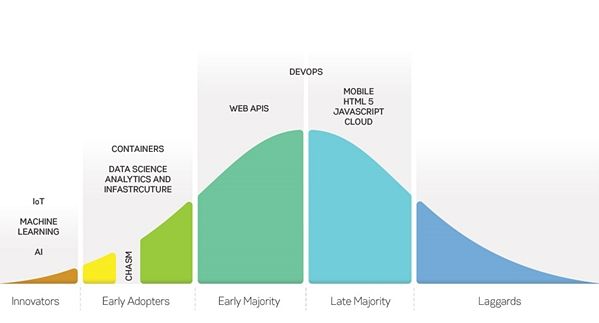 We will also continue to cover trends in some of the established major languages and runtimes such as Java and .NET. If there are any topics we've missed, be sure to let us know.
Thank you for being part of the community and helping us fulfill our mission to spread knowledge and innovation in our world. Let us know what you think so we can become better at serving your informational needs.
Here's to another 100 years together!
Related Content
Our co-founder, Floyd Marinescu, writes about our 10 year journey
Alex Blewitt interviewed me at QCon London looking back at the last decade.