According to the latest Developer Nation Q3 2016 survey from VisionMobile, Android's lead over iOS as primary platform and developer mindshare has been consolidated. Also, Windows developers prefer C# in the cloud while Linux ones stay with Java.
For many years iOS topped the preference of developers when it came to platform priority. When a company started to create a new application, iOS was the first to target, and if the app proved successful they would attempt the same with Android. But now, Android has caught up with iOS in developers' preference in North America and Western Europe and has an important lead in the rest of the world, especially in Asia, according to VisionMobile. The following table shows the actual numbers. They are even higher for Android compared to iOS for hobby and side-projects (not shown here).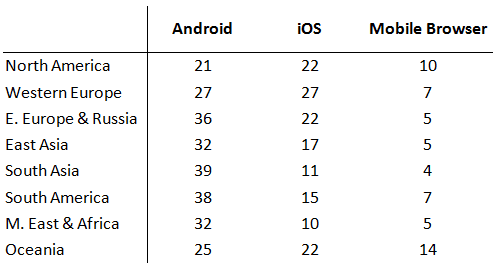 Developers' interest for Windows Phone or Windows 10 trail at about 5% across all continents.
When it comes to developer mindshare, Android now has a record 79% while iOS is at 61%. The Mobile Browser used to enjoy great mindshare among developers, 56% back in 2011, but it fell to 7% in 2014. Now it has rebound some at 30%.
The following chart depicts developers' preference for a server-side language by primary desktop platform (click on picture to enlarge):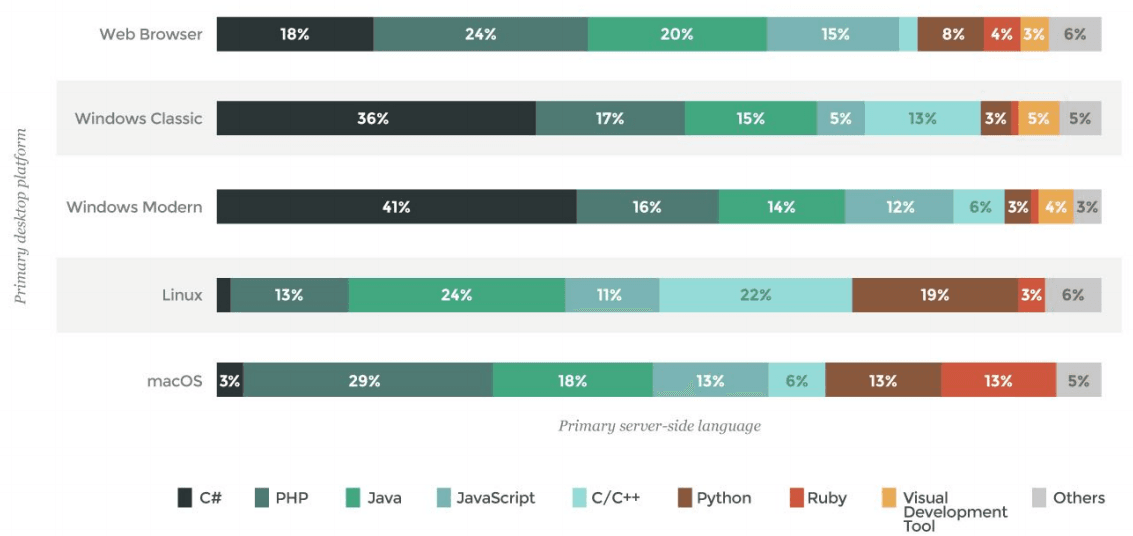 We see that C# leads as a desirable server-side language when Windows is the platform of choice for the desktop, followed by PHP and Java. For Linux developers, Java is the main language for the cloud, followed by C/C++ and Python, while Mac developers prefer PHP, then Java. In spite of Microsoft's efforts to make C# the main language for the cloud, open sourcing many technologies and taking .NET cross platform, the report notices that only 2%/3% of Linux/MacOS developers want to use it.
For more details on the findings of this survey, including developers' interest in IoT, we recommend reading the entire report. The results of this survey are based on the responses of over 16,500 developers from 145 countries around the world.