Google has launched a code editor integrated within its Google Cloud Platform. Based on Eclipse Orion, it will make it possible to edit code and configuration files from within the browser, writes Sachin Kotwani, product manager at Google.
Google's new code editor is part of Google Cloud Shell, which provides a browser-based command-line interface to manage resources and apps hosted on Google Cloud Platform. Google Cloud Shell can be used without having to install or update the Google Cloud SDK or any other required tool and provides 5GB of persistent storage that can be used for files and projects.
According to Kotwani, the new Google Cloud Shell code editor will enable complete development workflows on the Google Cloud Platform without ever leaving the browser and provides a missing link that was required by a lot of their users. Using Google Cloud Shell, developers will be able to create files from scratch and push them to Google Cloud Source Repository, in addition to being able to deploy and debug an app.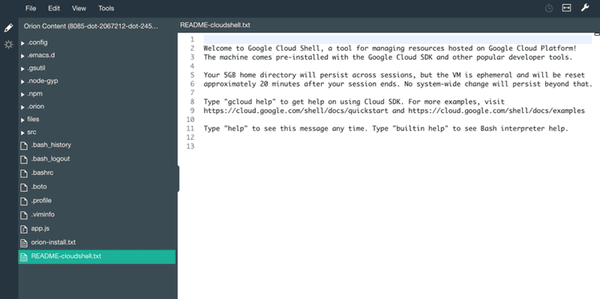 The new Google Cloud Shell code editor inherits the vision behind Eclipse Orion, which aims to move the development experience to the browser and to experiment with a new concept of development environment which does not try to reproduce a classical IDE inside of a single tab. According to Kotwani, Google will continue to evolve the Google Cloud Shell and its code editor to make it the go-to environment for a range of task, including end-to-end development.