The Raspberry Pi Foundation has launched the Pi Zero W, a variant of the Pi Zero that comes with onboard WiFi and Bluetooth. At $10, it's double the price of the Pi Zero, but still substantially cheaper than $35 for the original Raspberry Pi Model B which launched five years ago. By having connectivity onboard, the Pi Zero W will make a much better starting point for Internet of Things (IoT) projects.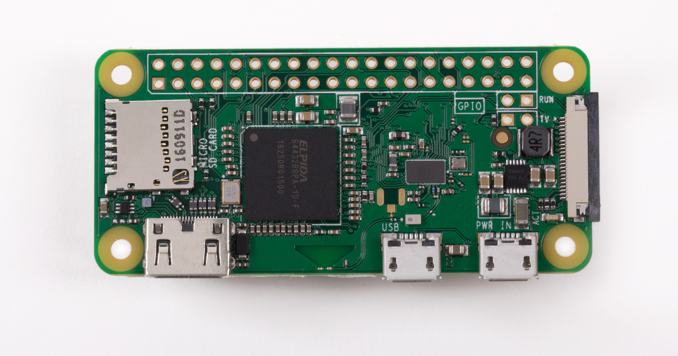 After the launch a year ago of the version 3 Pi Model B that included on board WiFi and Bluetooth, it seemed like a wireless capable Pi Zero would be an obvious next step. Adding networking to the original Pi Zero involved either an expensive (compared to the price of the board) and complex arrangement of USB OTG adaptors and USB WiFi dongles, or hacking the guts of a USB WiFi dongle. The Pi Zero W keeps everything simple, and the price increase is roughly in line with the cost of adding WiFi (or Bluetooth) anyway. The Pi Zero W also has the advantage of using a printed circuit board (PCB) resonant cavity antenna licensed from Swedish firm Proant, which is likely to provide better performance than typical USB dongles.
Availability issues have plagued the original Pi Zero since its launch in November 2015, when copies of The MagPi magazine carrying it on the cover quickly sold out across the UK. Supply never seemed to catch up with demand, and when Pi Zeros have been in stock they've been limited to one per customer per order, which has had the unfortunate consequence of adding a significant postage premium to what should be a very cheap computer. At the time of writing, the Pi Zero W remains in stock amongst UK suppliers, though the one per customer limit is still in place. Over 10,000 Pi Zero Ws are reported as being shipped on release day.
The Pi Zero W shares the same performance characteristics, software compatibility and general purpose input/output (GPIO) configuration as its predecessors, so it will be able to benefit from a substantial body of applications and accessories. The Raspberry Pi also has a large and lively community that's grown around the core of the Raspberry Pi Foundation, making it very easy to find guidance on a wide variety of topics and use cases.
Whilst it can't do anything that previous Pis couldn't do, the Pi Zero W makes projects that need connectivity much quicker and simpler to implement, and at a manageable premium when compared to what adding WiFi and/or Bluetooth would cost anyway. If they can keep up with demand, this board is likely to find itself at the heart of numerous IoT projects.