In a recent blog post, Microsoft announced the expansion of High Availability (HA) and resiliency options for customers. The update comes in the form of Azure Availability Zones which increase the availability of certain Azure services within a specific region by providing complete redundancy and isolation of the infrastructure. Azure Availability Zones include a financially-backed SLA of 99.99%.
Microsoft has previously had options for customers who required HA, Disaster Recovery (DR) or Backup. However, they didn't always address all customer needs. Saad Ladki, a Principal PM Manager at Microsoft, describes some of the motivation for introducing Azure Availability Zones:
We used to get feedback from customers telling us that when we look at region pairs, they are great for disaster recovery. But they are too far away from each other to allow for synchronous communication. So if you have an application where you're writing data and the data is very important and you want multiple isolated locations, region pairs might not work for you, given the high latency between them. This is by design, we want those regions to be very far apart as it protects you from a number of failures. With that, we looked at what is the next level mechanism that we can provide in a region and that was the genesis of Azure Availability Zones.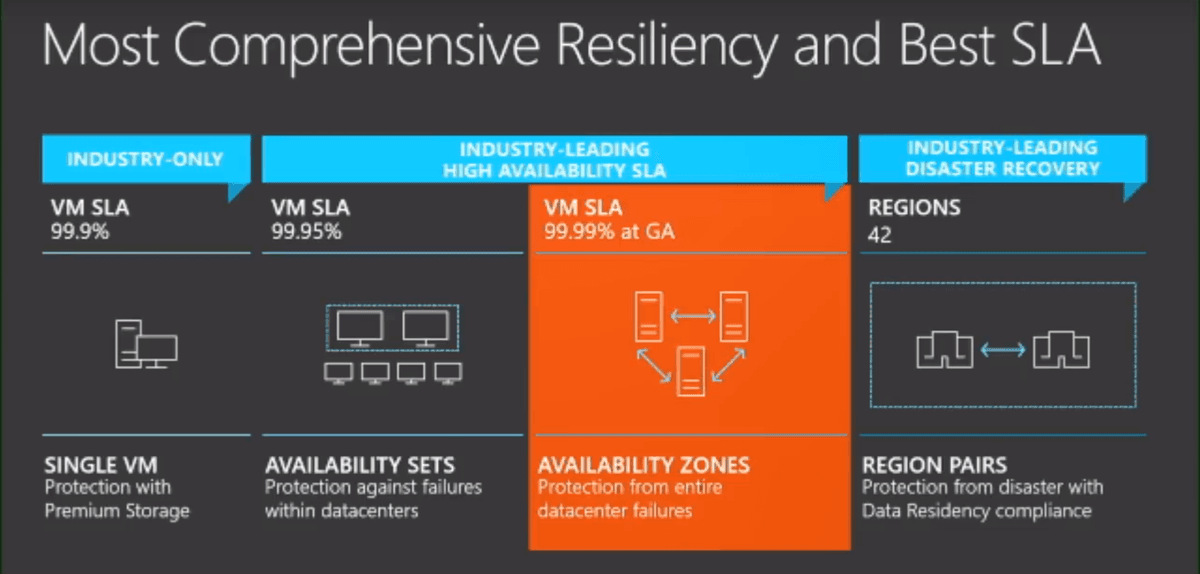 Image Source: https://myignite.microsoft.com/videos/54920
Azure Availability Zones are fault-isolated locations within an Azure region that provide redundant power, cooling and networking. Tom Keane, head of global infrastructure at Microsoft, explains the benefit of this architecture:
Availability Zones allow customers to run mission-critical applications with higher availability and fault tolerance to datacenter failures. With 42 announced regions worldwide (more than any other cloud provider) and backed by one of the largest networks on the planet, Azure offers the scale needed to bring applications closer to users and customers around the world.
Currently, Availability Zones are only available in East US 2 (Virginia) and West Europe (The Netherlands) with additional regions planned in the US, Europe and Asia before the end of the year. The new France Central region (Paris) is also expected to include Availability Zones when it launches.
Supported Azure resources include:
Virtual Machines and Scale Sets
Managed Disks
Public and internal IP addresses
Public and internal Load Balancers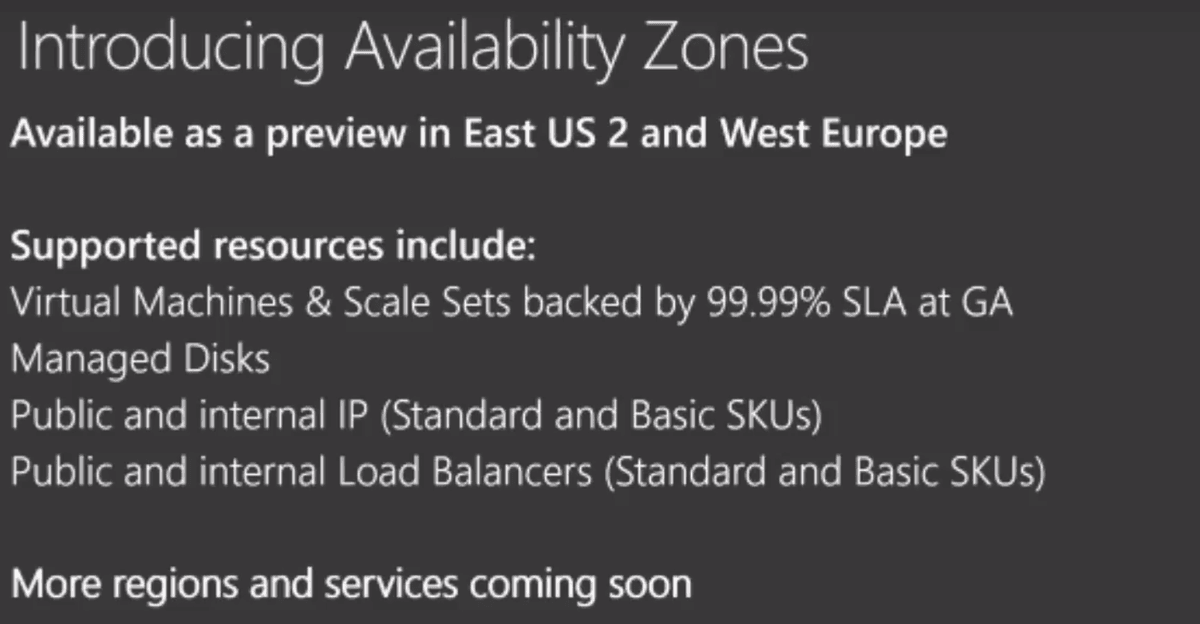 Image Source: https://myignite.microsoft.com/videos/54920
In Microsoft's Availability Zones announcement, they also discussed the completion of the MAREA transatlantic subsea cable. This was a joint project with Facebook and Telxius that will join Virginia with Spain over a high-speed network link. Microsoft anticipates that:
It will help support the growing demand for high speed, reliable connections to the U.S. and Europe, including our newest Azure regions coming to France, and beyond.