Microsoft has announced the general availability of Azure IoT Central, a software as a service solution for working with the internet of things. With Azure IoT Central, Microsoft envisions a low-code approach to designing, developing, configuring and managing IoT devices, while providing out-of-the-box security, scalability, and integration with processes and applications.
Azure IoT Central is built on top of Azure IoT Hub, Microsoft's platform as a service solution for creating reliable and secure bidirectional communications between IoT devices and cloud solutions, much like Google Cloud IoT and AWS IoT. However, instead of just providing the tools to build and manage the entire IoT platform, Azure IoT Central makes this available to anyone even without cloud expertise, as stated by Arif Bacchus, staff writer at Digital Trends.
Built on the power of the Azure cloud, it is a is a fully managed SaaS offering for customers and partners that enable powerful IoT scenarios without requiring cloud solution expertise.
Customers can expect a plethora of capabilities provided by Azure IoT Central, ranging from quickly onboarding new devices for gaining insights and interpreting their data, without the need to have a high proficiency with IoT solutions. For example, it is now possible to connect new devices with zero-touch provisioning, using Device Provisioning Service. Additionally, jobs allow for bulk device management capabilities, with options to reboot, reset or update devices. Moreover, this is all done on the scale which is expected in an IoT scenario, and can target a specific device or groups of devices. Azure IoT Central also provides the notion of device templates, used to reuse existing configurations and configurations.
A device template is a blueprint that defines the characteristics and behaviors of a type of device that connects to an Azure IoT Central application.
When it comes to monitoring devices, monitoring rules allow to automatically trigger up to five actions, allowing to notify both humans and other systems. Subsequently, these actions can call on a wide variety of services, like sending out an email, leveraging Azure Functions to execute a piece of custom code, or calling webhooks for other services. Another possibility is to implement workflows through the integration of Microsoft Flow, providing access to many connectors to services inside of Azure and beyond. Moreover, along with the announcement of the general availability of Azure IoT Central, Microsoft also announced the incorporation of Connected Field Service, allowing to leverage pro-actively scheduled maintenance from the data coming from devices.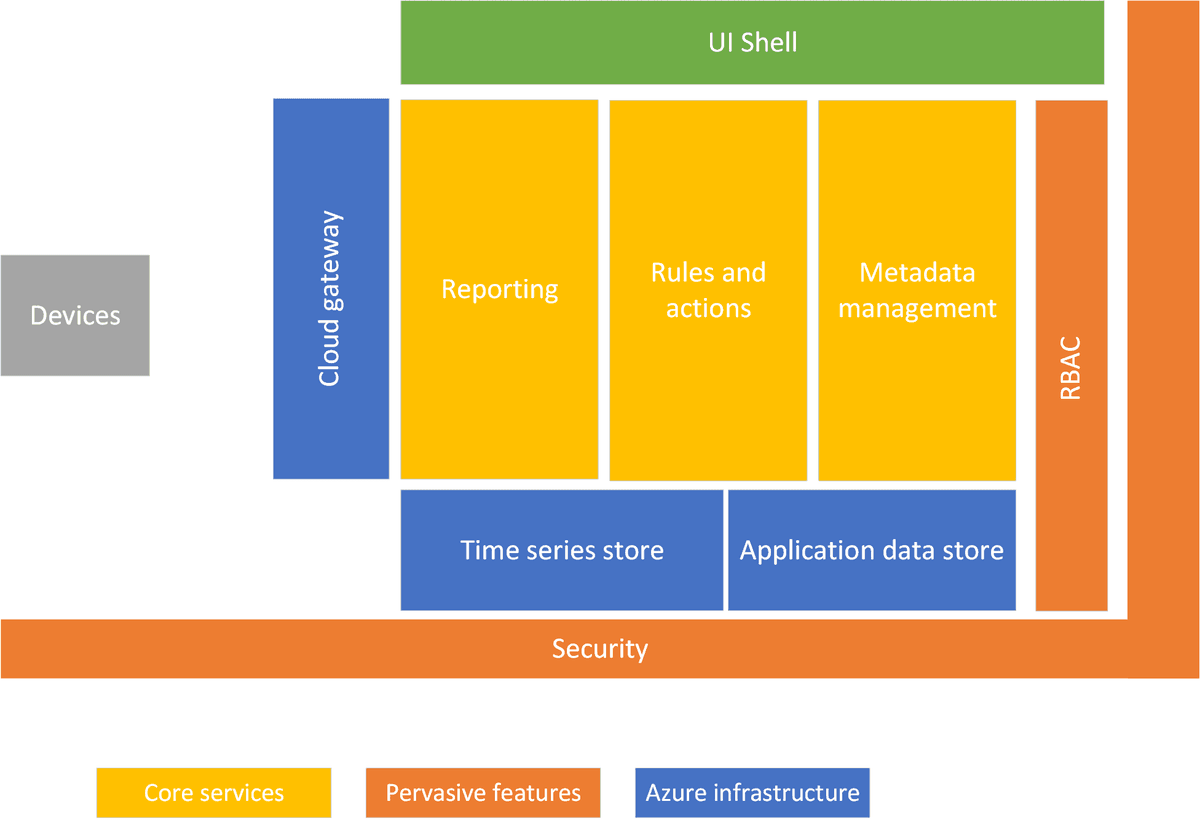 Source: https://docs.microsoft.com/en-us/azure/iot-central/concepts-architecture
Another essential aspect of IoT scenarios is gaining insights into the data received from the various devices. Consequently, Azure IoT Central provides out-of-the-box analytics, which allows gaining a better understanding of the data, with minimal configuration. Furthermore, Microsoft also offers a PowerBI solution, which works directly on the data from Azure IoT Central, providing additional capabilities to analyze the metrics for the IoT solution.
Track how much data your devices are sending over time
Compare data volume between telemetry, states, and events
Identify devices that are reporting lots of measurements
Observe historical trends of device measurements
Identify problematic devices that send lots of critical events
Finally, together with the general availability announcement, Microsoft also adjusted the pricing of Azure IoT Central. It now allows working with a small number of devices for free, while also giving a downsloping pricing model.